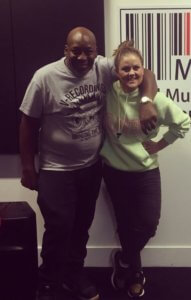 Tell us a bit about who you are what you have been doing for Dia­betes aware­ness?
My name is Kate and I am a dis­ab­il­ity and social justice advoc­ate and a pub­lic health expert based in Lon­don. My cur­rent job cov­ers qual­ity assur­ance, long-term con­di­tions and primary care ser­vices and I've worked in 16 Lon­don bor­oughs in Coun­cil, NHS and vol­un­tary sec­tor roles, as well as sup­port­ing former street chil­dren in Zim­b­ab­we and work­ing with the UN in HIV pre­ven­tion and food secur­ity in Uganda. I have a mas­ters in com­munity health psy­cho­logy from the LSE and a pas­sion and interest in sexu­al health, young people and women's rights. I am a trust­ee for the Lon­don-based domest­ic viol­ence and crim­in­al justice char­ity Advance and was pre­vi­ously a trust­ee for the Young Women's Hub in Lew­isham.
I had my 40th birth­day this sum­mer and wanted to do some­thing inter­est­ing and dif­fer­ent after all of the excite­ment of a big party. I was inspired by MOBO Award win­ning Gar­age artist, Gemma Fox who involved me in her radio show tour a few months ago, where I helped pro­mote her organ­isa­tion Save Our Boys and Girls, which gives young people pos­it­ive oppor­tun­it­ies through cre­at­ive arts to reduce knife crime. I thought it was a great strategy to get the word out to a var­ied audi­ence.
So, I decided to do a radio show tour of my own, to raise aware­ness about both main types of dia­betes, Type 1 and Type 2, for dia­betes aware­ness month in Novem­ber. I con­tac­ted a couple of friends and through my net­works, I was inter­viewed on 5 radio shows: OnTop Radio with Lukan­On­line, Mi-Soul Radio with Jump­in Jack Frost, Kane Fm's cul­ture and com­munity show with Jen­ni­ann, EachTeach Radio with Colin McDon­ald aka bboy Tuway and Mari­time Radio with Tam. I've got 2 more lined up: Mes­sage in the Music show with Cul­ture Mark on Col­our­ful Radio and The Reach­ing Out Show on Soho radio with Poet­Curi­ous and Ty. And I'm hop­ing to get booked by a BBC Radio Show soon! Melody Kane's show would be ace as she's so into fit­ness too!
Type 1 affects around 400,000 people in the UK includ­ing me and type 2 affects around 4million people and is the one that is mostly referred to when the word 'dia­betes' is used in the media and type 1 used to be thought to only affect chil­dren and type 2 only over­weight adults and that every­one with a form of dia­betes will have their leg cut off, which has shif­ted a lot in recent years, par­tic­u­larly with the advent of tech­no­lo­gic­al advance­ments in medi­cine such as insulin pumps where out­comes are often bet­ter now than before, so mis­con­cep­tions are often rife. One of my fant­ast­ic staff leads on type 2 dia­betes pre­ven­tion and we also do a lot of work on long-term con­di­tions, so that coupled with my own exper­i­ence, means I know quite a bit about from a range of per­spect­ives, from imple­ment­ing policy to being a patient. I thought it was a great idea and that it could help to put a spot­light on all of this, by approach­ing things in a more dynam­ic and open way, with some myth bust­ing, inspir­ing people to adopt a health­i­er life­style and tips about how to cope.
You have had type 1 dia­betes for 21 Years, what is the biggest affect this has had on your life?
Hav­ing Type 1 dia­betes has made me a bet­ter per­son. It has made me stronger and more empath­et­ic and has heightened my crit­ic­al think­ing. It has raised my aware­ness of oth­ers' needs and heightened my nat­ur­al advocacy skills. Any­one who has done the May­ers-Briggs test will be famil­i­ar with the Cam­paign­er per­son­al­ity type; that is me to a T. And in the last 21 years, man­aging type 1 dia­betes and all of the curve­balls it has thrown at me, has helped me become an effect­ive lead­er, ment­or and sup­port­er at work and in my social circle. Over the years, I've helped heaps of friends and rel­at­ive strangers with bul­ly­ing at work, preg­nancy loss, crit­ic­al ill­nesses, bereave­ment, men­tal health, busi­ness devel­op­ment and rela­tion­ship break­downs. I've also ment­ored over 100 people, includ­ing some I've only met through Linked-In, proofread­ing Mas­ters dis­ser­ta­tions, uni­ver­sity and job applic­a­tions, CV writ­ing and inter­view prep.
It has even some­how made me a little bit more patient and slightly less fussy!
In recent years many nutri­tion­ists have sug­ges­ted dia­betes could be reversed through diets (Keto, low carbs etc), what are your thoughts on this and how has diet helped you man­age your symp­toms?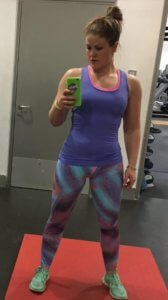 There is some emer­ging evid­ence to sug­gest that type 2 dia­betes can be reversed, through weight man­age­ment pro­grammes involving a low carb diet. I have been fol­low­ing the ini­tial res­ults of the Dir­ect study and it seems prom­ising, with more than a third in remis­sion after 2 years. I think this sounds great. As a pub­lic health pro­fes­sion­al though, I think we do need to see more evid­ence for us to bet­ter under­stand how these impacts across a broad­er pop­u­la­tion and how this may be sus­tained over time as 2 years is reflect­ively short in the course of someone's life.
My healthy eat­ing advice is quite straight for­ward — bal­ance and non-restrict­ive. Be as healthy as you can, don't feel guilty if you don't stick to your plan and have cake on your birth­day if you want it. More veget­ables and less refined white starches (e.g white sug­ar, white flour etc) are always good for improv­ing health as the former are nutri­ent dense vs the lat­ter which barely have any nutri­tion­al value. Con­sum­ing low-fat high pro­tein sources like beans, fish, lean meat and tofu are great for muscles and redu­cing crav­ings as they make us feel full. This is import­ant for every­one wheth­er you have a long-term con­di­tion or not. A health­i­er diet can also help pre­vent type 2 dia­betes and demen­tia as well as a whole host of oth­er issues.
For me, as someone with gast­ro­pares­is — slow gast­ric trans­it where food takes longer to digest and there's often a bulge under the rib cage after eat­ing — which is a com­plic­a­tion from type 1, I gave up meat, eggs, dairy and fish and went plant-based 2 years ago to try and sup­port my sys­tem. Red meat is par­tic­u­larly dif­fi­cult to digest and my pain has reduced drastic­ally since I made the change as I'd pre­vi­ously been in A&E in agony on a num­ber of occa­sions. I'm not a strict vegan and I've had a few lapses, but I have def­in­itely felt so much bet­ter. I've adap­ted old recipes with vari­ous types of beans and made my own hum­mus and snack­ing on cashews is pretty damn good! I've been asked about wheth­er I miss my former favour­ite meals like baked sal­mon, oxtail and bacon with avo­cado, of course there is a part of me that does, a pain free meal for me is way more deli­cious though!!!!
I try to eat as low carb as pos­sible as often as pos­sible and this is mostly due to reduced mar­gin of error when dos­ing insulin for carbs. Just a tiny amount too much insulin can cause a hypo (low blood sug­ar), which feels like hell and just a tiny amount too little can cre­ate a colossal rise in blood sug­ar which on a stress­ful day can make me worry about organ dam­age and can be really frus­trat­ing as it some­times takes hours to come down again.
As Type 1 dia­betes is an autoim­mune con­di­tion, it can­not be reversed. There are some people who staunchly believe that people with type 1 do not need to take insulin arti­fi­cially. There are a num­ber of dan­ger­ous claims about cer­tain foods and herbs being able to cure us — includ­ing spin­ach, which I eat every day. This has res­ul­ted in a num­ber of deaths in recent years, includ­ing of chil­dren! Without insulin, the human body has around 2 weeks before it goes into a dia­betes induced coma. Any­one who has type 1 dia­betes is strongly advised to con­tin­ue to take their insulin, as instruc­ted by their endo­crino­lo­gist.
For any­one who has a his­tory of dia­betes, or may be bor­der­line, what advice could you give them on how to con­trol or pre­vent it?
Sup­port from your GP is cru­cial for people who have any risk factors for type 2 dia­betes and any­one who has been dia­gnosed with pre dia­betes. You can find out more with the Dia­betes UK Know Your Risk Tool found online.
There is a Nation­al Dia­betes Pre­ven­tion Pro­gramme, weight man­age­ment pro­grammes and exer­cise on refer­ral options — your GP can give you more inform­a­tion, although the type of ser­vice and access to these may be based on set cri­ter­ia depend­ing on where you live.
Type 1 dia­betes is harder to pre­dict. For any­one newly dia­gnosed I would advise join­ing a sup­port group and mak­ing friends with people who can sup­port you. There is heaps of inform­a­tion online about type 1, type 2 and oth­er types of dia­betes in places like Dia­betes UK, as well as on Face­book and Ins­tagram. Type 1 spe­cif­ic inform­a­tion and sup­port is found from JDRF, T1 Inter­na­tion­al and BeyondType1.
Tell us about what you do when you are not cam­paign­ing?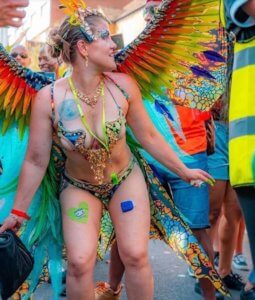 In my spare time, I attend Hip-Hop and spoken word events, play mas at Not­ting Hill car­ni­val, lift weights, cook and eat deli­cious food and dance and laugh as much as pos­sible.
How can we find out more about your activ­it­ies?
Ins­tagram — @thediabeteswarrior
Dur­ing my inter­view on Mari­time Radio in Green­wich, Tam intro­duces me as 'the dia­betes war­ri­or' so I imme­di­ately set up a new ins­tagram account to pub­li­cise the Radio tour and con­tin­ue my approach of rais­ing aware­ness of both Type 1 and Type 2, as I don't think any­one else is doing it quite like I am!
Final words?
See the oppor­tun­it­ies in everything, be as healthy as you can, ask for help, enjoy life as much as pos­sible, learn some­thing new, share, nev­er give up, and love your body!
The fol­low­ing two tabs change con­tent below.

Rishma Dhali­w­al has extens­ive exper­i­ence study­ing and work­ing in the music and media industry. Hav­ing writ­ten a thes­is on how Hip Hop acts as a social move­ment, she has spent years research­ing and con­nect­ing with artists who use the art form as a tool for bring­ing a voice to the voice­less. Cur­rently work­ing in TV, Rishma brings her PR and media know­ledge to I am Hip Hop and oth­er pro­jects by No Bounds.

Latest posts by Rishma Dhaliwal (see all)