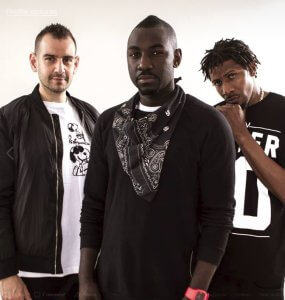 You have been with us all the way through the Jungle, Drum n Bass, Gar­age years up until now. Whilst you have all been work­ing on solo pro­jects – what's it like tour­ing togeth­er again?
It's fun being a crew and tour­ing togeth­er again. It's almost as if we nev­er left! and It's as good as it was before maybe bet­ter because we have a new audi­ence and new set of chal­lenges plus we've all grown and developed as indi­vidu­als.
The UK Grime scene is cur­rently doing very well; would you say that this is an evol­u­tion of the UK Gar­age era? How did MCs and DJs like your­self help pave the way for the scene?
Grime evolved from Gar­age we think of it as our little broth­er! As the Heart­less Crew we are heav­ily cred­ited for the birth of Grime. Some people even go as far to say that we cre­ated it which is debat­able but what we def­in­itely did was intro­duce full on MCing lyr­ics on that tempo of music. We also brought reloads/rewinds which at the time was frowned upon but now the focal point of any live Grime set. We made the MC a much more prom­in­ent fea­ture where­as when we first star­ted the MC role in Gar­age was sec­ond­ary to the DJ and they would mostly host their set by talk­ing and maybe drop one or two lines. We took a lot of inspir­a­tion from UK Jungle MCs like Stevie Hyper D, MC Dett, Five‑O and Shabba. We also integ­rated oth­er genres into our Gar­age sets at half and double tempo which brought togeth­er people from oth­er scenes who weren't neces­sar­ily into Gar­age, we called this the Crisp Bis­cuit!
What would you say is the most chal­len­ging part of being in the music industry?
Put­ting up with everyone's bol­locks!
The rise of inde­pend­ent artists is massive now, with music cross­ing bor­ders due to tech­no­logy. Has this helped your music travel?
Yes. When we star­ted there was no inter­net so it took longer for our music to travel. Over the years with the devel­op­ment of the inter­net and social media we've gained fans in all corners of the world. Evid­ence of this is we've got our first gig in Aus­tralia this Septem­ber and every year we're touch­ing new ter­rit­or­ies as a crew.
With the advance­ments in tech­no­logy, the ori­gin­al style mix­tape on a cas­sette and later CD has now evolved into online digit­al plat­forms via stream­ing or through Ins­tagram and Face­book live. Whilst it makes music more access­ible, do you feel there is a loss of authen­ti­city in the scene now?
Yes. Def­in­itely. The essence has been diluted and, in some cases, com­pletely lost but we can still look at this as an evol­u­tion and a sign of the times.
What are your thoughts on the cur­rent UK Hip Hop scene, is there any­one we should look out for?
There is a bit of a blurred line in cur­rent UK Hip Hop scene because the Grime guys are rap­ping and the Hip Hop guys are also rap­ping on Grime tempo but hav­ing said that it's still in a very good state. Big up Giggs who made UK rap cool again on a wider scale.
The trouble with the more tra­di­tion­al UK Hip Hop scene is that it's often over­looked by the more main­stream hype and gassed mater­i­al and egot­ist­ic­al rap­ping.
Logic, Big Cakes, Amy True, Ty, Awate, Chil­dren Of Zeus and Brazen are all dope!
The one thing I always loved about HLC is the fun lov­ing, pos­it­ive vibes you send out with your music. With a lot of bad press sur­round­ing the UK Hip Hop and Grime scene, how import­ant is it for artists to pro­mote pos­it­ive lyr­ics in the music?

It's very import­ant for us as we've always been pur­vey­ors of good vibes and uplift­ing people with pos­it­iv­ity. It's a shame oth­ers don't think this as music has the power to change people and affect the world.
There has been a rise in throw­back UKG nights, and we have noticed a lot of young­er attendees embra­cing the old­skool sound. Has your listen­er­ship expan­ded as a res­ult of this? Or do you feel you have had to exper­i­ment with new cur­rent trends to attract young­er listen­ers?
Bit of both. We def­in­itely have noticed a lot of young people catch­ing the heart­less fever as well as us keep­ing up with cur­rent trends.

Tell us a bit about your involve­ment in the Red Bull Music Odys­sey? What was it like?
The Red Bull Music Odys­sey was a great event to be involved in as it show­cased musi­cians from all dif­fer­ent genres rep­res­ent­ing under the UK ban­ner. We were on the Trans­mis­sion boat which was the best of Gar­age and Grime and this gave us an oppor­tun­ity to execute our party vibe in a small intim­ate sur­round­ing with mostly new ravers.
You all have your indi­vidu­al pro­jects you have been work­ing on. What have you got com­ing up togeth­er and solo?
Bushkin: I've been work­ing on devel­op­ing my label Bush Bash Record­ings and we're gear­ing up for our first sum­mer release which is 'Ride' by Sweet P. We've just shot the video so look out for that com­ing soon!
Fonti: Indi­vidu­ally I've been pro­du­cing for some prom­in­ent UK artists help­ing to cul­tiv­ate their single. I've even done a bit of song writ­ing too 😉
I also enjoy dan­cing and teach­ing Salsa in my spare time to keep my legs dem busy!
Moe: Dust­ing off my vinyl and DJing again work­ing on pro­jects with Smash­er (BIL­LIT­FAM) and Logic and one of my old music­al ment­ors Ghette.
WHEN CAN WE EXPECT A CRISP BIS­CUIT VOLUME 2?
We're always bak­ing at home and work­ing on new recipes so hold tight we'll have some­thing to tan­tal­ise your taste buds soon!
Heart­less Crew per­formed on The Trans­mis­sion boat as part of Red Bull Music Odys­sey. Tune in to the link below to catch their full set from the night.

The fol­low­ing two tabs change con­tent below.

Rishma Dhali­w­al has extens­ive exper­i­ence study­ing and work­ing in the music and media industry. Hav­ing writ­ten a thes­is on how Hip Hop acts as a social move­ment, she has spent years research­ing and con­nect­ing with artists who use the art form as a tool for bring­ing a voice to the voice­less. Cur­rently work­ing in TV, Rishma brings her PR and media know­ledge to I am Hip Hop and oth­er pro­jects by No Bounds.

Latest posts by Rishma Dhaliwal (see all)