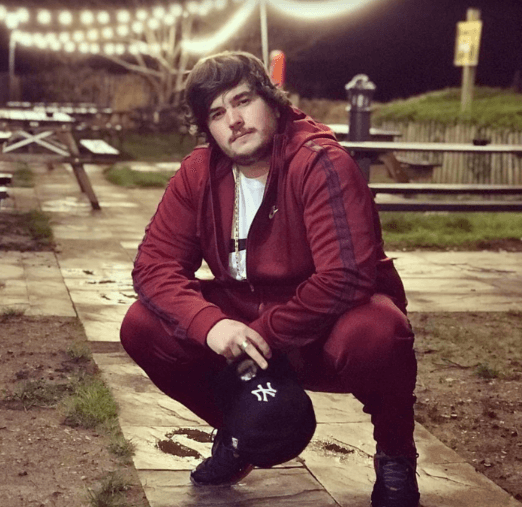 Cas Ghost­man is an inde­pend­ent record­ing hip hop artist from Cam­den Town North Lon­don. With a unique and adapt­ive style Cas swings from satir­ic funny tracks com­ment­at­ing on cur­rent affairs to heart felt deep­er songs based on past exper­i­ences. Cas tries to switch effort­lessly from strong mem­or­able chor­uses to dif­fer­ent flows that cut in through the melod­ies.
Cam­den town, where Cas was born and raised is bet­ter known for its quirk­i­ness and music­al her­it­age with the likes of Amy Wine­house liv­ing just down the road from him. This her­it­age and free­dom of expres­sion added to the form­a­tion of Cas as an artist and gave him the con­fid­ence in see­ing oth­ers being able to make move­ments in the industry around him.
Hav­ing just released his latest track 'When it rains', we catch up with Cas to find out more!
Tell us about your jour­ney in music?
I have always been inter­ested in mak­ing music since I was a kid. I made beats on my mum's laptop in Gar­age Band and then tried to sing along to what I made. It pro­gressed fur­ther as I taught myself how to play the piano (although not very well) then pur­chased my own laptop and got to grips with all the soft­ware I still use to pro­duce beats today, Logic, Ableton etc. I have always writ­ten raps but I star­ted to take it more and more ser­i­ously as me and the boys used to cypher and record raps on beats I had made. I think I put so much effort into it that one day I thought 'hang on I might actu­ally be good at this' and it has been an obses­sion ever since.
Was there a par­tic­u­lar event or per­son that inspired you to turn to rap?
Without sound­ing too cliché I would say Eminem and 50 Cent. Grow­ing up all I listened to was them. I think they have had a strong impact on my music and their influ­ence can be heard through­out. I remem­ber being a little kid listen­ing to my older broth­ers Eminem and 50 cent albums on his Walk­man lying in bed, I still listen to them to this day.
Hail­ing from Cam­den, how has North Lon­don influ­enced your music?
I was quite lucky in a sense grow­ing up in North Lon­don espe­cially Cam­den Town as it is one of the music cap­it­als of the world. I remem­ber when Amy Wine­house died, I was walk­ing home with a mate and saw hun­dreds of people in their cars blast­ing her tracks or dan­cing out­side her house which was around the corner from my mum's. I got a couple of beers and went back and had a sick time. Cam­den has been a strong influ­ence on me through being sur­roun­ded by music of all genres. Also I've met a lot of friends from the area who are music­ally cre­at­ive or involved in the busi­ness.
You're extremely ver­sat­ile as an artist, with a lot of com­ic­al tracks as well as tracks with a more ser­i­ous under­tone. How import­ant is it for you to have vari­ety in your music, and has this helped you appeal to a wider audi­ence?
Yes I think it has helped me appeal to a wider audi­ence but not inten­tion­ally. I strive to make all sorts of dif­fer­ent tracks wheth­er funny, ser­i­ous or emo­tion­al as I am all of those things. I don't want to be pigeon­holed as an artist who just makes one type of track as that's not me. Some­times I feel angry and just want to vent, some­times I'm sad and want to con­vey my emo­tions. In a nut­shell I am try­ing to show the real me as much as pos­sible as a multi-faceted human being.
How import­ant is it for you to use Hip-Hop to send a mes­sage? Are there any par­tic­u­lar tracks that you have done which are close to your heart for this reas­on?
I feel it is extremely import­ant but only if you believe in that mes­sage and it is you. If you are try­ing to por­tray a mes­sage or life­style that you have no con­nec­tion to it really shows on the track. I think as I get older I am more com­fort­able being able to por­tray things in a bit more in depth. The songs I feel I show true emo­tion on are tracks like 'Fly Away' where I talk about a point in my life I nev­er want to exper­i­ence again hav­ing to up and go or 'Glide' a song about love and loss and being tricked and left feel­ing like a mug.
Tell us a bit about your latest track 'When It Rains'?
When It Rains is my new­est single and is avail­able on all major stream­ing plat­forms. The song is based around a past exper­i­ence with a break up and try­ing to deal with it in the only way I know how… drink­ing and secur­ing that one night stand. The break up sub­ject is one which has been used since singing was inven­ted but I guess I tried to show it from a real­ist­ic stand point, from a male per­spect­ive, in par­tic­u­lar how you still got to act like its all bless even though you are hurt­ing inside.
You talk about the male's per­spect­ive in a break up, show­ing a more vul­ner­able side. With the rise in Men­tal Health Aware­ness, In your point of view do you feel men should be more open with their feel­ings? How can we encour­age this more in Hip-Hop?
I mean listen, I don't think I can get on a ped­es­tal and start say­ing this and that because that would be hypo­crit­ic­al of me as for years I haven't done that. But what I would say in my more recent exper­i­ence is to be more open in real­ising who you are. If some­thing is affect­ing you, you should being able to talk about it and I think rap­pers and people in pos­i­tions of power should show that it's ok to do so. There is no doubt that being a man entails a cer­tain set of 'fun­da­ment­als' that we are sup­posed to live up to, but when they start affect­ing men and oth­ers in a neg­at­ive way shouldn't we be address­ing and chan­ging them?
The track is accom­pan­ied by a lyr­ic video. If it wasn't lock­down, how would you envi­sion the visu­als of this track to be?
In the run up to lock­down I had mul­tiple music videos, shows and a trip to Colom­bia planned but they all got can­celled. But listen, you got to adapt and sur­vive I guess. I pro­duced and made the lyr­ic video myself and spent many hours doing so and can say I am happy with it and try not to dwell on the what ifs. The visu­als would have reflec­ted what was being said but I don't want to go to deep into it because it is what it is and I am still happy with the out­come and under­stand there are a lot big­ger fish to fry at the moment than me not being able to make the music video I wanted.
If there is one thing you could change about the music industry what would it be?
Without try­ing to sound too up my own arse I am striv­ing to try and add my own twist to the industry and add some­thing to the great music we have been hear­ing from this coun­try. I also feel that there are a lot of musi­cians and artist out there with raw tal­ent that are yet to be giv­en a solid­i­fied spot. I guess with the likes of social media and such this divide is being closed but I do still think there is a clear sys­tem in place which needs to be opened up more.
Have you got any plans to drop more singles, an EP or album this year? If so what can we expect from it?
I am cur­rently sit­ting on quite a lot of music which I am in the pro­cess of mak­ing some high­er budget music videos for. I also may be in the pro­cess of drop­ping an EP soon, watch this space. I just really want to get my name out there more and devel­op myself more as an artist before drop­ping an album out of nowhere. But, it is def­in­itely on the radar.
What are you doing when you are not mak­ing music?
Music is def­in­itely my biggest focus and when I am not mak­ing it I am pro­mot­ing and push­ing it. Oth­er than that I love going for a drink with the team, doing a bit of box­ing when I'm on an act­ive streak or read­ing a decent book after look­ing at a screen all day.
Where can we fol­low you?
You can fol­low my You­tube chan­nel which has all my latest videos which is Cas Ghost­man and hear my latest releases on Spo­ti­fy, Apple music and all major stream­ing ser­vices by search­ing for Cas Ghost­man. I am also act­ive on all the socials @casghostman, feel free to hit me up, send me beats or tell me how shit I am. Love
The fol­low­ing two tabs change con­tent below.

Rishma Dhali­w­al has extens­ive exper­i­ence study­ing and work­ing in the music and media industry. Hav­ing writ­ten a thes­is on how Hip Hop acts as a social move­ment, she has spent years research­ing and con­nect­ing with artists who use the art form as a tool for bring­ing a voice to the voice­less. Cur­rently work­ing in TV, Rishma brings her PR and media know­ledge to I am Hip Hop and oth­er pro­jects by No Bounds.

Latest posts by Rishma Dhaliwal (see all)