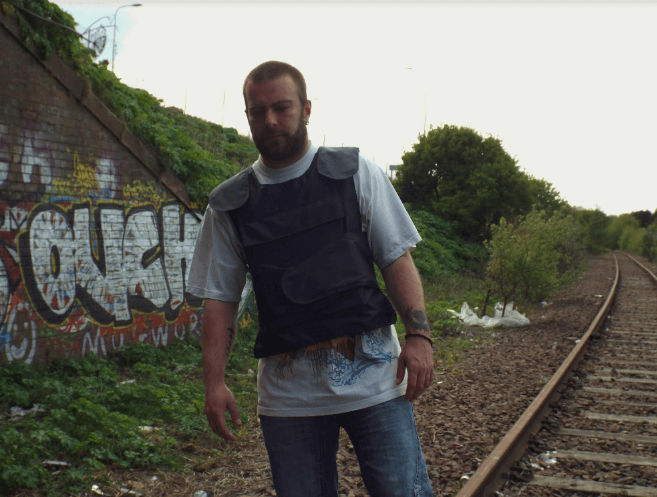 Tru Factz is a hip hop artist from Edin­burgh, Scot­land. Born and raised in the schemes of Edin­burgh Tru has put his life into music and cre­ates a dark story about life in the for­got­ten side of Edin­burgh. Tru star­ted mak­ing music when he was 13 years old and being doing so for over 20 years now. His body of work is 2nd to none and he con­tin­ues to put out music. Tru has fea­tured on the BBC the social front seat free­style twice and has per­formed live with the Tim West­wood. His first album "Hooded Thistle" gained him atten­tion from New York and since then has worked with artist from all over Amer­ica. Tru works every­day on his music and believes if he tells the truth about his sur­round­ings they might get bet­ter. We catch up with him to find out more.
Tell us a bit about your jour­ney in music? When did you first real­ise you wanted to rap?
I star­ted mak­ing music when I was 13, the reas­on it came about was, we always listened to Amer­ic­an hip hop and the stuff that those rap­pers was talk­ing about I could see some of that in my neigh­bour­hood, the drugs, the viol­ence, the poverty the crime and murders but I did not really notice it because I had grew up in that so to us it was nor­mal. So I star­ted writ­ing about my sur­round­ings. That's how it star­ted.
Hail­ing from Edin­burgh how did this influ­ence the music you make?
Being from Edin­burgh it influ­enced my music just with what goes on here. Edin­burgh is a beau­ti­ful place but just like every­where it has its places. But I love Edin­burgh. People come here from all over the world to check is his­tory.
You have been fea­tured on the BBC, and also go to per­form along­side Tim West­wood, how did this come about?
I was live with the Big Dawg Tim West­wood because at that time I was signed to a label called Under­sound Records and they man­aged to get me a slot. There was a few rap­pers also per­form­ing that night but to me it was huge because I've always been coun­ted out so to stand next to him with a mic in my hand was a dream. The BBC that was the BBC front seat free­style. I appeared on that twice. Thanks to my mate Jay who works with the BBC he gave me a shout when it star­ted then I got to go back. So shout out to Jay.
You have col­lab­or­ated with a lot of artists in the U.S, how did this come about?
I would just push my music all over the place; Amer­ica, Ger­many, France, Hol­land, China every­where. And I star­ted talk­ing to a guy called Tye Reign from New York over Face­book and we emailed each oth­er beats with spaces for vocals then I star­ted work­ing with more and more. I was also in the middle of work­ing with Hus­sein Fatal from the group The Out­lawz, we had the beat the sub­ject and art­work but he passed unfor­tu­nately. RIP to fatal. I am now work­ing with a few artist from all over Amer­ica and we have a com­mit­tee called ONC, we just want to spread the real on everything and help our com­munit­ies.
You are now signed to 'The Real Makaveli Records' label, run by Tupac's cous­in. Tell us what you have planned with them?
That happened because of ONC, there is guy called K‑Lon the artist, who runs the label who took over from Pac's cous­in. But I'm only work­ing with him I'm not put­ting my music out through that label any­more. It's still all love, we still work but I want to do my own thing so I'm now under 1 Nation Records.
Tell us a bit about your latest album Holy Water?
My new album Holy Water. That will be released in a few months' time. It's me just put­ting me on beats. It's my true feel­ings, how I think, feel all that. It's very hard­core and emo­tion­al. It's shap­ing up to be my best work yet. I feel like my only com­pet­i­tion is my last album. But this one is more dark and touches on sub­jects that people are to scared of. It's pure. That's why I called it Holy Water.
Are there any tracks in par­tic­u­lar that are your per­son­al favour­ites?
Yes I have a song called "my profession"that is about how I work with so much pain that it's like a job. I also have anoth­er song called "let's get it" that's about how I see myself in the future. There is loads of good songs on my new album but those two are my favour­ites.
With ref­er­ence to your name Tru Factz, how import­ant is it for you to be truth­ful in your lyr­i­cism and use your music to send out a mes­sage?
Very import­ant. I feel if you can't be hon­est with your­self then people won't relate to you. So if I'm feel­ing a cer­tain way I just write about it. Regard­less if it's selling drugs to heartache just be hon­est in your music. I'm not going to talk about a Benz if I can't afford a bus tick­et. Some people call me a polit­ic­al rap­per but I am not, I'm just a truth tell­er.
Have you got any excit­ing fea­tures for us to look out for?
I have a few fea­tures on this album, but I don't want to say just yet just in case some­thing goes wrong. But yes I have amaz­ing fea­tures on this album. Some from Scot­land some from Amer­ica. But all amaz­ing.
What is Tru Factz doing when he is not mak­ing music?
When I'm not mak­ing music I'm think­ing about mak­ing music. Haha. I am always always look­ing for beats and people to work with. They don't have to be hip hop i am a musi­cian. I love all music but hip hop is where my heart is. But hon­estly my life is music.
Where can we fol­low you?
You can fol­low me on Twit­ter @TruFactz_Music Ins­tagram @ProvenzanoTheDon_onc and 7ru Factz on Face­book.
The fol­low­ing two tabs change con­tent below.

Rishma Dhali­w­al has extens­ive exper­i­ence study­ing and work­ing in the music and media industry. Hav­ing writ­ten a thes­is on how Hip Hop acts as a social move­ment, she has spent years research­ing and con­nect­ing with artists who use the art form as a tool for bring­ing a voice to the voice­less. Cur­rently work­ing in TV, Rishma brings her PR and media know­ledge to I am Hip Hop and oth­er pro­jects by No Bounds.

Latest posts by Rishma Dhaliwal (see all)