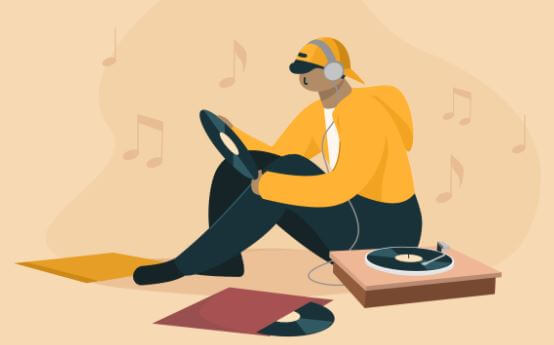 Music and men­tal health have an almost insep­ar­able con­nec­tion to one anoth­er.
Not only can music affect your men­tal health, but it can also be a medi­um through which artists express the good, the bad, the ugly, the heart­break­ing, and more.
Why turn to music?
In this day and age, access to men­tal health treat­ment, includ­ing ther­apy, is more wide­spread than ever. That doesn't mean that con­ver­sa­tions around men­tal health are easy to have, though.
Unfor­tu­nately, stig­mas around men­tal health and receiv­ing treat­ment for it still exist, most not­ably in com­munit­ies of col­or. Where con­ven­tion­al meth­ods of treat­ment fail, altern­at­ive meth­ods (includ­ing cre­at­ive expres­sion) may pre­vail.
The Import­ance of Nor­mal­iz­ing Men­tal Health
For some people, openly shar­ing emo­tions with oth­ers is no easy feat. This is par­tic­u­larly true if they haven't been encour­aged to do so (or sup­por­ted) through­out their lives.
As tricky as it can be, emo­tion­al vul­ner­ab­il­ity is neces­sary to some extent, espe­cially if improv­ing men­tal health is the goal. It allows us people to con­nect with oth­ers and gives us unique insight into who we are and how we respond to con­flict.
Rap and Men­tal Health
The lyr­ics with­in many rap songs have his­tor­ic­ally dis­cussed heavy, real top­ics. From artists like The Notori­ous B.I.G. all the way to mod­ern rap­pers like Kanye West, Lil Wayne, and Kendrick Lamar, rap­pers con­sist­ently demon­strate a desire to not just bring up these top­ics but break them down.
The detail-ori­ented and thought­ful nature of rap and its lyr­ics provide great oppor­tun­it­ies to make men­tal health con­cerns into some­thing artist­ic and relat­able.
Rap can also take a listen­er on a nar­rat­ive jour­ney in a way that oth­er songs might not. The cre­at­ive free­dom that rap allows (word­play like allit­er­a­tion, fig­ur­at­ive lan­guage, etc.) gives artists the abil­ity to craft work that is spe­cif­ic to them.
A big part of nor­mal­iz­ing men­tal health is recog­niz­ing that oth­ers around you, even those you respect and admire, struggle with the same sorts of things you do.
Even if you don't per­son­ally struggle with men­tal ill­ness, hear­ing the exper­i­ences of someone you respect cre­at­ively and per­son­ally can be the first step to open­ing your eyes to oth­er per­spect­ives
As men­tioned, this couldn't be more import­ant than it is for chil­dren of col­or (or young people of col­or).
Stat­ist­ic­ally, young black and brown indi­vidu­als have more chal­lenges to over­come and few­er prom­in­ent role mod­els in the media. These com­munit­ies argu­ably stand to bene­fit the most from enga­ging in this sort of cul­tur­al phe­nomen­on.
Rap music can also be a great way to start con­ver­sa­tions about men­tal health-related top­ics with friends, fam­ily, or oth­er loved ones.
Top­ics Rap May Cov­er
Men­tal ill­nesses and health con­cerns like depres­sion, anxi­ety, self-isol­a­tion, and sub­stance abuse are all com­mon top­ics in many songs (and even entire albums).
Oth­er men­tal ill­nesses and men­tal health con­cerns you might find in rap songs include:
- Per­son­al­ity dis­orders or struggle relat­ing to oth­ers
- Loss of a loved one
- Bipolar dis­order
- Gambling and addic­tion
- Unhealthy addic­tion to or reli­ance upon sex
- Unhealthy rela­tion­ships and domest­ic viol­ence
- Strained home life/familial rela­tion­ships
- Uncer­tainty about the future
Of course, not all of these top­ics are inher­ently related to men­tal health, but many of them tend to influ­ence it.
Some of these top­ics are hard to dis­cuss in every­day con­ver­sa­tion and can be harder to share with com­plete strangers. Rap can make it sig­ni­fic­antly easi­er to address these chal­len­ging and emo­tion­ally dis­tress­ing ideas in a way that feels con­trolled and safe. Organ­ic expos­ure to these top­ics in music could lead to those who need it seek­ing more health from friends, fam­ily, or ther­ap­ists.
The Poten­tial Future of Rap
One thing we know for cer­tain is that rap music isn't going away any­time soon and neither are the artists who cre­ate it.
The nature of rap music makes it a desir­able option for those wish­ing to share their exper­i­ences with men­tal health. It's unapo­lo­get­ic, witty, and power­ful; a will­ing­ness to push bound­ar­ies makes many hip-hop artists truly icon­ic.
It's likely that the future of rap will bring more of the same and then some; as cur­rent rap­pers decon­struct some of the stigma sur­round­ing men­tal health, those in the future will only be bet­ter equipped and, hope­fully, more will­ing to do so.
The fol­low­ing two tabs change con­tent below.

Rishma Dhali­w­al has extens­ive exper­i­ence study­ing and work­ing in the music and media industry. Hav­ing writ­ten a thes­is on how Hip Hop acts as a social move­ment, she has spent years research­ing and con­nect­ing with artists who use the art form as a tool for bring­ing a voice to the voice­less. Cur­rently work­ing in TV, Rishma brings her PR and media know­ledge to I am Hip Hop and oth­er pro­jects by No Bounds.

Latest posts by Rishma Dhaliwal (see all)