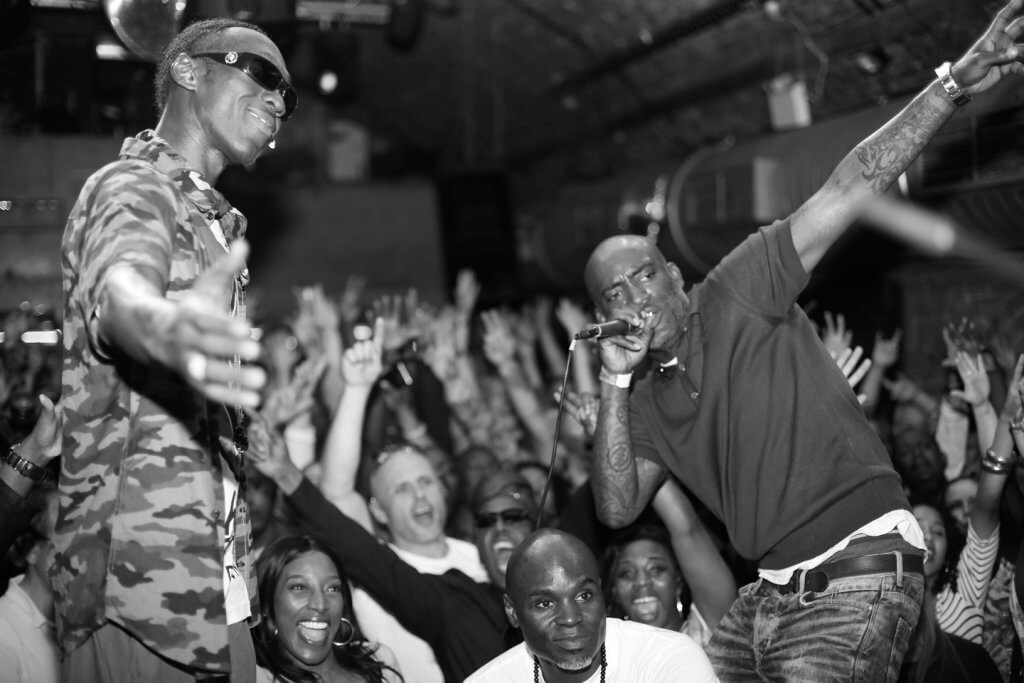 [Photo Cred­it: Nico via Doc­tors Orders Gal­lery]
Sunday 21st May 2017 was a his­tor­ic­al day for Hip Hop cul­ture in the UK. 30 years on from their con­cep­tion, over 20 years after their last release, Lon­don Posse – argu­ably the most influ­en­tial pion­eers of Hip Hop in the UK, almost cer­tainly in terms of the emcee – returned to the scene they'd helped to cre­ate. Put­ting aside whatever drama there had been ("a lot of water under the bridge" as was said on stage), Rod­ney P and Bion­ic, two giants of the UK music scene, decided to reunite their col­lect­ive forces once again and show the new gen­er­a­tion, and a few who missed out in between, what the ori­gin­al sound of UK Hip Hop was and is.
From the moment the comeback tour was announced, the hype online was wild. Across social media, tweets, posts, com­ments, shares – whatever else there is now — were pop­pin' off, with sup­port­ers, con­trib­ut­ors and legends of the UK scene, from every age and era get­ting each oth­er gassed for the shows. This was was some­thing many had wanted to see for two dec­ades. Since the group had stopped work­ing togeth­er, Rod­ney P had con­tin­ued his career and life as a pion­eer of UK Hip Hop cul­ture and UK rap – per­form­ing reg­u­larly, being a key fig­ure on flag­ship main­stream UK Hip Hop radio shows along­side Daddy Skitz, being instru­ment­al in under­ground move­ments like Speaker's Corner and People's Army, film­ing doc­u­ment­ar­ies and more; keep­ing his face, name and music in the minds of UK Hip Hop listen­ers and cre­at­ors. Bion­ic took a com­pletely dif­fer­ent route, becom­ing a cult, even myth­ic­al fig­ure of the scene; since the split, he became influ­en­tial on the DnB scene before he went fully under­ground, leav­ing the people dem with only his clas­sic Lon­don Posse cuts and scattered live tapes to get hold of his unique, inim­it­able flow. It was the thought of see­ing these two con­trast­ing innov­at­ors togeth­er again that had the scene so hyped, and I'd say, along­side a num­ber of oth­er recent factors, it has breathed some new life into the cul­ture.
More import­ant than the online hype was the fact that it trans­lated into an audi­ence – and tick­et sales. We on the UK Hip Hop scene have been guilty for a long time of not prop­erly sup­port­ing our own, espe­cially fin­an­cially. That wasn't the case this time; the Jazz Café in Cam­den was ram. The age of Lon­don Posse's fan base might have been a factor in this – fully matured Hip Hop heads with jobs and fam­il­ies were out in force to recap­ture the sound and feel of their teens and twen­ties, but they weren't alone. Look­ing around – amongst all the well known faces in the crowd (includ­ing mem­bers of the Demon Boys) there was a wide range of ages, both men and women, from teen­agers to heads in the 50's, all anti­cip­at­ing the return of the ori­gin­al UK Hip Hop Rag­gamuffin Rough­necks.
When Lon­don Posse hit the stage the crowd went mad. The noise was deaf­en­ing and the levels stayed high through the whole show. Rod­ney P, in his ele­ment, con­trolled the stage and the crowd, pour­ing drinks into people's mouths, insist­ing this was first and fore­most a party, but he let it be known that this night shouldn't be focused on him. He said people (includ­ing his mum) had reques­ted solo tracks, but he'd refused and said over and over that what made the night unique was the return of Bion­ic, so prac­tic­ally all the rid­dims played were Lon­don Posse ori­gin­als. They ran through clas­sics like Liv­in' Pan­coot, Live Like the Oth­er Half Do and Gang­ster Chron­icle, and Rod­ney helped his 'emcee sen­sei' shake off any rust he might have felt he'd built over the years of absence to put in a massive per­form­ance worthy of the occa­sion. The night began to peak when Bion­ic went in on a DnB track, show­ing why he'd been able to move effort­lessly between the two genres and aren­as, and both ded­ic­ated ori­gin­al fans and young­ers could see, feel and appre­ci­ate why this was some­thing spe­cial we were wit­ness­ing.
For me, it was a sur­real moment; I was born in '87, the same year Lon­don Posse formed. I was watch­ing a group I'd dis­covered when learn­ing about the his­tory of our cul­ture in the UK of Lon­don, Carib­bean and Afric­an influ­enced music, as the first to spit in a fully Lon­don accent and slang – some­thing my gen­er­a­tion took as a key prin­ciple for self and col­lect­ive respect – with all those influ­ences rolled in togeth­er. This was a crew that had been writ­ing, spit­ting and per­form­ing for as long as I'd been alive but one that I thought I'd nev­er be able to see on stage. To wit­ness it, as an emcee, a lyr­i­cist, an artist and a Hip Hop head from Lon­don; it was some­thing else.
The night fully cli­maxed when the biggest track was dropped. Money Mad had been the stand out hit of their career and when it dropped, Lon­don Posse had the whole crowd in a fuck­ing frenzy. Gun fin­gers in the air, arms wav­ing, every­one shout­ing or spit­ting the bars. It was the best end­ing, the per­fect way to done the show. As the crowd filtered out, and the man dem went off to whatever after party plan they had, every­one in the build­ing new we'd just exper­i­enced a piece of his­tory.
The most poignant moment for me was hear­ing Bion­ic say that he couldn't believe he'd walked away from this life, away from all the love that his sup­port­ers clearly have for him and Rod­ney. It made a real impact on me. I think most artists, espe­cially emcees and musi­cians who are a focal point, struggle with being able to gauge the impact they're hav­ing or have made on listen­ers, espe­cially in the UK music scene with all it's polit­ics and socio-eco­nom­ic, racial and gender based bar­ri­ers. Even someone as suc­cess­ful as Ghetts expressed a sim­il­ar view in our recent inter­view with him. This would have been even more dif­fi­cult to know in the 90s, way before social media fol­low­ers and You­Tube views, when the gate­keep­ers of the industry and air­waves had so much more power to lim­it tal­en­ted artists' access to their audi­ence. Bion­ic said that one thing that had inspired him to come back was that when he joined social media in the last few years, the amount of love from fans that had flown in was unbe­liev­able. It shows you just how import­ant it is to try and gain a per­spect­ive of the things that you are achiev­ing in your life. From when man like Bion­ic of Lon­don Posse, a genu­ine pion­eer and innov­at­or of an entire loc­al­ised cul­ture, with that many fans, that much love and respect, felt the need to walk away from his call­ing, it can def­in­itely hap­pen to any­one. There might be oth­er people who we lose for 20 years for the same reas­on, or worse, may nev­er even dis­cov­er. It's great to know that through the sup­port shown from this show and the sub­sequent tour, that the man now knows how much he is val­ued, how much Rod­ney P is val­ued, how import­ant and indis­pens­able Lon­don Posse are, not only to UK Hip Hop and to emcees in the UK, but for UK music in gen­er­al and to the fab­ric of the glob­al Hip Hop and music world. Wel­come back broth­ers, it's bless to have you here again.
The fol­low­ing two tabs change con­tent below.

Apex Zero
An emcee, beat­maker, film­maker and writer from Lon­don with Gren­adian roots, Apex Zero has spent his life learn­ing and liv­ing Hip Hop cul­ture, using it to inspire and affect change. Based in Beijing for a few years and reg­u­larly tour­ing the globe, Apex is well trav­elled, and uses the les­sons this provides to inform his art and out­look. He is a mem­ber of the Glob­al­Fac­tion digit­al pro­duc­tion house and the inter­na­tion­al Hip Hop col­lect­ive End of the Weak.

Latest posts by Apex Zero (see all)