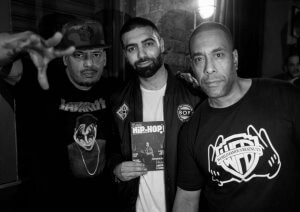 Psy­cho Les and Junk­yard Ju Ju. Two legends from Queens set to bless the streets of Brix­ton at our Hip Hop Safe Haven, The Chip Shop. If you have bared wit­ness to the euphor­ic atmo­sphere this cap­tiv­at­ing duo presents when they melt micro­phones, then you know how per­fect this choice of ven­ue was. It's not just the jazzy funk influ­enced spir­it that draws the masses it's also the love the Beat­nuts show to the people when they reach which is truly a sight to be hold.
The night began with shear eager­ness to dive into a sym­phony of Hip Hop clas­sics whilst we indulged in Brix­ton cul­ture .We dined at the infam­ous crêpe spot Sen­zala Creper­ie and after a few Happy Hour cock­tails and a deli­cious meal, we made our way embra­cing famil­i­ar faces on route. We approached the line stretched build­ing with jaw drop­ping graf­fiti and jumped on to the sound waves that car­ried us into the ven­ue. Those boom bapy waves where cour­tesy of DJ 210 of Itch FM and Big Teddy Ted who set the table for us to feast on an unfor­get­table even­ing. It's unavoid­able on occa­sions like this not to embrace Mike and the whole team for bring­ing us yet anoth­er legendary act. The Chip Shop's Hall of Fame are har­bour­ing more and more heavy­weights and we the people are in awe of the col­lect­ive his­tory being writ­ten in Lon­don.
Straight out the gate we were happy to see one of our Hip Hop Vet­er­ans in the build­ing with Man like CUROC. Son of Noise was host­ing, an old friend of the magazine and we knew it was jump­ing off. Psy­cho Les was in the back­ground kick­ing back whilst the open­ing line up Kemestry and Par­rlax stepped up to rep­res­ent. Ju Ju would have been in the build­ing but he was beast­ing a vir­us to make sure we got a bul­let­proof per­form­ance. What we can't over­look of course is the home grown tal­ent nur­tured by The Chip Shop on spe­cial occa­sions like this. Count­less Emcees have brought earth wind and fire to that spot and tonight was no dif­fer­ent. Kemestry's per­form­ance was a Jager­bomb to the Psyche. His punchy crisp deliv­ery hit hard and cre­ated an ocean of inter­ac­tion between him and the audi­ence. "This guys is sick", that's all you heard from those who hadn't exper­i­enced the tal­ent. There is no doubt there is storm com­ing whenev­er he decides to impact the UK Scene with more mater­i­al. Par­al­lax was up next and his flow alone made it seem like his vocals were tat­tooed to the beat. Dif­fer­ent vibe and fla­vour to the pre­vi­ous act. This brought to light the vari­ety induced by the venue's book­ing. Par­al­lax closed it with a track that kept us boun­cing and knock­ing our heads as we jumped on anoth­er con­tinu­ous wave cour­tesy of DJ Shorty's infam­ous skills. Some­thing we weren't pre­pared for was an addi­tion­al micro­phone des­troy­er rid­ing the European tour with the world fam­ous, a gen­tle­men called Micro­phone Bless. He gave us that mod­ern boom bap from the Audi­ovOX pro­ject which I highly recom­mend you check out. The albums is hold­ing vets like El Da Sen­sei, Ras Kass and more.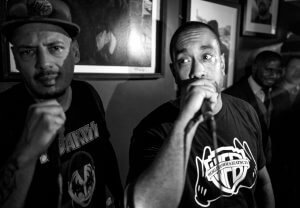 Then came the but­ter­fly in the stom­ach moment. One of the most influ­en­tial tag teams in Hip Hop par­ted the sea of crowds and made there way through. Fol­low­ing a so far out­stand­ing show­case of an even­ing we were primed and ready. Queens was in the build­ing as the cha­ris­mat­ic Ju Ju along­side the cool as ice Psy­cho Les pro­ceeded to pos­i­tion them­selves to rock the mic. Pretty much instantly the audi­ence became pos­sessed by some of the dopest beats the Golden era had to offer with an influx of jazzy lat­in samples over a Boom Bap stam­pede of sounds that had the Chip Shop mov­ing tec­ton­ic plates. The Beat­nuts lived up to their names and went bana­nas over the instru­ment­als with people jump­ing on tables and dirty whin­ing at the front. I must have done a back­flip when 'Do You Believe' star­ted spin­ning. Rock­ing the crowd was second nature for the duo high­light­ing how impact­ful they're genu­ine dis­play of enjoy­ment cap­tiv­ated the people whilst their craft bumped from wall to wall. Word for word we recited the scrip­tures from albums like 'Music­al Mas­sacre', 'Street Level', Stone Crazy' and more. So much love cir­cu­lated as the room exploded with smiles and cli­maxed to Jubil­a­tion when clas­sics like 'Off The Books', 'Watch Out Now' and 'No Escap­in This' closed the show. It was a mar­velous sight to be hold in such an intim­ate ven­ue with these Hip Hop icons at arms lengths. That's just some­thing Chip Shop BXTN have always provided in the last 2 years and the euphor­ia of these new exper­i­ences are still alive and well.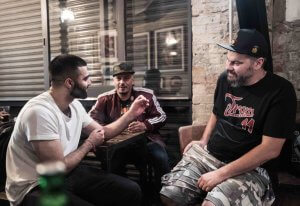 After a world fam­ous per­form­ance that burned thou­sands of cal­or­ies in the room, these Hip Hop cham­pi­ons signed and took pic­tures with every­one. Beat­nuts always show love to the people and every­one got to thank them per­son­ally for a mem­or­able even­ing. As things died down and every­one embraced with there fair wells, I was lucky enough to kick it with Psy­cho les before I made my leave. He spoke to us on the state of Hip Hop and the dif­fer­ent aven­ues and streams avail­able to us. We listened intently and talked for an hour or so with the legend. It was like 3 in the morn­ing when we called it a night as I jumped into the Hip Hop Back In The Day Bat Mobile and burned rub­ber into the Lon­don streets. Have to say The Chip Shop is a place that can make any­one feel right at home. Even Chuck D said " it was like being in the crib in the base­ment days". Have to thank Psy­cho Les and Junk­yard Ju Ju for com­ing down, all the oth­er acts and the entire team involved that made the night what it was. There are no two minds about, if the Beat­nuts hit your city again, buy tick­ets and make sure you check the Chip Shop where his­tory is always being made.
Pho­to­graphy by @nadiaotshudi
The fol­low­ing two tabs change con­tent below.

SIRE
Emcee, Radio Host, Journ­al­ist and Hip Hop junkie unwill­ing to go to rehab! Lon­don is my home and if there is a live per­form­ance cham­pi­on­ing the Hip Hop cul­ture, you'll hear from me on what I think and you'll prob­ably catch me there doing back­flips amongst Boom Bap sounds. Banging through your radio waves, check me on West­side 89.6 FM on The Hip Hop Back In The Day Show and on Reprezent Radio 107.3 FM on The Big Bang Show with DJ J HART. I'm here to pre­serve the cul­ture, add to it and bring you that UK fla­vour aswell. Fol­low me on @reignofsire.