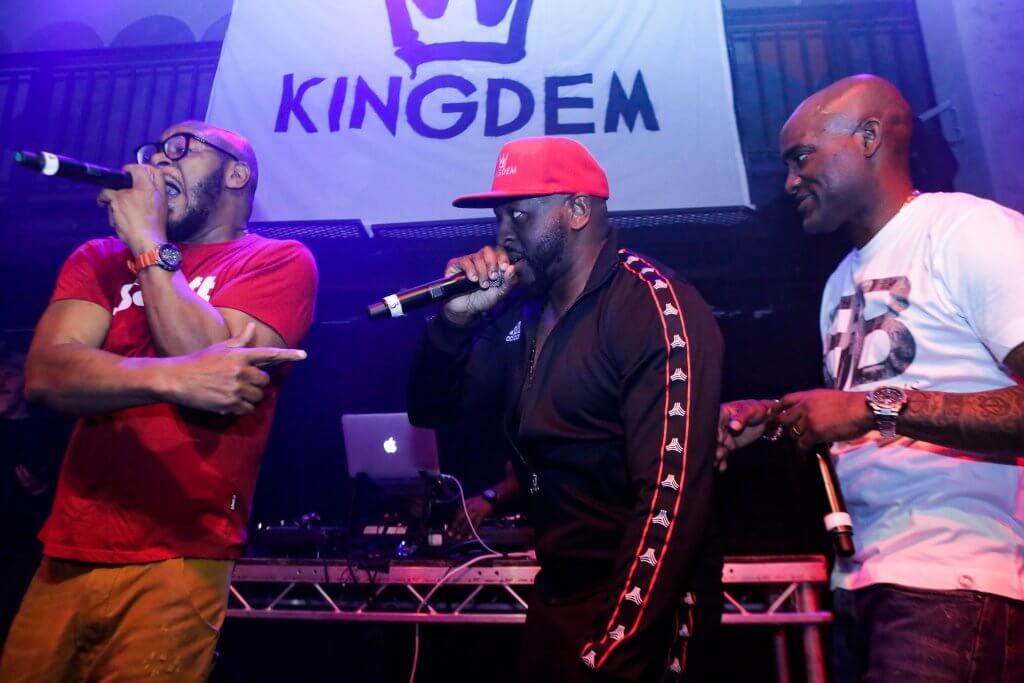 It hasn't always been like this. Black music, under­ground music, Sound Sys­tem cul­ture, bass driv­en sounds have been birthed by our com­munit­ies for gen­er­a­tions, but haven't always gained sup­port with­in our com­munit­ies or out­side them, at least not in the way it is now, for a lot of reas­ons. The exuber­ance and excess of major labels dom­in­ated the decision mak­ing of who was suc­cess­ful through­out the 80s and 90s, and when that industry and life­style crashed in the early 2000s, a void was cre­ated along­side the infant­ile eco­sys­tem of down­load­ing and stream­ing that made it one of the most dif­fi­cult times to dis­trib­ute and pro­mote music, espe­cially inde­pend­ently. This era was the time when Grime was formed, which des­pite being attacked by the powers that be has sur­vived and thrived thanks to the ambi­tion and ded­ic­a­tion of the people who cre­ated it, some of who have now rightly reaped immense suc­cess today, as that online eco­sys­tem is now mature enough to work in the favour of inde­pend­ent artists. That same peri­od also coin­cided with the "boom" of UK Hip Hop – clas­sic, boom bap, rugged, lyr­ic­al UK Hip Hop. More rap­pers and beat­makers seemed to exist then than before and now, though it rarely pro­duced suc­cess­ful careers; by the time we reached the place we are now, the wave of interest had mostly moved on to the young­er sib­lings of Grime and Drill.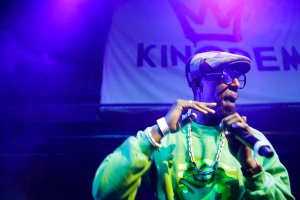 There are artists though, who not only laid the found­a­tion for our cur­rent moment, but shaped the art form and cul­ture, main­tained it though those dif­fi­cult years and have come out the oth­er side with their lives, san­ity, respect and repu­ta­tions not only intact, but enhanced. Rod­ney P, Blak Twang and Ty are 3 of those artists – rep­res­ent­ing 3 dif­fer­ent gen­er­a­tions each inspired by and build­ing on the one before. To see them come togeth­er as The King­Dem, with a nation­al tour, an EP on the way (pro­duced by Nutty P and set to be released on Tru Thoughts) and shel­lin' rid­dims on plat­forms like Charlie Sloth's new Fire in the Booth is a sig­ni­fic­ant moment for lyr­ic­al Hip Hop music, our cul­ture, those who make it and those who have always sup­por­ted it. That fact has not been lost on our com­munity, around the coun­try but espe­cially in Lon­don. The last date of The King­Dem tour at Jazz Café sold out com­pletely, with people who'd assumed they'd be able to pay on the day miss­ing out.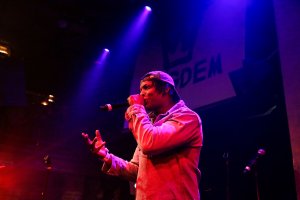 For those who didn't miss out (or were blessed to have a press pass!) it was a spe­cial night. I've been to Jazz Café a lot over the years, and seen crowds like this for the likes of Jedi Mind Tricks and Onyx, or maybe some­thing close to that for a huge com­pil­a­tion line up of Lon­don based acts, but this was dif­fer­ent. This was for one crew – yes, a super­group made of 3 legends – still, it was a power­ful state­ment. What was also telling was the range of the audi­ence; a beau­ti­ful mix of Hip Hop heads in their 20s, 30s 40s and above, and too many influ­en­tial names to men­tion. Import­antly, a large pro­por­tion of the crowd were sis­ters. One cri­ti­cism UK Hip Hop has faced over the years is the mar­gin­al­isa­tion of and inab­il­ity to attract women to events like this. The King­Dem have bucked that trend, not only in the demo­graph­ic of sup­port but in the homage paid to the Cook­ie Crew, already being referred to as The Queen­Dem, in the pro­mo­tion­al events and at this show – as the fun­da­ment­al inspir­a­tion for Rod­ney P to start rap­ping back in the 80s.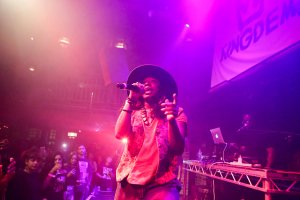 It also mani­fes­ted in the wildly dope Isatta Sher­iff being brought onstage by Ty, to add to the sup­port from Rot­ton family's K9, Not­ting­ham vet­er­an and com­munity build­er Jah Digga, pion­eer­ing selecta and taste­m­aker DJ 279 who all killed their sets, all held togeth­er by Rapscal­lion as mas­ter of cere­mony. The homage paid, the sup­port of old friends, the pro­mo­tion of young­ers, the bring in of heads from oth­er cit­ies and the sup­port and reac­tions from the crowd was evid­ence of what The King­Dem said all night – this was about more than 3 men – this was about Hip Hop, and the branch of its cul­ture born in the cit­ies of these isles.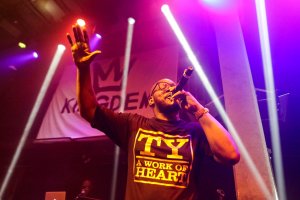 At the same time though, it was all about these 3 legends, as it should be. We were treated to a mix of clas­sics and fresh­ness, through their indi­vidu­al sets and their col­lect­ive per­form­ance. Anoth­er legend, DJ Teddy Ted, held down the decks for the whole night, mak­ing the crowd go crazy as Ty dropped tracks like 'Heart is Break­ing', 'Ha Ha', 'As the Smoke Clears' and 'Some­where Some­how Some­way'. Tony Rot­ton went in with his clas­sics 'Dettwork South­East', 'Help Dem Lord', 'G.C.S.E.' and end­ing on what prob­ably got the biggest reac­tion of the night 'So Rot­ton'. With the tone set, Rod­ney P took the stage, his set play­ing like a his­tory of Black Lon­don music, mov­ing from his 'Live Up' col­lab­or­a­tion with People's Army and Mighty Moe, through clas­sic Lon­don Posse tracks 'Money Mad' and 'How's Life in Lon­don' to solos like 'Rid­dim Killa' and 'The Nice Up', with clas­sic Jungle, Ragga and Hip Hop vibes mixed through­out. You could feel the genu­ine appre­ci­ation and enjoy­ment from the crowd all the way through, and look­ing around there was big, big smiles on faces all round. The night reached its cli­max when all 3 King­Dem shared the stage, per­form­ing new tracks 'The Con­ver­sa­tion' and 'King­step' and the bars per­formed on Fire in the Booth, show­ing that 30+ years of grind, growth, per­sever­ance and cre­at­ing has sharpened the skills, not dulled them.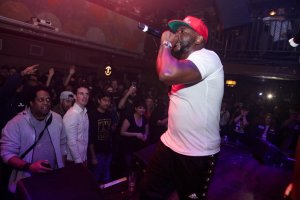 These broth­ers, legends, kings showed bey­ond all doubt that lyr­ic­al, sub­stance driv­en, home grown Hip Hop was not only alive, but thriv­ing in this era of merged genres, new sounds, revital­isa­tion, inde­pend­ent achievements…and mumble rap! The King­Dem is a move­ment, with a lot more to come, that was not star­ted but has def­in­itely been con­tin­ued through this show, this tour, this crew, the music they're about to release and the bridges that will be built through their con­tin­ued suc­cess. A corner has been turned and there's no turn­ing back; again, I feel blessed to be wit­ness­ing it and be a part of it.
Fol­low the move­ment at www.kingdem.co.uk
Pho­tos by Ern­est Simons (@ernestsimons)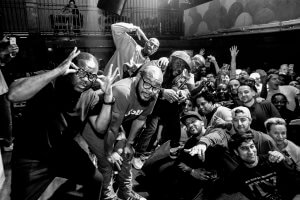 The fol­low­ing two tabs change con­tent below.

Apex Zero
An emcee, beat­maker, film­maker and writer from Lon­don with Gren­adian roots, Apex Zero has spent his life learn­ing and liv­ing Hip Hop cul­ture, using it to inspire and affect change. Based in Beijing for a few years and reg­u­larly tour­ing the globe, Apex is well trav­elled, and uses the les­sons this provides to inform his art and out­look. He is a mem­ber of the Glob­al­Fac­tion digit­al pro­duc­tion house and the inter­na­tion­al Hip Hop col­lect­ive End of the Weak.

Latest posts by Apex Zero (see all)