Photo Cred­it: Phar­oahe Monch Face­book
As a ded­ic­ated Hip Hop head and emcee, I pride myself on hav­ing seen the major­ity of my music­al influ­ences live — at least the ones we have been for­tu­nate enough to still have with us dur­ing my adult life­time. That said, one of the excep­tions to this prin­ciple was the former Organ­ized Kon­fu­sion mem­ber and Rawkus Records sign­ee, the Queens bor­ough rep­pin' legend of both under­ground and main­stream suc­cess, Phar­oahe Monch. Until now…
Through­out Feb­ru­ary 2014, Phar­oahe Monch toured Europe pro­mot­ing his new­est album 'PTSD', play­ing at a load of ven­ues across the UK includ­ing Brix­ton, Liv­er­pool, Manchester and Bris­tol. I man­aged to hit Concorde2 in Brighton to catch his per­form­ance on the South Coast.
As the ven­ue stead­ily filled, the wait­ing crowd was enter­tained by some of the best UK Hip Hop artists on the scene at the minute. The 7‑piece, 3 emcee strong Hip Hop band Gran­ville Ses­sions kicked the night off play­ing tracks of their deadly new album 'For­ward'. The heavy-hit­ting, dark, string-driv­en 'Dom­ino' got the most love, along­side the album's title track, which fea­tured an out-the-blue appear­ance from UK heavy­weight Stig of the Dump. Stig stayed on stage to sup­port the boom-bap soul sounds of the dude with prob­ably the fast­est grow­ing repu­ta­tion in the UK at the moment; the deeply tal­en­ted Rag 'N' Bone Man. Bless­ing melod­ic and clas­sic sound­ing Hip Hop beats with his fresh yet old-skool Blues tone vocals, the High Focus Records sing­er showed exactly why his future's look­ing so bright.
So to the main event…
After a short break, the crowd was buzz­ing. The atmo­sphere was agit­ated and elec­tric as the lights went down with many mem­bers of the front few rows (myself included) mov­ing rest­lessly in in anti­cip­a­tion of the inev­it­able mosh pit. We weren't dis­ap­poin­ted! Phar­oahe hit the stage with char­ac­ter­ist­ic cha­risma, enthu­si­asm and energy, drop­ping bomb after bomb from his extens­ive and impress­ive rep­er­toire. Nearly all my favour­ite tracks came in nearly back to back, from 'Agent Orange', to 'Fuck You', to 'My Life' to 'Clap', and we even got treated to the Organ­ised Kon­fu­sion clas­sic 'Stress' that sent the spot wild. Backed by the insanely tal­en­ted DJ Boo­gie Blind of the legendary X‑Ecutioners, Phar­oahe expertly wove clas­sic hits in with potent new mater­i­al (includ­ing Bad MF that had dropped online the day before), each with his trade­mark intel­li­gent, express­ive, anim­ated and thought pro­vok­ing lyr­i­cism and var­ied, unique flow. This per­form­ance dis­played the depth of Pharoahe's skill as an artist and emcee; the crowd was enga­ging through­out as he bridged the gap between the Golden-Era and the present, high­light­ing an area where Phar­oahe has suc­ceeded where many emcees of his and pre­vi­ous gen­er­a­tions have failed — hav­ing kept the essence of his music true to itself des­pite exper­i­ment­ing suc­cess­fully with new sounds and ideas. In addi­tion to his own mater­i­al, Phar­oahe showed his humil­ity and ded­ic­a­tion as a true Hip Hop head by firstly giv­en a large sec­tion of light to DJ Boo­gie Blind so he could show his skills on the wheels, and secondly by throw­ing in a load of clas­sic tracks to pay homage to artists whose music he said he loves. The most fit­ting was 'Next Epis­ode', as Phar­oahe paid trib­ute to the late, great Nate Dogg, before drop­ping their col­lab­or­a­tion 'Oh No'.
But there was more to come. Des­pite hav­ing been a near con­stant mosh pit through­out (largely instig­ated by myself and my First and Last/POZ/Official Mosh Starters broth­er OMeza Omni­scient), noth­ing com­pared to when the anthem soun­ded out. When 'Simon Says' dropped, it kicked of dif­fer­ently!! There was barely space to through elbows as what seemed like every­one in Concorde2 went nuts. Phar­oahe ended the show there, but returned for an encore that made the night of all the sis­ters in the house, drop­ping 'The Light' fol­lowed by a track I'd nev­er heard; new lyr­ics over what soun­ded like a sample of 'But­ter­flies' by Flo­etry (later covered by Micheal Jack­son). It was a big end­ing to a big night, one of the hypest shows I've been to in a while — as was expec­ted by the emcee who told you that "Simon says 'Get the Fuck Up'…".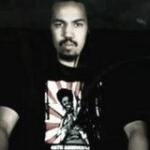 The fol­low­ing two tabs change con­tent below.

Apex Zero
An emcee, beat­maker, film­maker and writer from Lon­don with Gren­adian roots, Apex Zero has spent his life learn­ing and liv­ing Hip Hop cul­ture, using it to inspire and affect change. Based in Beijing for a few years and reg­u­larly tour­ing the globe, Apex is well trav­elled, and uses the les­sons this provides to inform his art and out­look. He is a mem­ber of the Glob­al­Fac­tion digit­al pro­duc­tion house and the inter­na­tion­al Hip Hop col­lect­ive End of the Weak.

Latest posts by Apex Zero (see all)