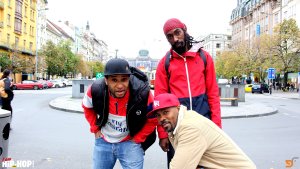 After 6 months of emcee chal­lenges, 5 heats and 1 epic UK final End of the Weak Lon­don had (re)crowned the 2017 EOW UK Cham­pi­on. Hav­ing fought off the some incred­ible com­pet­i­tion in the form of heat win­ners Men­ace Men­d­oza, Dr Koul, Emerge MC, Huski88 and Watusi87, South London's Gate­crasherz rep­pin' Gee Bag stepped up and suc­cess­fully defen­ded the title he'd won in 2016. He'd won the oppor­tun­ity to rep­res­ent the UK in the 2017 EOW World Final in Prague and attempt to improve on the 4th place pos­i­tion he'd achieved in 2016 in Geneva. Accom­pan­ied by organ­isers Mas Law, DJ Snuff and Kissy K as well as myself, Gee Bag set out on Octo­ber 22nd for a week of pure Hip Hop vibes in the lead up to the End of the Weak World Finals on the 28th.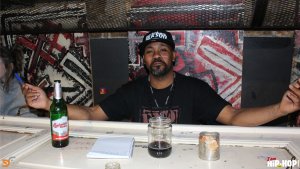 From what began as a humble open mic in New York City in 2000, End of the Weak has grown into a truly inter­na­tion­al organ­iz­a­tion and the World Final is genu­inely a glob­al sum­mit of ded­ic­ated Hip Hop heads, com­munity organ­isers and some of the most tal­en­ted free­style emcees on the plan­et. The host chapter takes on a the huge respons­ib­il­ity of accom­mod­at­ing, organ­ising and enter­tain­ing around 100 emcees, DJs, B‑boys and B‑girls, graf­fiti writers, cam­era teams and oth­er organ­iz­a­tion­al mem­bers from com­pet­ing coun­tries. It's a huge task, and this year the Czech team did an incred­ible job, plan­ning and execut­ing a full itin­er­ary of raw, pure Hip Hop for every­one involved to enjoy. A lot of build­ing took place across nations and scenes, with every­one involved fully engaged in the true spir­it of Hip Hop and of EODub.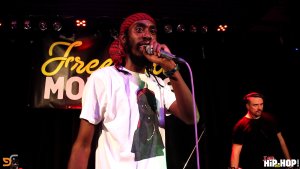 Free­style Mondays
We opened up the week with a head­line per­form­ance by Mas Law at Prague's Free­style Monday. EOW Prague organ­izer Met­odej Con­stantine has been run­ning Free­style Mondays for 7 years, ever since he returned to Prague after rep­res­ent­ing the Czech Repub­lic in the 2010 EOW World Final in Ber­lin. Sim­il­arly to EOW, the concept was foun­ded in NYC but has taken on a life of it's own in Prague. Live musi­cians, jam ses­sions, free­style com­pet­i­tions and inter­na­tion­al head­liners makes for a wild night of Hip Hop, and with the EOW Final in the same week this event did not dis­ap­point. As soon as we walked in the door, we were greeted by EOW fam­ily mem­bers from Prague, Switzer­land and Bel­gi­um before being asked almost imme­di­ately, 'you wanna free­style?' Gee Bag, Kissy and myself jumped on stage with Low G, the 20-year-old cham­pi­on from Bel­gi­um and put down some bars with the band. Every man went in and Low G showed why he was in the World Final. He's only been spit­ting for 2 years, but can free­style like a pro in Eng­lish and Flem­ish, mov­ing effort­lessly between the lan­guages and reg­u­larly flips his flow into double time. He was joined by anoth­er dope emcee, Sam­o­erai, an OG of Bel­gian Hip Hop and a vet­er­an bat­tler who again is bi-lin­gual and can freestlye in Eng­lish bet­ter than a lot of emcees I know in Lon­don. It was a great intro­duc­tion to 2 dope spit­ters.
[youtube]https://www.youtube.com/watch?v=_koz9v0G87Y#action=share[/youtube]
After the band was done, there was a dope per­form­ance by Amer­ic­an emcee Johnny Young­blood, who put down heavy tracks, some raw, some comed­ic, blend­ing in dif­fer­ent influ­ences and styles. The crowd were nicely warmed up for Mas Law to come through and shell it down – and he did just that. Bring­ing his trade­mark ver­sat­il­ity and energy, Mas ran through a crazy set with raw bars, and know­ledge, mad stor­ies over Boom­bap, Dub, Ragga, Trap and Grime influ­enced beats on tracks like new 'Put­ting in the Work' and 'Fuck­ing Good'. Spread­ing love in the way he does, Mas brought me and Gee Bag on stage to per­form too. We both did solo tracks before I jumped on Mas's 'War­ri­or' and Gee B joined him on the abso­lute banger that is 'EA Sports'. Like every crowd I've seen this per­formed to, the audi­ence was going mad, spit­ting the catchy hook with Mas and vib­sing out. The stage got killed.
Between per­form­ances and cyphers, there was also an auc­tion of a beau­ti­ful piece of art­work to raise money for a char­ity called 'Whis­per' and a cause that EOW/Freestyle Mondays Prague has been sup­port­ing for years. Hav­ing made a strong con­nec­tion with EOW Uganda in 2010, Met­adej and the team routinely raise and send money to help sup­port a children's hos­pit­al in Kam­pala. It's a genu­ine, grass­roots effort to help vul­ner­able people who need it, bypassing cor­por­ate char­it­ies who claim to do these works but do little to actu­ally help, so the money goes dir­ectly where it's needed and to people who can really use it.
[youtube]https://www.youtube.com/watch?v=JgnQJb6I4KM&index=17&list=PLd1Hm1op6_GOvhfi-o4wYB39650RKpNLU[/youtube]
Spin Radio 'Street Cypher Show'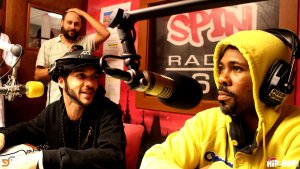 EOW Prague organ­izer Anna hosts a weekly radio show ded­ic­ated to loc­al and inter­na­tion­al Hip Hop on Spin Radio 96.2FM on Tues­day nights. All the cham­pi­ons from the chapters who'd made it into town by this point des­cen­ded on the show to be inter­viewed and per­form on air. Low G rep­res­en­ted EOW Bel­gi­um along­side organ­izer DJ Pro­ceed, Dzon Ass repped for EOW Prague, and Gee Bag was inter­viewed along­side EOW Mon­tréal cham­pi­on Basics. We'd met Basics the night before when the del­eg­ate from Qubec arrived at free­style Mondays. These broth­ers were mad cool. With a big Carib­bean com­munity, we've got a lot of sim­il­ar slang and it was dope to hear these dudes spit bars in French and Eng­lish in French-Cana­dian-Carib­bean accents, a real mix of fla­vours.
Along­side the cham­pi­ons, EOW founder and ill emcee Vice Verses had touched down to help with pro­ceed­ings and gave a dope inter­view on the his­tory of the organ­isa­tion along­side Sammy Jack­ets, EOW France's first organ­iser, the first out­side of NYC and one of the keys to EOW's inter­na­tion­al suc­cess. All the inter­views gave a real insight into EOW and into each champion's per­son­al­ity and per­son­al jour­ney. Basics story was par­tic­u­larly inter­est­ing; he'd nev­er left Canada before and win­ning EOW meant that Hip Hop had taken him on his first inter­na­tion­al flight to his first inter­na­tion­al per­form­ance, some­thing that many champs from around the world have been able to say over the years.
After the inter­views there was a crazy cypher with all the champs and organ­isers, emcees from 5 coun­tries free­styl­ing in 3 lan­guages. Gee Bag (UK), Vice Verses (US), DzonAss (Czech), Basics (Que­bec), Low G (Bel­gi­um) and, after com­ing straight from the air­port, under­ground EOW/NY/Brooklyn legend Pois­on Pen. This broth­er was one of the first EOW cham­pi­ons and has worked with heads like Immor­tal Tech­nique, MF Doom and MOP. Every man went in with punch­lines com­ing in from all over the place. Some high­lights (from the lyr­ics I could under­stand) were from G Bag "I doggy more than home­less muts" and Pois­en Pen "You go get someone, I'm the someone that son gets". Mad­ness!
Uni­ver­sity of New York in Prague
As well as a dope presenter and Hip Hop con­nois­seur, Anna is also an aca­dem­ic, cur­rently com­plet­ing her PhD in Soci­ology focus­ing on the rep­res­ent­a­tion of women in Czech Hip Hop. Through her depart­ment she arranged a pub­lic lec­ture at the uni­ver­sity, where each cham­pi­on who had made it by that time had the oppor­tun­ity to speak. Gee Bag, Low G and Basics were joined by Osyr­is Antham, the New York cham­pi­on (dir­ect from the air­port) and Dandyguel, the host from EOW Par­is. The pan­el gave in depth insights on their per­son­al careers, their rela­tion­ship with Hip Hop, how they viewed the cul­ture now and how women are per­ceived with­in Hip Hop. It was an inter­est­ing dis­cus­sion and was a great oppor­tun­ity to see a side of each final­ist that we might not have been able to see oth­er­wise.
After a ques­tions and answer ses­sion from the audi­ence, the cham­pi­ons were asked to give a free­style on a giv­en sub­ject. Gee Bag went in off the top, spit­ting about fam­ily, Low G rapped about love, Dandyguel spoke about his view on women in Hip Hop, Basics spat about the influ­ence of the police as an institution's influ­ence on Hip Hop. Osyr­is stole the show though, des­pite hav­ing 2 hours sleep and hav­ing just come off a 20+ hour flight, he dropped an incred­ible free­style about colo­ni­al­ism. The standout line was "[indi­gen­ous Amer­ic­ans] got blankets infec­ted with lime dis­ease and all types of chick­en pox, now we eat dis­eased food out a Popeye's chick­en box". Crazy!
[youtube]https://www.youtube.com/watch?v=PL0crCqJEz4&list=PLd1Hm1op6_GOvhfi-o4wYB39650RKpNLU&index=13[/youtube]
The event was anoth­er suc­cess and attrac­ted the atten­tion of a load of the uni­ver­sit­ies stu­dents, espe­cially when after the talk, in true EOW style, a dope free­style cypher kicked off out­side. We saw a lot of the faces from that talk at all the oth­er events in the week.
[youtube]https://www.youtube.com/watch?v=5xNuA6t8hRI&index=12&list=PLd1Hm1op6_GOvhfi-o4wYB39650RKpNLU[/youtube]
[youtube]https://www.youtube.com/watch?v=1n7zJ4N2wqw&index=10&list=PLd1Hm1op6_GOvhfi-o4wYB39650RKpNLU[/youtube]
[youtube]https://www.youtube.com/watch?v=RZJD0_OQdAg&list=PLd1Hm1op6_GOvhfi-o4wYB39650RKpNLU&index=9[/youtube]
[youtube]https://www.youtube.com/watch?v=szLZ9LVm4cc&index=8&list=PLd1Hm1op6_GOvhfi-o4wYB39650RKpNLU[/youtube]
[youtube]https://www.youtube.com/watch?v=DCuTHlFPGhA&list=PLd1Hm1op6_GOvhfi-o4wYB39650RKpNLU&index=7[/youtube]
Record­ing Ses­sion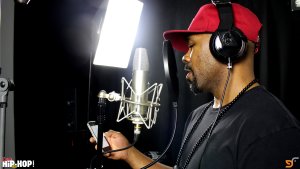 It's become cus­tom­ary at EOW World Final weeks that the emcees and pro­du­cers assembled come togeth­er to cre­ate tracks to com­mem­or­ate the occa­sion, and like most things at this year's final, the record­ing ses­sion was taken to anoth­er level. Met­odej had secured 2 dope record­ing stu­di­os con­nec­ted to one of Prague's biggest music stores Kytary.cz on the out­skirts of the city. All the cham­pi­ons recor­ded a track togeth­er, and all of those who had made it at this point were filmed put­ting their verses down. This included Rox, Switzerland's cham­pi­on and the 3x French cham­pi­on, 2x World Champ Rez, who had flown in the night before. 5 oth­er tracks were recor­ded, team­ing up emcees and sing­ers from every nation involved. They'll all be released on an EOW 2017 World Final EP.
Warm Up Party – Cross Club
After the record­ing ses­sion, there was anoth­er show, this time at Cross Club a really cre­at­ively designed ven­ue. The out­side was covered in intric­ately woven steel pipes while the inside was like a maze, with 2 rooms for events in the base­ment and rooms to eat upstairs. The stage got blessed, first by Bax­ter Wordsworth, the lyr­ic­al ninja and EOW NY host, who brought incred­ible energy to the stage. Next up was a per­form­ance by the only female EOW World Cham­pi­on in his­tory, K.T. Gorique from Switzer­land. This sis­ter is a force of nature, and she shut down the show with her mix of vibes, blend­ing Hip Hop with Afrobeats and dif­fer­ent elec­tron­ic styles. KT Gorique was fol­lowed by one of the Czech Republic's biggest emcees, Rest. They crowd loved him; they room was rammed and the clearly tal­en­ted broth­er had the crowd eat­ing out of his had, recit­ing his bars and react­ing to everything he said. After that Pois­on Pen, who got the crowd hyped with his pure Brook­lyn, 'don't give a fuck' bars.
[youtube]https://www.youtube.com/watch?v=UM0IWhL8iSA&index=20&list=PLd1Hm1op6_GOvhfi-o4wYB39650RKpNLU[/youtube]
[youtube]https://www.youtube.com/watch?v=5165J5gtAFU&index=19&list=PLd1Hm1op6_GOvhfi-o4wYB39650RKpNLU[/youtube]
[youtube]https://www.youtube.com/watch?v=IWpY2uLir3Q&index=18&list=PLd1Hm1op6_GOvhfi-o4wYB39650RKpNLU[/youtube]
DJ Snuff was spin­ning for Pen and stayed on the decks doing what Snuff does; lay­ing down wave after wave of dope rid­dims. He set the tone for anoth­er mara­thon cypher with emcees from all over the world before stay­ing on for hours, bless­ing the Czech crowd.
[youtube]https://www.youtube.com/watch?v=Yfx3sItrUVg&index=4&list=PLd1Hm1op6_GOvhfi-o4wYB39650RKpNLU[/youtube]
[youtube]https://www.youtube.com/watch?v=x80XQI5o2LA&index=3&list=PLd1Hm1op6_GOvhfi-o4wYB39650RKpNLU[/youtube]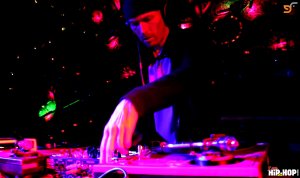 Unfor­tu­nately, towards the end of the night, Sammy Jack­ets had been tar­geted by police and arres­ted. In an envir­on­ment where 80% of the people were smoking ganja, police had rolled right up, arres­ted him and ended up detain­ing him for pos­ses­sion. This was the first neg­at­ive thing that had happened the entire week, and amongst all the love we'd be shown by Prague's Hip Hop and wider music com­munity, an ugli­er aspect of Czech soci­ety had now exposed itself. Our EOW Prague fam­ily informed us that this is some­thing that hap­pens too much in their coun­try, that Afric­ans, tour­ists or res­id­ents, are often tar­geted and racially pro­filed as drug deal­ers. This is some­thing we as people of Afric­an ori­gin have to deal with all over the world, but it still hurt to see one of our fam­ily treated this way when we were here for a cel­eb­ra­tion of Hip Hop and glob­al unity. The next 3 days would be spent try­ing to get Sammy out, and it put a real dent in the vibe of the event. Des­pite the frus­tra­tion and anger, we weren't going to let racist police derail the World Final. 'Free Sammy Jack­ets' became the slo­gan of the rest of the week.
Warm Up Party – Vzorkovna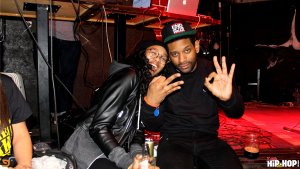 On the night before the World Final, EOW Prague had set up an event for each chapter to show­case the artists who'd rolled to Prague. It star­ted of great. The Neth­er­lands team and their Cham­pi­on MC Gyver had arrived and set off the event with mad energy, mov­ing flu­idly between dif­fer­ent lan­guages and rock­ing the stage with a real hard­core style. The French team stepped up next, but as they were per­form­ing, the racism of the soci­ety we were in exposed itself for the 2nd time in 2 days. A boun­cer on the door caused alter­ca­tions first with Pois­on Pen and then with Gee Bag and his fam­ily who had come to Prague to sup­port him. The boun­cer refused to let Pen exit the club to make a phone call, and then refused entry to Gee Bag's wife and sis­ter, on both occa­sions telling them 'this is Czech, you must speak Czech' – some­thing he hadn't felt the need to say to any of the oth­er white, Asi­an or light­er skinned people talk­ing Eng­lish, French, Dutch or Flem­ish in the spot.
In the spir­it of EOW, nobody hes­it­ated and we left the club, tak­ing a huge per­cent­age of the crowd and the line out­side with us, humi­li­at­ing the boun­cer in the pro­cess. We moved to anoth­er ven­ue after hav­ing a dope a cap­pella cypher in one of Prague's cent­ral squares, with emcees drop­ping bars inspired by the events we'd exper­i­enced and edu­cat­ing the big crowd that had formed about why it's import­ant to fight racism. A one off cypher in the street isn't going to rid Prague or any­where else of this shit, but it felt good to see the reac­tion of the Czech people who'd fol­lowed us out, and the way they and oth­ers who'd gathered embraced what we were say­ing. Again, racists had attemp­ted to dis­rupt the vibe, and had failed. We moved to anoth­er spot, had anoth­er dope cypher and then EOW UK laid down some more fire for the people.
[youtube]https://www.youtube.com/watch?v=NYEknkiapms&index=6&list=PLd1Hm1op6_GOvhfi-o4wYB39650RKpNLU[/youtube]
[youtube]https://www.youtube.com/watch?v=RorRPABlK6U&list=PLd1Hm1op6_GOvhfi-o4wYB39650RKpNLU&index=15[/youtube]
[youtube]https://www.youtube.com/watch?v=oeFxWJVUm0Q&list=PLd1Hm1op6_GOvhfi-o4wYB39650RKpNLU&index=5[/youtube]
With the week done, all that was left was the World Final on. Des­pite the events we'd been to and per­formed at all week being insanely well organ­ized, with big crowds show­ing a lot of love, none of us expec­ted the World Final to be quite as good as it was. Lock back in for part 2, where you'll get a full break­down.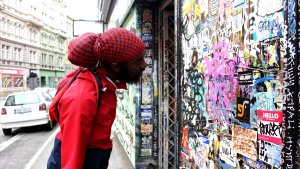 The fol­low­ing two tabs change con­tent below.

Apex Zero
An emcee, beat­maker, film­maker and writer from Lon­don with Gren­adian roots, Apex Zero has spent his life learn­ing and liv­ing Hip Hop cul­ture, using it to inspire and affect change. Based in Beijing for a few years and reg­u­larly tour­ing the globe, Apex is well trav­elled, and uses the les­sons this provides to inform his art and out­look. He is a mem­ber of the Glob­al­Fac­tion digit­al pro­duc­tion house and the inter­na­tion­al Hip Hop col­lect­ive End of the Weak.

Latest posts by Apex Zero (see all)