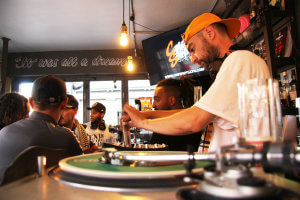 End of the Weak Eng­land is offi­cially back for the 2019 sea­son of the world renowned EOW MC Chal­lenge, the planet's most com­pre­hens­ive and com­plete rap com­pet­i­tion, recently referred to by Hip Hop OG, act­iv­ist and power­ful lyr­i­cist Lupe Fiasco as the "best plat­form to test an emcees skill­set". Born out of the under­ground, inde­pend­ent and battle scenes of New York in 2000, EOW has spread to 20+ coun­tries on 5 con­tin­ents, and now in its 19thyear, the world final will be fought out on the stages of Brus­sels in Novem­ber. DJ Pro­ceed and the Bel­gi­um fam are ready to host the best that each com­pet­ing com­munity has to offer to find the 2019 EOW World Cham­pi­on.
The first UK heat took place on August 11th at the new hub of Hip Hop in Lon­don cHip sHop Brix­ton, to cel­eb­rate EOW's new monthly res­id­ency.
The night kicked off with Flex FM's Oliv­er Sud­den run­ning through a dope sec­tion of breaks, Soul and Hip Hop clas­sic fol­lowed by a set from myself and 2014 world final­ist and organ­iser Mas Law, run­ning through Boom Bap, Elec­tron­ic, 140, Jungle and DnB vibes from our rep­er­toires, set­ting the pace and warm­ing the crowd for our judges PA's – and our judges were FYAH!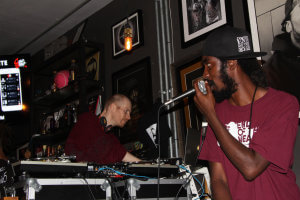 We star­ted with a true queen of the Lon­don Hip Hop scene, a seasoned emcee, DJ and artist developer, the incred­ible Isatta Sher­iff, and as expec­ted the sis­ter shelled it. Isatta was fol­lowed by anoth­er vet, the Ragga gen­er­al K9 who had just fin­ished the listen­ing party for his new album Blak N Forth earli­er in the day, and he blessed us with a couple reg­gae bangers from there. The trin­ity of judges was com­pleted by the legendary Lon­don lyr­i­cist Big Man­age of Cax­ton Press, back home in the scene that he's been so influ­en­tial with­in. Everything was set for yet anoth­er dope MC Chal­lenge. The com­pet­it­ors rep­res­en­ted a real range in styles and exper­i­ence, with the return of some dec­or­ated vet­er­ans and some young fresh faces, all ready for our OG DJ Snuff to put them through their paces.

Emerge MC
2017 EOW Eng­land final­ist aka the Ginger Gen­er­al was back with his unique brand of Geez­er Rap, look­ing to go one step fur­ther and make the world finals
Amos
Manchester based emcee Amos showed a ser­i­ous level of ded­ic­a­tion, trav­el­ling down south to rep the north and look to take the title of champ back with him.
Mala­chi
Teen­age lyr­i­cist whose been mak­ing waves on the scene for a while, spit­tin' with a level of con­scious matur­ity that a lot of people don't reach even at much older ages.
Son of Sam­son
One of the best names I've heard in a long time, com­ing with a bal­ance of know­ledge and raw­ness all packed into a com­plex, rugged flow.
Illus­ive
The nights wild­card entrant, a reg­u­lar at open mics includ­ing Real Deal, drops some of the wild­est punch­lines you'll hear in Lon­don that'll leave you baffled for a moment, then go mad when you clock it.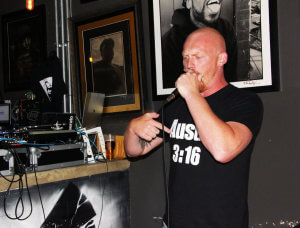 The heat star­ted as expec­ted, with very emcee bring­ing their A‑game for the writ­ten round. Each man demon­strated their own style with accom­plish­ment and there was little to pick between any of them; it was in the second round, where you star­ted to see some light. The acapella round saw Emerge MC put down a deeply heart­felt ded­ic­a­tion to his fath­er, show­ing just how import­ant an influ­ence his dad had been through­out his life. Talk­ing in a way a lot of men don't feel com­fort­able doing, Emerge laid his emo­tions out in his bars, say­ing 'if you weren't old­skool and Irish I'd kiss you' and stat­ing that even though his dad doesn't say much, he knows he's loved as a son, and owes who he is to his old man. Amos put down some dope flows with some more brag­gado­cio lines, and Illus­ive also laid some killer punch­lines, includ­ing 'My girls like the world­wide web, yours is just a link' – MAD! But the oth­er stand-out from round 2 was Mala­chi. He dropped some deep sense, with a slow, meas­ured flow, edu­cat­ing his people about his­tory and warn­ing oth­er young­ers about the traps set for them. Inspir­ing words from a young G.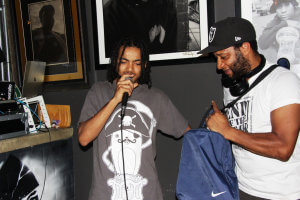 In round 3, Black Santa Kissy K brought out his grab bag to test the emcees free­style game and they all kept the level up, nobody strug­gling but also no one really stand­ing out. Round 4 made that change. When DJ Snuff stepped up to the decks armed with Boom Bap, House, Grime, Dance­hall, Kuduro and more, Emerge, Amos and Mala­chi took fur­ther steps ahead. Emerge looked like he was hav­ing the most fun – at one point chant­ing 'I'm the beats lov­er, who's the beat lov­er? I'm the beat lov­er' while chal­len­ging Snuff to make it more dif­fi­cult. Amos dropped one of the most mem­or­able lines of the night. While flow­ing over the clas­sic Wel­come to Jam­rock, after the icon­ic Ini Kamoze sample 'Out in the streets, they call it murder, he dropped '…and after this, I'm get­ting a bur­ger'! He had the crowd in stiches and showed why he'd been included in this com­pet­i­tion – his free­style was on point.
Round 5, the cypher round got a bit chaot­ic. Every emcee should be drop­ping 4 bars then switch­ing, and let's just say it didn't go too smoothly. In everyone's defence there was a few tech­nic­al dif­fi­culties – mic lead length being one extra obstacle that nobody needs! Even so, the cal­ibre of lyr­ic was still dope, and all the emcees suc­cess­fully com­pleted the chal­lenge, without doubt com­ing out the oth­er side as more roun­ded and con­fid­ent per­formers.
While the scores were being added, we returned to one of the ori­gin­al tra­di­tions of EOW and had a giant open mic cypher, with con­test­ants, judges, hosts and crowd mem­bers all step­ping up to shut it down. It showed just how import­ant plat­forms like EOW and cHip sHop and our uni­fic­a­tion are for real Hip Hop heads. These are places where you come togeth­er as a glob­al Hip Hop fam­ily and express your­self to the level you're at, and be inspired by top qual­ity artists and lyr­i­cists.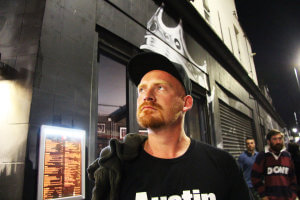 With the points coun­ted we had a close but clear top 3. With Mala­chi in 3rdand Amos in 2nd, Emerge MC the Ginger Gen­er­al pro­gressed to his latest EOW Eng­land Final, show­ing that ded­ic­a­tion to a craft, enjoy­ing what you do and con­stantly aim­ing to improve gives rewards. He'll go into that final con­fid­ent, and with time to really work on a strategy for win­ning.
The 2nd heat will be on Fri­day 23rdAugust in Bris­tol at the legendary Star and Gart­ner, saved from clos­ure this sum­mer by a col­lect­ive of Bris­tol based music lov­ers, marked with a cel­eb­ra­tion host­ing the likes of Dami­en Mar­ley, Dave Chap­pelle, Jamz Super­nova and Roni Size. We'll be down there from 7pm till late, bring­ing the Hip Hop vibes, so all my west coun­try spit­ters, we'll see you there. The 3rdheat will be back at cHip sHop on Septem­ber 8thwith more being worked out around the coun­try. To be involved, get in touch with us @eowengland on Ins­tagram, or turn up on the night to enter the wild­card chal­lenge.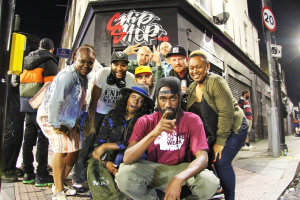 The fol­low­ing two tabs change con­tent below.

Apex Zero
An emcee, beat­maker, film­maker and writer from Lon­don with Gren­adian roots, Apex Zero has spent his life learn­ing and liv­ing Hip Hop cul­ture, using it to inspire and affect change. Based in Beijing for a few years and reg­u­larly tour­ing the globe, Apex is well trav­elled, and uses the les­sons this provides to inform his art and out­look. He is a mem­ber of the Glob­al­Fac­tion digit­al pro­duc­tion house and the inter­na­tion­al Hip Hop col­lect­ive End of the Weak.

Latest posts by Apex Zero (see all)