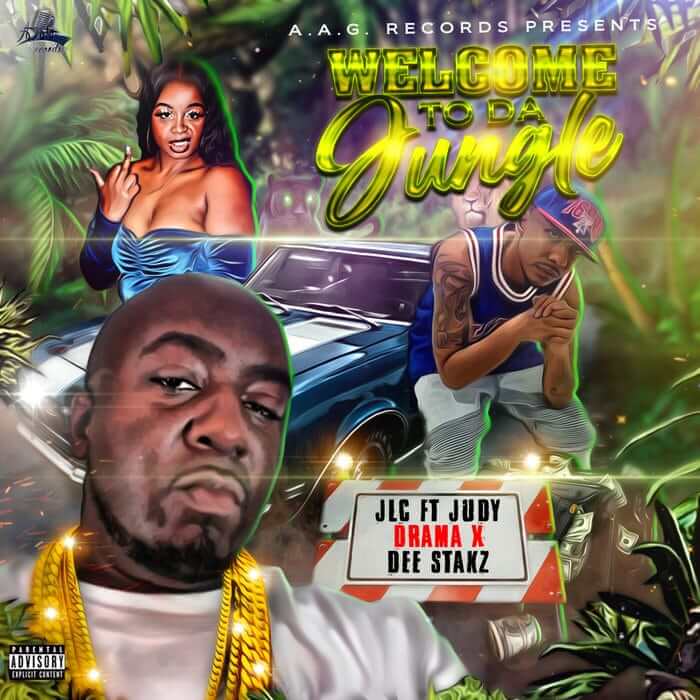 Texas nat­ives JLC and Judy Drama recruit Melbourne's Dee Stakz for new single/video titled "Wel­come to Da Jungle." This fierce trio is unstop­pable and on the move with noth­ing to lose. They can sur­vive the jungle in all forms and come out on top of the game. The Cine­mat­ic pro­duc­tion height­ens the raw and gritty lyrics…Connect the dots while they claim their earned respect. Watch the video and get the inside scoop on "Wel­come to Da Jungle" below.
MJ: Before we jump into the video, how did every­one link up, espe­cially with Dee Stakz who resides in Mel­bourne?
JLC: It basic­ally star­ted from Ins­tagram with Dee Stakz show­ing love and reached out to me with mar­ket­ing ques­tions. While I was grow­ing and mov­ing in the scene, I watched him grow as well. I had a track that I wanted a dif­fer­ent sound and knew with his char­ac­ter and tal­ent that it would be a hit. He came through with a verse, for the video, and the rest is his­tory! As far as Judy, I kept her hear­ing her name in the scene and pop­ping up on social media. I was drawn to her style and sway and the fact that she was also from Texas. We con­nec­ted, and again the rest is his­tory.
MJ: What was the goal with this single/video? Let us in on the pro­cess from the cre­at­ive spark to the finale. Is it receiv­ing the prop­er accol­ades you were expect­ing it to?
JLC: The goal was to provide fans with some­thing they can relate to and show them they can come out as we did and to reach as many as we can! I came up with the idea as I was rid­ing through my old hood in Fort Worth and just think­ing how bad it was back in the day. I mean you had to con­stantly watch your back and watch who you let in your circle and it was people con­stantly get­ting robbed and set up. It's like that now, but back in the 90's it was three times as bad. As of now it's noth­ing but good reviews and it's just been a couple of weeks, as it spreads, we are look­ing for­ward to see­ing how dif­fer­ent crowds respond.
MJ: Was it dif­fi­cult to shoot the video dur­ing a heightened peri­od of COV­ID-19? Why is it import­ant for you to con­tin­ue to cur­ate dur­ing the pan­dem­ic?
JLC: Actu­ally, it was easy. It was kind of an in and out thing when you shoot so many videos you just do your thing and roll out, and I think I can speak on behalf of every­body on that note! I believe it was Dee Stakz's first video, but you would nev­er know it, he handled busi­ness! The pan­dem­ic is an oppor­tun­ity for more expos­ure as people are watch­ing more TV and have more of an online pres­ence.
MJ: Talk about the chem­istry between the three of you and how indi­vidu­al styles com­pli­men­ted one anoth­er.
JLC: Every­body is just down to earth and got jokes so that really makes it easy when every­one has the same goal in mind and takes their careers ser­i­ously. Our styles in my opin­ion with each verse is a dif­fer­ent feel and dif­fer­ent tone, talk­ing about a dif­fer­ent scen­ario with the same top­ic, and it makes it both inter­est­ing and cap­tiv­at­ing.
MJ: Take a minute to share with fans about upcom­ing solo or more col­lab­or­at­ive pro­jects.
JLC: I can­'t talk about that…but we have a lot of people watch­ing us and don't want us, espe­cially me, to go far in the industry. Our ideas are unique, and we must keep them secured until it's release time.
MJ: Please take a moment to share any­thing else fans should be on the lookout for and how they can con­nect with you for updates and new music.
JLC: They can go to Amazon and read my E‑Book "Hip Hop Mar­ket­ing A Dirty Game" for some tips on mar­ket­ing. I have some col­lab­or­a­tions in the works and more music endeavors on the way so stay tuned. Fol­low me on Ins­tagram @jlcaagrecords, on Twit­ter @allaroundaag, on Face­book at AAG Records, and on the web at allaroundaag.com.
The fol­low­ing two tabs change con­tent below.

MJ Savino
MJ is Hip Hop Blog­ger, Pub­li­cist, Book­ing Agent, Act­iv­ist, but fan first and fore­most. "Hip Hop saved my life, it is only right I give back to the cul­ture"!

Latest posts by MJ Savino (see all)