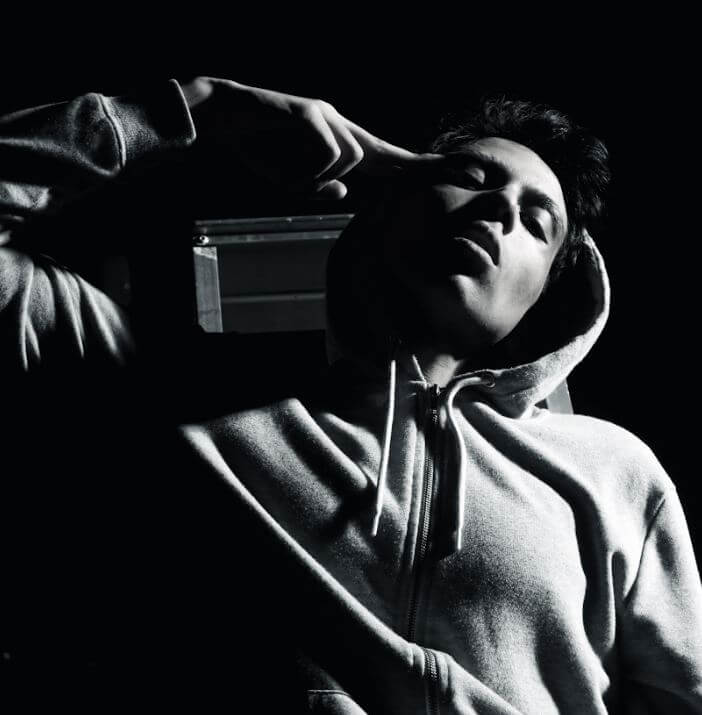 NYC-based hip-hop artist Dante Rap­per is one of the genre's most dar­ing thinkers, a cre­at­ive vis­ion­ary with an authen­tic­ally artist­ic approach.
After issu­ing a series of crit­ic­ally acclaimed singles and per­form­ing a sold-out show at London's Scala, he's ready­ing his latest track for release on 19th July 2019. We catch up with him to find out more!
"600 Horses", your brand-new single, will be released on 19th July – what can fans expect from the release?
Hon­estly, I have no idea what fans can expect but I can tell you my inten­tion with "600 Horses". I wanted to cre­ate a main­stream record whilst talk­ing about my hes­it­ance and skep­ti­cism of the main­stream itself. A lot of people think my songs are usu­ally quite sad or angry and my pre­vi­ous releases are stripped back and pur­pose­fully quite under pro­duced, so for 600, I wanted to cre­ate some­thing wavy that could be played at a house party or in a club whilst lyr­ic­ally high­light­ing my con­tra­dic­tions with the whole life­style that is por­trayed as main­stream. It's really about jux­ta­pos­i­tion and oppos­ites, which I think is at the heart of us as humans. The chor­us is cocky and boast­ful, while the verses are the oppos­ite, I talk about how I'm stuck in a trance where "every night is like the last night" and my "dream-life" feels like "real-life" — but before I can get deep­er and describe this cros­sov­er of fantasy and real­ity, I'm dis­trac­ted by girls and fast cars — "my bitch is fine but my whip is gor­geous, switch­ing lanes, 600 Horses".
For the visu­als, I wanted to make a music video that was more like a short film and some­thing that you wouldn't expect if you listened to the song. I wanted the video to be quite shock­ing and dark — so I wrote and dir­ec­ted the video along with co-writer and dir­ect­or, Arya Ardavan. We decided to base it on a concept by Ted Kaczyn­ski, the Unab­omber, who high­lighted the fun­da­ment­al jux­ta­pos­i­tion between "Tech­no­logy" and "Wild Nature". The battle of these oppos­ites is what we wanted to char­ac­ter­ise in the video for "600 Horses" and it's a battle that Nature is clearly los­ing with our depend­ence on Tech­no­logy, so we thought it would be inter­est­ing to role-reverse and depict Nature defeat­ing and tor­tur­ing Tech­no­logy, all the while using tech­no­logy to deliv­er our message…just to bring home the irony. We just found out that the video became a final­ist for Best Music Video at the IndieX film fest­iv­al in Hol­ly­wood and is in con­sid­er­a­tion for a num­ber of oth­er fest­ivals through­out 2019. That's pretty cool because it's the first video I've cre­at­ively dir­ec­ted and I really enjoy that pro­cess and later down the line want to get involved in film but we'll see on all of that.
You've com­bined main­stream and under­ground styles in the track – how would you per­son­ally describe the sound in "600 Horses"?
For me, when you listen to the song for the first few times, espe­cially as the bass drops, you're dis­trac­ted from the lyr­ics because you're prob­ably vibing out to the bounce, the bass and the melody. It's def­in­itely a wavy sound and this cre­ates the atmo­sphere, so when the lyr­ics start pen­et­rat­ing, you're sort of hit with the con­tra­dic­tion and when the outro plays, you feel the emo­tion.
You've been mak­ing music for quite some time now – what have you learned with each release, and how have you grown as an artist since your first release?
I've learnt that mak­ing music is a priv­ilege, the abil­ity to get under the skin of a feel­ing and to express it in ways that you can't oth­er­wise. Wheth­er it's the lyr­ics, the gui­tar, the drums or any oth­er part of the song, I can speak to you and I can feel you and you hope­fully can feel me and that cre­ates a bond that I revere. With each release, I just get more able in cre­at­ing that bond and hope that it just gets deep­er with each song.
You per­formed a sold-out show at London's Scala – are there any oth­er Lon­don ven­ues on your radar that you would love to per­form in one day?
Yeah, that show at Scala was really cool, we were able to per­form some unre­leased tracks from my upcom­ing pro­ject and the recep­tion was over­whelm­ing, it made me more con­fid­ent that these songs would res­on­ate with people like it does with me. There are some really great ven­ues in Lon­don like Alex­an­dra Palace, Round­house, Roy­al Albert Hall and count­less oth­ers, but all I really care about is the people there and if we can cre­ate a bond with the music, I don't care if it's in a gar­age or a sta­di­um. How­ever, if I had to pick one, I'd want to hit up Brix­ton Academy next, I know that's where The Smiths per­formed their last ever show and it would be a bless­ing to be on that stage.
You recently teamed up with here­is­grey for 'Bad Times' – how did this rela­tion­ship come about?
I met here­is­grey when we were young, he had just left his band and I'd just come back from New York and we clicked straight away. He put me on to a lot of dope music like Elli­ott Smith and Jeff Buckley and we just vibed. Actu­ally, that first day we met, he played gui­tar and I rapped over it for hours, it was some cool shit. Now, some years later, we work togeth­er on the music every day and we star­ted Hideout Music Group as a way to inde­pend­ently release our music to the world. But more than music, grey is my broth­er and best friend.
Who would you like to col­lab­or­ate with in the future?
Haha, that's a good ques­tion and one I don't really know. There's a lot of great artists out there, known and unknown. It could be any­body from any "genre" as long as we vibe togeth­er. I would love to col­lab­or­ate with Frank Ocean though, I'm a big fan of his stuff espe­cially his rough­er cuts like on End­less and I think we could make some­thing pretty raw togeth­er. Also, Mor­ris­sey, I don't know if he'll like me haha but that would be cool.
Which artists are killing it at the moment for you?
To be hon­est with you, every­one I listen to on con­stant rota­tion is pretty much dead. I listen to Elli­ot Smith, Xxxtenta­cion, Nir­vana and Jeff Buckley. But I do hear what comes out from time to time, and I'm fuck­ing with any­one mak­ing music with depth. I have heard a lot of Juice WRLD and I like his sound and also Cau­tious Clay. But for me, here­is­grey is a really fuck­ing dope artist, he hasn't released any­thing oth­er than Bad Times with me but I get the priv­ilege to listen and work with him on unre­leased songs on my pro­ject and his own upcom­ing tracks and it's so real, so he's always been killing it for me, and when it drops, he'll be killing it for you.
Will you be hit­ting the road soon?
Most def­in­itely, but right now I'm focus­ing on put­ting the final touches on my tape, "Sick of Liv­ing / Unwill­ing to Die", which I want to come out later this year. If I'm still alive when it's fin­ished, I'll be doing some tour­ing for sure haha.
The fol­low­ing two tabs change con­tent below.

Rishma Dhali­w­al has extens­ive exper­i­ence study­ing and work­ing in the music and media industry. Hav­ing writ­ten a thes­is on how Hip Hop acts as a social move­ment, she has spent years research­ing and con­nect­ing with artists who use the art form as a tool for bring­ing a voice to the voice­less. Cur­rently work­ing in TV, Rishma brings her PR and media know­ledge to I am Hip Hop and oth­er pro­jects by No Bounds.

Latest posts by Rishma Dhaliwal (see all)