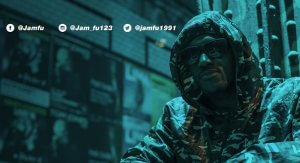 Jahmai 'Jam Fu' Jones is a DJ turned pro­du­cer and MC ori­gin­ally from Birm­ing­ham, UK also has a his­tory in the break­ing scene. I was intrigued to check out his debut track as an MC and pro­du­cer entitled, 'Res­on­ance' from his up and com­ing EP, 'Ill­mo­tion' and find out a bit more about his jour­ney through of Hip Hop.
'Res­on­ance' the first release from his EP begins with a piano intro with a heavy bass drop, this instru­ment­al is the per­fect soundtrack to reflec­tion on self but also doubles as a party jam. An intro­spect­ive piece which flows well with some nice con­cepts. Con­scious lyr­ics to match and a couple of nice ref­er­ences to his­tory and cul­ture for those who know, this track is about fol­low­ing your dreams whilst remain­ing humble, it is some­what inspir­a­tion­al to get up and do some­thing about what you want from life.
What has the trans­ition to Pro­du­cer / MC from DJ been like?
To be hon­est there has been no trans­ition, because both art forms go hand in hand and felt pretty nat­ur­al and organ­ic because through­out the years whilst I was djing at events, parties etc. I was also pro­du­cing music dis­creetly for some time. I'm glad that I went through that pro­cess of craft­ing my sound without releas­ing mater­i­al because that time was invalu­able in hon­ing my pro­duc­tion skills and con­stantly fig­ur­ing out tech­niques, under­stand­ing how to make things sound a cer­tain way that I wanted and craft­ing my own sound. Only a select few indi­vidu­als really got to hear the music I was mak­ing as I was improv­ing. Noth­ing of my own has ever really been played out to an audi­ence until I began work­ing with Tartu Le Sano The Dope Res Kid last year in Birm­ing­ham, UK. We formed a duo called Hid­den Agenda and began record­ing and per­form­ing mater­i­al in Birm­ing­ham and Lon­don.
Oh I see, so you have been work­ing on your music for a while then, it has a very famil­i­ar feel to it, what would you best describe your style as and who are your music­al influ­ences?
I have many influ­ences and motiv­a­tions when it comes to music, I like those artists who don't put on a face, they come as who they are really are. I find this more authen­t­ic, real and refresh­ing.
The basis of my style is under­ground Hip Hop, how­ever I like to take influ­ences from mod­ern music and vari­ous oth­er ele­ments from oth­er genres. The back­bone of my work is built off hip hop, I want my music to sound and be rel­ev­ant today how­ever I'm more inter­ested in main­tain­ing longev­ity in the music industry. Some artists / pro­du­cers who influ­ence my style are STREETRUN­NER, DJ Khalil, Soun­wave, Scoop Dev­ille, Hop­sin, Royce Da 5'9, Lowkey, DJ Khalil, Dr Dre, Ander­son Paak, Logic, Just Blaze & Tim­ber­land, and that's only from the pro­duc­tion side. As an artist / MC my style is my style, it's my per­son­al­ity and who I am as a per­son. I'm not here to please every­one or con­form to a cer­tain sound as do most artist who only think about reach­ing the lime­light. I'm here to make good music, leave a mes­sage, and be a voice for people but that doesn't mean I don't have my favor­ites. I grew up listen­ing to WU, Onyx, Black­star, Gang­starr, Eminem so all of these guys and a lot more from that era of rap have heav­ily influ­enced my style. Its very US influ­enced how­ever I still have to root for artists from my homet­own Birm­ing­ham such as Jaykae, Mist, Lady Leshurr and there are many oth­ers, UK Rap doesn't tend to get the lime­light it deserves but all of that is chan­ging now.
So, you've worked on a few dif­fer­ent pieces but what was your motiv­a­tion for this par­tic­u­lar EP and why did you decide to release this first?
Well, in the begin­ning dur­ing the mak­ing of this EP I faced some tri­als and tribu­la­tions in life as we all do which set me back on the release date of the pro­ject. So there­fore, LIFE itself has been the biggest motiv­at­or for me to get this pro­ject fin­ished and off the ground. Also, my fel­low broth­er Tar­ju Le Sano and his fam­ily were big boosts for me to really pur­sue my music­al pas­sions fur­ther and a few cer­tain indi­vidu­als from my homet­own in Birm­ing­ham such as Lady San­ity, Call­MeU­nique, Juice Aleem. The people I've worked with to bring this EP to life
What can we expect from you in the near future?
My debut ILL MOTION EP is now avail­able on all major music stream­ing ser­vices for people to check out. It's a 6 track EP which pretty much sums up a part of my life that I went through. I also plan to keep releas­ing music as a solo artist. I cur­rently live in Cologne Ger­many so I'm look­ing for col­lab­or­a­tions or oppor­tun­it­ies to get some per­form­ance slots out here, gen­er­ate a fan­base and build with people.
I have my first show in Cologne on the 20th June, hos­ted by Jam Con­nect an organ­iz­a­tion which caters for up and com­ing artists in Ger­many. You can search them on Face­book and Ins­tagram.
Good luck with your music and I look for­ward to hear­ing more from you. You can check out Jam Fu's new EP on Sound­cloud, Band­camp, Spo­ti­fy & fans are also able to sub­scribe to the You­Tube chan­nel:
https://jamfuhiphop.bandcamp.com
https://open.spotify.com/album/6cP7mmo1xfOwywYg9iH0LG?si=PilByWaCTf23_QEudXymxw
https://www.youtube.com/user/123Jamfu
https://soundcloud.com/gtjam/sets/ill-motion-ep
The fol­low­ing two tabs change con­tent below.

Faizah Cyanide
Faizah works in clin­ic­al research by pro­fes­sion and has been an avid Hip Hop lov­er since the early 90's, hav­ing cre­ated her own Hip Hop event, 'Breakin' Bound­ar­ies' in the early 2000's which was pre­dom­in­antly based around the concept of bboy battles, she has worked with sev­er­al inter­na­tion­al events pro­moters and dan­cers to inspire oth­ers through this art­form.

Latest posts by Faizah Cyanide (see all)