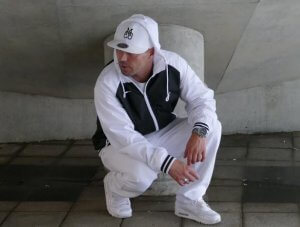 I met MCO on a very busy Sat­urday after­noon on Oxford street where he handed me his album entitled, 'Full Circle', he told me pri­or to this he had 3 mix­tapes and has been selling CDs on road for 5 years, hav­ing sold over 25,000 units inde­pend­ently, he told me, 'the struggle is real, espe­cially for UK artists try­ing to break in the Cap­it­al'. I could see he was very pas­sion­ate about his art so I wanted to know more about his music­al jour­ney.
What's up MCO, please tell me about your­self and how you found hip hop?
I first dis­covered Hip Hop when I was at sec­ond­ary school as a teen­ager going to dis­cos! I grew up near a US Air Force base and used to go dis­cos on the base! The likes of Kriss Kross & Vanilla Ice, dan­cing try­ing to get with older Amer­ic­an girls!
So, you grew up in the US?
No, I was born in Lon­don but I lived out of the city. I used to live near Fair­ford Air­force Base like a mile away I prac­tic­ally grew up on base in pre teen days. Well up until 17 was when I moved to the states! NJ & the Flor­ida.
Ah that explains it! What about your name where did MCO come from?
I was inspired by the Beast­ie Boys, I liked MCA. I used to write and call myself, 'Twistkid in Rhymes' but then I decided that was­n't good enough. I've been writ­ing as, 'MCO' since 2006, it's mean­ing is, 'Mas­ter Com­mu­nic­a­tions Odys­sey', which to me means our spir­itu­al life jour­ney.
My real name is, 'Oliv­er' so people call me, 'O' and take the piss call me, 'MC Oli'.
Nice! So how long have you been rap­ping and how did you devel­op your style?
I've been rap­ping over 20 years, I used to play drums & sing with bands I was in dur­ing sec­ond­ary school, it was more Rock & Blues then! I really did­n't get heav­ily into Hip Hop until the age of 16 when I reg­u­larly star­ted smoking weed.
I see, so dur­ing this time who has been your music­al influ­ences?
My music­al influ­ences, there are so many to name a few, Dire Straits, Rolling Stones, Eric Clapton, Fleet­wood Mac, Roxette, Pois­on, Guns n' Roses. On a Hip Hop note though, De La Soul, Jungle Broth­ers, Black Sheep, Guru, Talib Kweli, DMX, Pete Rock & CL, I've also met every­one of those Hip Hop artists I just gave you.
Wow, you've met DMX, I'm a huge fan what was that like?
I met DMX in '99 in Tampa Bay was around the time he was get­ting mega hype with the movie, 'Belly'. It was sur­real there were limo's & hum­mers and entour­age of the Ruff Ryders crew!! He was due to be per­form­ing in the club but it got can­celled over an alleged knife incid­ent back stage so he boy­cot­ted the gig & they all hit the road.I met him as he was com­ing back out the club, it was a long time ago now.
You met DMX in his prime, I'm jeal­ous! To me he is one of the best of the golden eras of rap, and talk­ing about pion­eers, I really respec­ted your track – 'Pion­eers', it's nice to see an artist giv­ing props to those who came before him.
Pion­eers was due to be signed and did­n't actu­ally get picked up, how­ever it's not to late for any remixes to be done! We had fun mak­ing that video I paid for the spray paint & had some friends work with me on that video.
Yeah, we have been blessed by a lot of pion­eers who have paved the way, but who is your favour­ite artist at the moment and why?
Con­fes­sion — I listen to a lot of Cap­it­al radio and I have a thing for Dua Lipa right now I think she's super hot!. Although I can­'t say she's my favour­ite artist, that would prob­ably be Kendrick Lamar for his lyr­ic­al tongue & pure geni­us, plus he's from the Dre & Eminem fam­ily.
Thank you for your time MCO, all the best with your music!
You can find his album, 'Full Circle' on iTunes.
Face­book: mcohiphop
Ins­tagram: mcohiphop
The fol­low­ing two tabs change con­tent below.

Faizah Cyanide
Faizah works in clin­ic­al research by pro­fes­sion and has been an avid Hip Hop lov­er since the early 90's, hav­ing cre­ated her own Hip Hop event, 'Breakin' Bound­ar­ies' in the early 2000's which was pre­dom­in­antly based around the concept of bboy battles, she has worked with sev­er­al inter­na­tion­al events pro­moters and dan­cers to inspire oth­ers through this art­form.

Latest posts by Faizah Cyanide (see all)