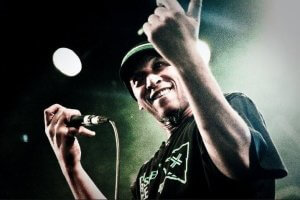 MJ here with I Am Hip-Hop Magazine Lon­don, and tak­ing some time out in between shows to join me for this exclus­ive inter­view is clas­sic Hip Hop legendary artist, Doodle­bug AKA Cee Know­ledge with Dig­able Plan­ets! First and fore­most thank you for tak­ing some time out of your tour for MJ! So, here we are dec­ades and dec­ades later and Dig­able Plan­ets are still cre­at­ing music and rock­ing out stages across the states and the world! Talk about that longev­ity. Talk about your rela­tion­ship with your fel­low group mem­bers. Besides every­one hav­ing fam­il­ies and their own indi­vidu­al lives, does it feel like no time has passed at all?
Doodle­bug: Thanks for hav­ing me sis! Yes, we have had a long and inter­est­ing jour­ney in the music industry with a lot of ups and downs but I wouldn't change a thing because I believe those exper­i­ences forged us into the adults we are today. I met Lady­bug while I was liv­ing in Wash­ing­ton DC and later when I moved back to my homet­own Philly is where I first met But­ter. Once we got cool he came to me with this idea of a rap group he was start­ing called Dig­able Plan­ets and he heard some of the music I was doing with a group I was in at that time called the Dred Poets Soci­ety. He asked me to join him in put­ting this new group togeth­er and after hear­ing the demos he put togeth­er I was hooked. Even­tu­ally Lady­bug joined the group and But­ter through the con­nects he made while being an intern at Sleep­ing Bag records, was able to par­lay a meet­ing with Den­nis Wheel­er, an A&R at an up and com­ing label called Pen­du­lum and the rest is his­tory!
MJ: What do you say to the young, up and com­ing artists out there that claim all these new trends and one hit won­ders in Hip Hop? What do you say when they also com­ment about emcees and artists from the 80's and 90's need to retire from the mic? Because when I hear that I per­son­ally want to yoke up those folks, but that wouldn't be polit­ic­ally cor­rect!
Doodle­bug: I have no prob­lem with the young cats because for real I want them to suc­ceed. But I feel like we failed them in a way by not passing the bat­on along to the next gen­er­a­tion of rap­pers so they have a bet­ter found­a­tion on which to expand on. Yes the music is there that they could look back on for prop­er ref­er­ence but true inter action and guid­ance was lack­ing. We must do bet­ter because even out­side the music biz in the real world there is a dis­con­nect between old school and new school. These kids grow up in fath­er­less house­holds which lead to resent­ment towards their old heads and this men­tal­ity is spread across the com­munity.
MJ: What are some of the dif­fer­ences or the most changes you see now as opposed to mak­ing music and tour­ing back in that golden era of Hip Hop? Have those changes affected your career at all?
Doodle­bug: tech­no­logy has dra­mat­ic­ally changed the way the game is being played, with the advent of social media, digit­al sales, and live stream­ing via ITunes and Google Play etc. This has opened the flood gates and leveled the play­ing fields just a little to allow any­body with some inter­net mar­ket­ing skills to get their music out to the whole world. It has inund­ated the mar­ket with new music and now you just have to fig­ure out how to stand out amongst the rest of the needles in the hay­stack.
MJ: From the point of view of a pion­eer and legend in the music industry, how would you per­son­ally define Hip Hop? Do you feel cer­tain ele­ments are not evid­ent or lack­ing in today's music industry?
Doodle­bug: Hip hop is life. It star­ted in the early 70's out of the exper­i­ences of black and brown teen­agers in the South Bronx who cre­ated their own brand of music, dan­cing, art and fash­ion that spread like wild­fire and cre­ated new oppor­tun­it­ies for ghetto youth across the world.
MJ: Your fan base, sup­port­ers, and fol­low­ers have been going strong and are truly com­mit­ted to Dig­able Plan­ets espe­cially on in inter­na­tion­al level! Is that one of the factors that keeps you both humble and groun­ded? What are some of the oth­er key factors that keep you so down to earth and genu­ine?
Doodle­bug: Yes, it is very hum­bling but also empower­ing to know that your music has affected so many people around the world and that although you haven't recor­ded new music in a long­time these same fans are stead­fast in their belief of the vibes and move­ment we cre­ated back in 1992! We have been lucky enough to travel the globe a few times and it always amazes me to see such a diverse crowd come out to see us per­form. There is everything from teen­agers to grown folks and all types of people from dif­fer­ent eth­nic back­grounds that come out to see us and it's a great feel­ing and inspires me to con­tin­ue to spread the love. But, more import­antly it's my fam­ily and friends that keep me groun­ded and check me on my bull­shit when it's needed!
MJ: Your love for Hip Hop and music in gen­er­al derives from where and who? Did you fore­see this level of longev­ity in your career when you first began tour­ing and mak­ing albums? Do you ever sit back and just think wow this is all so sur­real?
Doole­bug: My love for music star­ted at an early age with my moth­er who loved all types of music and would play any­thing from Frank Sinatra to Earth Wind and Fire. My mother's record col­lec­tion was crazy and became the found­a­tion to my humble music­al begin­nings. I first dis­covered Hip Hop from the block parties around my hood in the late 70's and early 80's when Dj Kos­mic Kev and the Grand­mas­ters of Funk would set up their massive sound sys­tem on Gil­bert Street and Rugby Streets (uptown) dur­ing the sum­mers. They would blast the illest sounds while an up and com­ing emcee Parry P con­trolled the crowd with his ill rhymes and my friends and I were hyp­not­ized by what they were doing. In fact from that point on my mis­sion in life was to be like those cats and my friends and I went home and began to imit­ate what we saw them do and even­tu­ally we dis­covered the Lady B radio show on the AM dial where they played all Hip Hop, and from there my mind was totally blown!!! Since those days I knew I wanted to do some­thing in music but had no idea that I would actu­ally make a real career out of it and dec­ades later Hip Hop would become such a world­wide cul­tur­al phe­nomen­on.
MJ: What would you say has been one of the most pro­found life's les­sons you exper­i­enced and grew from music­ally?
Doodle­bug: the most pro­found life les­son I've learned from my time in the music industry is to nev­er fol­low the herd and nev­er be afraid to be your­self and do what makes you feel good!
MJ: Let's get down to the music! Let every­one know what's hot right now! Let every­one know about shows and the tour! Let every­one know where you will be next!
Doodle­bug: I am cur­rently put­ting the final touches on my new CFO pro­ject called "Ali­en-Aided (a Cos­mic Funk antho­logy)" com­ing soon to all digit­al plat­forms via Artists First records/RopeADope Records. I'm also work­ing on a com­ic book that my busi­ness part­ner Thomas View and I wrote togeth­er called "The Epic of the Heav­en and Earth Asso­ci­ation" that I am also devel­op­ing into a web series. I'm also cur­rently tour­ing around the world with my Digible Plan­ets fam­ily and we hope to have new music recor­ded next year so look out for that!!
MJ: You have a beau­ti­ful fam­ily, God bless you all! How involved are they in your career? Does little man know what a legend his fath­er is? Is he music­ally inclined as well? Will you be passing the torch, or in this case the mic down?
Doodle­bug: yes, I'm very lucky to have such a great sup­port sys­tem with my wife and kids. They sup­port me 100% in all my endeavors and keep me focused. my older kids have a bet­ter idea of who I am as a rap­per and my place in the Hip Hop lex­icon but my young­er kids don't get it so much but they do bug out whenev­er they hear my song on the radio and it def­in­itely puts a smile on my face to know my kids are proud of their daddy!!
MJ: whose idea was it to reunite Dig­able Plan­ets? Was it a group effort or one mem­ber in par­tic­u­lar?
Doodle­bug: after the group ini­tially broke up in 1995 there was a lot of ten­sion amongst us so we went years without really talk­ing to each oth­er at all but even­tu­ally the anger sub­sided and I think we all began to real­ize that our friend­ship and the music­al move­ment we cre­ated togeth­er was big­ger than whatever drama drove us apart. In 2005 we all agreed to meet up at a stu­dio facil­ity in New York where we talked out our issues and decided to try this again. I had an oppor­tun­ity presen­ted to me where we could take Dig­able Plan­ets out to Europe and do a reunion tour for a couple of weeks. Every­one agreed to do it and once we got to Europe and saw the over­whelm­ing response from the fans that showed up in droves with lines around the corner from each ven­ue we real­ized that this was some­thing good. We got back to the states and star­ted get­ting crazy offers to per­form at all these major music fest­ivals and thus began the whirl­wind reunion tour we have been on for a couple of years and that I'm hop­ing we will flip into a new album of ori­gin­al music.
MJ: As we wrap up, I have to ask this one ques­tion that I ask every­one single artist I interview…who is in your per­son­al playl­ist, of any genre of music?
Doodle­bug: my cur­rent play list includes Roc Mar­ciano, Sean Price, Wise Intel­li­gent, Brookz­ill, Shabazz Palaces, Col­lie Bud­dz, Elle King, Phanto­grams, Solange, the Lox, Bruno Mars and BJ the Chica­go Kid, etc.
MJ: I want to per­son­ally thank you for con­tinu­ing to cre­ate music and to con­tin­ue to bless the mic and stages across the globe! I'm sure you are thanked at shows for resur­rect­ing Hip Hop. But I'll say that you can't resur­rect some­thing that has always been alive! People fail to real­ize that not being heard on all out­lets of music does not define someone as a has been or washed up! Dig­able Plan­ets brought some­thing to Hip Hop that was unique, groovy, funky, soul­ful, and alive! Here we are in 2017 and not a beat missed and not a lyr­ic left out! Salute and thank you for all your con­tri­bu­tions to music and to the cul­ture of Hip Hop!
Doodle­bug: Thank you!
The fol­low­ing two tabs change con­tent below.

MJ Savino
MJ is Hip Hop Blog­ger, Pub­li­cist, Book­ing Agent, Act­iv­ist, but fan first and fore­most. "Hip Hop saved my life, it is only right I give back to the cul­ture"!

Latest posts by MJ Savino (see all)