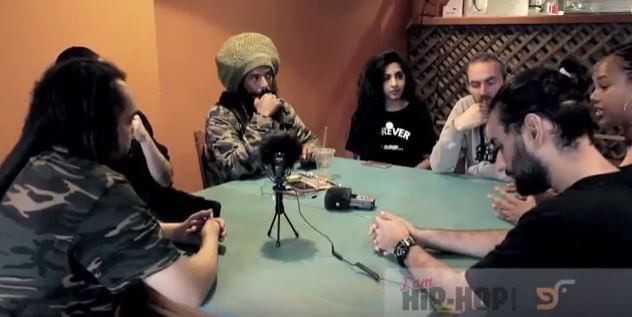 Glob­al Fac­tion and I Am Hip Hop Magazine present ReZONE­ing – an in-depth dis­cus­sion on the socio-polit­ic­al situ­ation facing our com­munit­ies. The call­ing of the snap gen­er­al elec­tion has intens­i­fied much of the debate, con­cerns, prob­lems and divi­sions that the cur­rent polit­ic­al cli­mate has imposed upon our people and the soci­ety, with – as expec­ted – most of the con­ver­sa­tion being centred on which polit­ic­al party people should sup­port. With­in poorer and more eth­nic­ally diverse com­munit­ies and amongst those who are more act­ive in grass­roots organ­isa­tion, the debate has been less about who to vote for and more about wheth­er or not people should reas­sess their present (often right­fully scep­tic­al) con­cep­tions of the Labour Party and sup­port the lead­er­ship of Jeremy Corbyn, who in many ways appears to be the most humane and relat­able can­did­ate to actu­ally stand a chance of becom­ing prime min­is­ter in liv­ing memory.
This scen­ario has seen many respec­ted and well known mem­bers of the Hip Hop and Grime com­munity come out in sup­port of Corbyn, get­ting behind his cam­paign and urging people, espe­cially young people, to engage or reen­gage with the pro­cess of party polit­ics and to register then vote on June 8th. The decision to do so has been framed as an urgent call to action at a crit­ic­al moment with import­ant areas such as the NHS, people's basic income, school fund­ing, uni­ver­sity fees and the move­ment of people (often those escap­ing war­zones) being seen as at stake if the Con­ser­vat­ive party were to retake con­trol of the gov­ern­ment.
As a res­ult of the reduced time-scale brought about by the snap gen­er­al elec­tion, people are being forced to accel­er­ate their weigh­ing up of Corbyn's cre­den­tials and of the effect­ive­ness of back­ing a Labour Party that has at best betrayed its ori­gin­al pos­i­tion as rep­res­ent­at­ive of the poorer and work­ing class mem­bers of this soci­ety and at worst has only ever been the second half of an arti­fi­cial demo­cracy and polit­ic­al sys­tem designed to cre­ate the illu­sion of free­dom and par­ti­cip­a­tion in the polit­ic­al sys­tem. Unfor­tu­nately, due to the appar­ent urgency, this area of dis­cus­sion has been lost among the mass media driv­en, repet­it­ive con­ver­sa­tion of left or right, red or blue, Labour or Con­ser­vat­ive, Corbyn or May. In response to Corbyn being attacked by this same mass media, much of the con­ver­sa­tion by those who would nor­mally be the voice of the more focused dis­cus­sion have instead had to spend their air­time defend­ing him as a per­son or as a politi­cian. As a con­sequence, the dia­logue has shif­ted to be far more inline with the mass media (mis)conception of polit­ic­al debate.
With this set of cir­cum­stances as the basis, Glob­al Fac­tion and I Am Hip-Hop magazine have attemp­ted to realign this dis­cus­sion, pla­cing the con­ver­sa­tion in the zone of ques­tion­ing the very nature of the polit­ic­al sys­tem that party polit­ics rep­res­ents. After reach­ing out to a large num­ber of the Hip Hop, Reg­gae, Jungle, Grime and act­iv­ist com­munit­ies of Lon­don, a group of indi­vidu­als who view the polit­ic­al sys­tem from this per­spect­ive were brought togeth­er to dis­cuss the cur­rent cli­mate, wheth­er or not they were vot­ing or why, how polit­ics does not start and end with polit­ic­al parties, what our com­munit­ies should or can expect from this cur­rent situ­ation, where our ener­gies should be focused in terms of our com­munit­ies and polit­ics and the role that music(ians) and art(ists) can, could or should play in defin­ing and act­ing as a res­ult of such points of view.
Held in Imper­i­al Fla­vors Carib­bean res­taur­ant in Hack­ney, Congo Natty, DJ Steaz, Amy True, Potent Whis­per, Apex Zero, Rishma and Merz reas­on on all the issues men­tioned above and more in part one of "ReZON­En­ing", an attempt to realign the cur­rent polit­ic­al con­ver­sa­tion.
Watch the video and join in the dis­cus­sion.
[youtube]https://youtu.be/pbIyK-ZmOl4[/youtube]
The fol­low­ing two tabs change con­tent below.

Apex Zero
An emcee, beat­maker, film­maker and writer from Lon­don with Gren­adian roots, Apex Zero has spent his life learn­ing and liv­ing Hip Hop cul­ture, using it to inspire and affect change. Based in Beijing for a few years and reg­u­larly tour­ing the globe, Apex is well trav­elled, and uses the les­sons this provides to inform his art and out­look. He is a mem­ber of the Glob­al­Fac­tion digit­al pro­duc­tion house and the inter­na­tion­al Hip Hop col­lect­ive End of the Weak.

Latest posts by Apex Zero (see all)