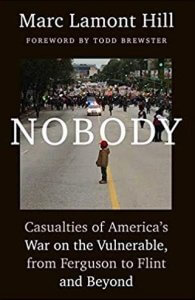 After deliv­er­ing a speech at the United Nations, Dr. Marc Lamont Hill became vic­tim­ised by the media for speak­ing out for Palestini­an rights. Fol­low­ing the per­ils of many equal rights act­iv­ists he was imme­di­ately accused of anti-Semit­ism. Noth­ing was men­tioned about Jews, or Juda­ism in a derog­at­ory man­ner, he had made a state­ment cri­ti­ciz­ing the illeg­al occu­pa­tion of Palestine by the State of Israel.
As a bizarre reac­tion fol­low­ing pres­sure, the response from CNN was to fire Marc from the sta­tion without dis­cus­sion or even reas­on. This high­lights the lack of free­dom of speech when it comes to talk­ing about Palestini­an rights and any object­ive cri­ti­cism of Israel. Dia­logues are shut down before they even begin. This is how I knew this man had a lot to say that needed to be heard.
In Marc Lamont Hill's recent book, 'Nobody' he dis­cusses the bit­ter truth of vul­ner­able indi­vidu­als becom­ing so neg­lected by soci­ety that they have become invis­ible. This book explores how minor­ity groups such as the Black, Brown, immig­rant, queer or trans lives have become increas­ing more vul­ner­able as State power has increased. It high­lights the thou­sands of deaths by law enforce­ment every year where the com­mon demo­graph­ic is poor, young, men­tally ill, unarmed and Black.
This book explores the pro­tocol of a sys­tem engin­eered to inten­tion­ally tar­get, exploit and crim­in­al­ize minor­ity groups. It goes into depth of sev­er­al cases of injustice such as that of Michael Brown who was killed by police des­pite being unarmed. These cases serve to prove there is a mis­con­cep­tion that all people of col­our are viol­ent crim­in­als and that minor crimes will indef­in­itely lead to more ser­i­ous and viol­ent ones. These indi­vidu­als should there­fore no longer be entitled to the same rights, cit­izen­ship and human­ity as 'inno­cent' people in soci­ety. Justice is only an illu­sion, that can­not be obtained by mem­bers of minor­ity groups no mat­ter how con­form­it­ive they may try to be in a mod­ern soci­ety.
State viol­ence goes bey­ond dir­ect effects, it cre­ates a deep physiolo­gic­al trauma which leaves after effects as exem­pli­fied by the sui­cide rate of pris­on­ers such as Paula Cooper. Dr. Hill touched on the privat­isa­tion of pris­ons and the 'pris­on indus­tri­al com­plex' where incar­cer­a­tion is a means of mak­ing money, the health of indi­vidu­als foes not always come first. An echo­ing stat­ist­ic shows 20% of Amer­ic­an state pris­ons con­tain men­tally ill cit­izens, the most vul­ner­able. The 'qual­ity of life law' pro­hib­its sleep­ing, sit­ting, eat­ing and camp­ing in pub­lic which has turned home­less­ness into a crime.
The book ends on a more pos­it­ive note with the notion that these 'nobod­ies' are lead­ing mass move­ments assert­ing that they are 'some­body' and are ques­tion­ing the legit­im­acy of State power by cre­at­ing move­ments against oppres­sion, State viol­ence and eco­nom­ic injustice. He reminds us that, 'empires even­tu­ally fall, and that free­dom is closer than we think'.
A thought pro­vok­ing and uni­fy­ing read.
The fol­low­ing two tabs change con­tent below.

Faizah Cyanide
Faizah works in clin­ic­al research by pro­fes­sion and has been an avid Hip Hop lov­er since the early 90's, hav­ing cre­ated her own Hip Hop event, 'Breakin' Bound­ar­ies' in the early 2000's which was pre­dom­in­antly based around the concept of bboy battles, she has worked with sev­er­al inter­na­tion­al events pro­moters and dan­cers to inspire oth­ers through this art­form.

Latest posts by Faizah Cyanide (see all)