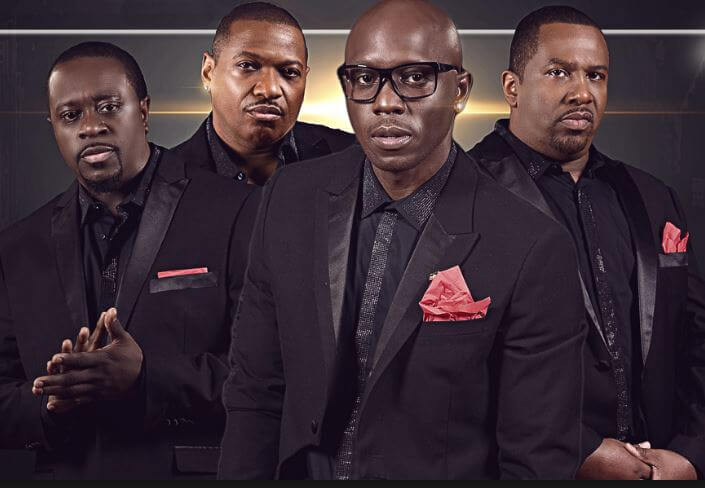 I Am Hip Hop are firm believ­ers in pay­ing homage to greatest while they are still act­ive, espe­cially when they still killing stages around the world.
Ahead of their European tour, we had the massive priv­ilege of speak­ing with one of the most import­ant R&B groups of the last few dec­ades, Black­street. The sing­ers had exper­i­mented in solo ven­tures after their last album in 2002, but four of them regrouped in 2014 to bring the power­ful vocals togeth­er again.
The reunited vocal­ists Eric Wil­li­ams, Levi Little, Mark Middleton and co-founder, Chaun­cey Black, spoke with us about what was so unique about R&B when they broke through, along with how they com­bined togeth­er in this new era.
"I was over­seas doing my own thing by build­ing artists in Aus­tralia. The people I was deal­ing with then wanted me to do a Black­street show to help bring aware­ness to the artists over there." Chaun­cey explained.
"I felt that if I was to do a Black­street show, I have to get the ori­gin­al guys in that built it so we can do the album. I reached out to Levi, Mark and Eric to really give the fans what they want. When I get on stage and see these guys singing, I get blown away every night. This is like a great bas­ket­ball team where you know all the play­ers and every night, every­body is doing some­thing great!"
Black­street are respons­ible for some of the most recog­nis­able anthems of the 1990s, includ­ing club banger, No Dig­gity and the ever-emo­tion­al bal­lad, Don't Leave Me. With their leg­acy firmly planted, the group had a healthy dis­cus­sion about how R&B and the music industry as a whole has changed over the years.
"Music in the 90s was more about rela­tion­ships and love as the songs had lyr­ic­al con­tent and mean­ing." Eric shared.
"As opposed to today, where they have catchy phrases and repeat the same thing over and over. I'm not mad about that but I am com­par­ing what was hap­pen­ing then to now."
Eric's band­mate, Mark conquered with him and fol­lowed up with more details on the change.
"Now they have really dumbed down our musi­cian­ship. We had clas­sic sing­ers, song­writers and musi­cians with real tal­ent, along with labels that were will­ing to devel­op tal­ent." Mark said.
"Now records don't really cost much to make and now you don't need to have real tal­ent to make a hit song. We are the real tal­ent and the real musi­cians but half the people these days can­'t even read, write or play music.
"Back in the day they wanted you to go to the highest depths with your vocals but now they hold young vocal­ists down. There has to become a mar­riage between the pro­duc­tion and the artistry again!"
Chaun­cey also explained how R&B musi­cians were espe­cially respec­ted and he noticed when the trans­ition first star­ted to hap­pen.
"When Hip Hop came on the scene, it kind of watered down R&B. Hip Hop was such a dan­ger­ous stamp on the busi­ness because exec­ut­ives wanted to hear more Hip Hop and Hip Hop slang on R&B. Back then Hip Hop artists wanted to be R&B super­stars like us! There is no love these days but R&B was all about love."
Levi added how the change in the way music is con­sumed is one of the ulti­mate factors to the way the sound has been over­hauled as a whole.
"Also, the busi­ness mod­el has changed, as the way the records are sold and per­ceived is dif­fer­ent." He shared.
"When you come and see a Black­street show, you see hard­core R&B fans that really come and love the music. We thank God to be able to have that plat­form as people still love what we do. We came from an era when people not only really bought music from the record stores but when they came and saw us live, they saw a total exper­i­ence.
"Now people over­use tech­no­logy and when people come and see them live, it sounds noth­ing like that. The cool thing about the change is that it is great for new artists as the middle man is now cut out. You can do the record your­self and upload it so it can be good for inde­pend­ent artists."
Levi also con­cluded what sep­ar­ates Black­street, along with 90s musi­cians as a whole.
"Good music will always be around, it will always sur­face. Black­street tried to make records that you would hear forever. You still listen to Stevie Won­der and Mar­vin Gaye and when you hear them, they're like soundtracks to your life. That's what we also tried to accom­plish in the 90s!"
The group then turned to share the many artists that have broken through recently that they love and feel still uphold the light of R&B. The group shouted the names togeth­er in excite­ment.
"Bruno Mars, Miguel, Chris Brown, and what about the ladies hold­ing R&B down? Ella Mai, H.E.R, Jazmine Sul­li­van and Fantas­ia!"
The group will be per­form­ing at the Jazz Café for three nights in a row on the 25th, 26th and 27th March. Chaun­cey revealed to us that this is the per­fect set up to release their first album for the first time in 17 years!
"There are more dates that keep pop­ping up, at the moment we have three shows in Lon­don, one in Switzer­land, Cologne and Stut­tgart, Ger­many and Lux­em­bourg. We have actu­ally been to all of these places but this time it is really a form­al entry for the new album that we have got com­ing out. We are going to put some­thing togeth­er when we come back and this is for that."
Chaun­cey shared how their music­al exper­i­ences with co-founder, Teddy Riley, along with oth­er super pro­du­cers, will enable them to find a renais­sance with this pro­ject.
"The last time we had an album was back in 2002, this time it will be very spe­cial as back then people tagged us with the New Jack Swing title so much. Now with our vocal abil­ity and what we learnt from the industry from the likes of Baby­face, Teddy Riley and Dr. Dre we can come with a fresh new sound to make R&B."
Chaun­cey con­cluded that the whole group is grate­ful for their fans, who they call their friends and they look for­ward to the year ahead.
"We like to tell all our friends that we are so grate­ful to still be out here and love what we do. We really appre­ci­ate it. We know that we have to do anoth­er album because of all the appre­ci­ation that we get from them."
Catch Black­street at the Jazz Café next week. Tick­ets avail­able here.

The fol­low­ing two tabs change con­tent below.

Sumit Singh
Sum­it is a his­tor­i­an from Croy­don, South Lon­don. He spe­cial­ises in music, art, cul­ture and mango lassi.

Latest posts by Sumit Singh (see all)