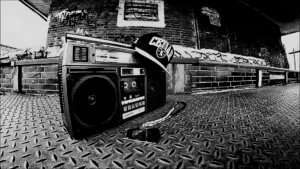 Grow­ing up in the '80s and '90s, we had some very genu­ine sounds that left a very big impres­sion. Many of the Hip Hop artists of that era had fun songs, and the beats were so hard to get out of your head. In the mid and late '90s, Hip Hop began to incor­por­ate more viol­ence, degrad­ing the oppos­ite sex, talk­ing about drugs, etc. Now don't get me wrong, the beats were still there, inspir­ing some great artists later on down the road.
I most def­in­itely like the old school bet­ter, for the artist­ic way they rose above their situ­ation and were over­comers. To me, today's Hip Hop tells more of a story from the artists' struggle and how they rose above hard­ship. This gives many an inside look at the way people are treated, what is excep­ted, and who can be the next LL Cool J, Run DMC, Beast­ie Boys, etc.
A style that's not really new, but dif­fer­ent has come into the light even more…Country Hip Hop (aka; Hick-hop). Many new artists are com­ing to the fore­front, includ­ing Adam Cal­houn, Ryan Upchurch, and Mesus, just to name a few. Now the older coun­try Hip Hop artists may sur­prise you. Kid Rock "Cow­boy", Cow­boy Troy, and Nelly are just the tip of the ice­berg. Coun­try Rap really got its start in the early '80s.
Hip Hop flows over into all oth­er genres, includ­ing rock, coun­try, pop, met­al, and Chris­ti­an. Chris­ti­an Hip Hop has really taken off with­in the last 15 years, espe­cially Toby Mac, Lecrae, and Da' T.R.U.T.H., for starters. Some fam­ous rap­pers are chan­ging their lives and com­ing over to Chris­ti­an rap. Kayne West has been the most not­able. Kayne announced that he wanted to start rap­ping for Jesus. This is a change in which many people were very cau­tious, and did not believe Kayne would do such a thing. Now many people are listen­ing and have more respect for his decision.
In this era or style of Hip Hop, I see more battle rap styles or battle beef going on. Things tend to get very per­son­al towards each oth­er. One artist that many tend to shy away from is none oth­er than the G.O.A.T. him­self, Eminem. Mar­shall Math­ers has cut careers short, because of his word­play and his manip­u­la­tion of words. That is not to say that oth­ers are bad at rap bat­tling, Eminem is just really great at how he decon­structs who­ever is in his sight. As Math­ers has stated about those who helped shape his career, today Eminem is help­ing shape careers.
Now as far as where I would like to aim my focus, that would be more towards the Coun­try Hip Hop. I would like to see this style of rap more in the spot­light show­cas­ing its artists. Many styles of Coun­try Hip Hop (Hick-hop) are start­ing to appear but for the most part, many stay close to their roots. Coun­try Hip hop has gained quite a fol­low­ing in the last two or three years. I believe this will only grow and many under­stand that in Coun­try Hip Hop, life can be just as tough. Drink­ing, drugs, and much of the oth­er things in Hip Hop do not just affect the inner cit­ies. Yes, most Coun­try Hip Hop artists are coun­try folks. How­ever, that does not mean they just listen to coun­try music. Many have been influ­enced by some of the same artists such as Eminem, LL Cool J, 50cent, and many more.
If you have not had the chance or even thought about listen­ing to Coun­try Hip Hop, do so now. You may find that you have quite a lot in com­mon with these artists. Again, just to name a few; check out Adam Cal­houn, Ryan Upchurch, or Mesus (just off the top of my head). Yes, they do sound coun­try, because they do not live in the big cit­ies. Open up your mind, listen to the words, and the beat. You will find your­self very impressed and want­ing to hear more. How­ever, do not just listen to one song, listen to mul­tiple then form your opin­ion. Now come on back Y'all, you're always wel­come.
Shared w/MJ By Jason Cal­la­han
The fol­low­ing two tabs change con­tent below.

MJ Savino
MJ is Hip Hop Blog­ger, Pub­li­cist, Book­ing Agent, Act­iv­ist, but fan first and fore­most. "Hip Hop saved my life, it is only right I give back to the cul­ture"!

Latest posts by MJ Savino (see all)