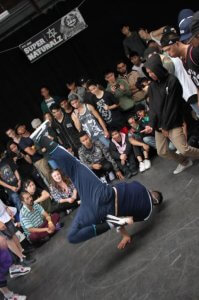 I was in beau­ti­ful Van­couver, Brit­ish Columbia not only for my good friend bboy Puzzles wed­ding, but also for his crew's — 'Super­nat­ur­alz' 25th Anniversary which doubled up as a pre-wed­ding party the night before. I was really excited to be able to make this as Super­nat­ur­alz (SNC) are an icon­ic crew who sig­na­ture foot­work and thread styles put them on the map for ori­gin­al­ity as world lead­ers in bboy­ing. Foun­ded in 1992, one of Toron­to's old­est act­ive bboy crews, they have been ded­ic­ated to passing down the dance know­ledge to future gen­er­a­tions, 7 gen­er­a­tions in fact. I've seen many crews dis­band over time so for a crew to reach 25 years togeth­er and cel­eb­rate still be able to inspire and even smoke young bboys was a very spe­cial occa­sion.
In the spir­it of cel­eb­ra­tion, Dyzee (Lead of SNC) had, 'called out' 'Now or Nev­er' (NON) Crew from Van­couver over social media to a cypher battle. In all hon­estly I knew very little about this crew in advance of the call out but they seemed to be well known by my US and Cana­dian friends I could only ima­gine their level was high if SNC were call­ing them out and I knew this was a pivotal event in his­tory, I knew it was an hon­or to be here and a lot of my friends wanted to see this for them­selves but were unable to make it so I was really look­ing for­ward to it. Now or Nev­er crew formed in 1996 ori­gin­ally known as, 'No Oth­er Name' but changed their name to sym­bol­ize re-birth to, 'Now Or Nev­er' when new bboys emerged in the crew dur­ing 2002. They had also cel­eb­rated their 15 year anniversary a few days ago. Both crews had longev­ity and now it was time to see them battle each oth­er.
I knew SNC mem­bers now lived in dif­fer­ent coun­tries and even scattered across dif­fer­ent con­tin­ents so they rarely all got togeth­er but it was even more rare to now see them all battle togeth­er, so I knew this was going to be a hype party, even more so it was going to be a fam­ily reunion. I was excited and I knew I was very lucky to be here to wit­ness this first hand, there was going to be a live stream but the battle would not be recor­ded and shared online, which made it even more spe­cial. It was also my first time exper­i­en­cing a bboy event in Canada, hav­ing been to sev­er­al in Europe and Asia I was very inter­ested to feel the dif­fer­ence in vibe. It was a bock party with a BBQ, cyphers and a out­door bar area, in the blaz­ing sun­shine, with live graf­fiti. I really liked the feel of this, all the diverse ele­ments of hip hop being there.
There was a cypher as the music got star­ted with DJ Bles One on the decks play­ing the best hip hop, breaks and party jams it was just the right bal­ance of everything, people just wanted to dance and have a good time, there was a really nice vibe, a young child kept get­ting down with the older bboys and then they saw a girl waack­ing on the side and invited her into the cypher, someone even got down with lock­ing, it was refresh­ing for me, any styles wel­come as long as you were hav­ing a good time, it wasn't just about bboys.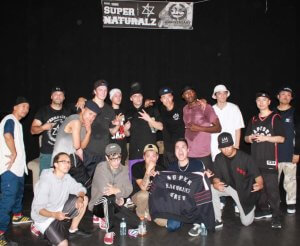 Then all of a sud­den, Bridge of SNC came out of nowhere, I haven't seen him since Hip Op Ses­sion France in 2009 but he was as fresh as ever, he threw down in the cypher and poin­ted to mem­bers of NON, people star­ted to make noise and get hyped, Dyzee announced on the mic the battle had begun and it was on!!! Every­one rushed to form a tight packed circle around the two crews, try­ing to get the best spot to see from, it was a really spon­tan­eous moment. Dyz handed the mic over and joined his crew on the battle line. This was­n't a com­pet­i­tion, there were no judges, it was a straight up raw cypher battle with no time lim­it and it meant everything, it was bboy­ing in it's purest form. The atmo­sphere was elec­tric.
NON came out strong, they had a lot of style and flava, but then SNC came out equally as strong if not stronger towards the end, there was so much energy in the battle, every­one was giv­ing it 100% it las­ted a total of 55 minutes but it did not feel like that long at all, I wished it could have gone on longer!! It was like an adren­aline rush to watch.
There were invent­ive go downs, sharp freezes, flips and it would break into up rock battles mid way and of course the most mind bog­gling threads and intric­ate foot­work that was super clean! There was just the right level of aggres­sion between the two crews, for com­pet­it­ive­ness but not in a dis­respect­ful way, it was refresh­ing to see.
NON came out strong, with a crew routine, Dyzee and Puzzles replied with their own routine, I remem­ber being with them at Circle Industry in Aus­tria when they won with this same routine in 2012, it was fresh then and it was still fresh now. Nos­tal­gia hit me hard.
As sud­den as it had star­ted it was all over. After the battle it was all love, hugs were exchanged between both crews and Puzzles graced the mic to make the announce­ment to cla­ri­fy SNC only called out NON because they respec­ted them. To me this was what hip hop is all about.
Luck­ily Doy from Stance was in the build­ing film­ing for a trail­er which I can­not wait to see, it was the kind of battle your mind does not fully com­pre­hend on the first watch.
Dyzee gave his speech about the gen­er­a­tions of SNC crew intro­du­cing each mem­ber, he said some heart­felt words about Puzzles, how they had met and how much they had been through togeth­er, you could instantly feel they had been friends for life, one thing that was very appar­ent to me with both of these crews was that they were real friends. Dyzee has a real way with words, I can­'t ima­gine any­one else get­ting away with giv­ing a speech at a bboy event, but when he speaks every­one is encom­passed by his words of wis­dom.
The Crew His­tory went a little some­thing like this:
1st Gen­er­a­tion: the "OG" gen­er­a­tion Lego, Stripes, Curtis, Revere, Pace, (Jedi), Armando, Taffy, Short­bread
2nd Gen­er­a­tion: the "Hard­core" gen­er­a­tion Smoke, Lil foot, (Megas), Dyzee, SL Con­quest, Amo, (Heist)
3rd Gen­er­a­tion: the "Skillz 2 Kill" gen­er­a­tion Astro, J‑Rebel, Mouse, Trig­ger, Mas­ter Killer, Rankle, Statyk, Midas, Tron­der, Knox, Fade
4th Gen­er­a­tion: the "Expan­sion" gen­er­a­tion Jester, Sole, Trx, Tax, A‑B-girl, Prob­lem Child, Spike, (Jess­FX)
5th Gen­er­a­tion: the "Break­through" gen­er­a­tion Puzzles, Kaze, Teddy Rock­spin, Leth­al, Antics, Anigma, Rubex Cube
6th Gen­er­a­tion: the "Reviv­al" gen­er­a­tion Bridge, Onton, Mike McNasty, Drops, Sonz, Whip­lash , Cherry D
7th Gen­er­a­tion: Mir­acles, Con Rock
The ciphers star­ted again. I saw someone get­ting down in a white Toronto Maple Leaves hockey shirt, I recog­nized that style, it was of course Antics, I had­n't seen him for a long time either, the last time was in Korea and he was killing the cyphers. As he stepped out I went to say hello, but I could see he was eager to get back to throw­ing down, it was nice to observe such hun­ger and pas­sion to just get down.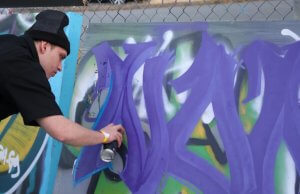 Next up there was a, 'Go down battle' to see who had the best get downs, then the rest of the night was about hav­ing fun. There was a great party / fam­ily vibe, many people includ­ing myself had traveled across the globe to be there so we all just wanted to have fun and enjoy each oth­er­'s com­pany. I met a lot of very cool people, we spent hours talk­ing about music and cul­ture from DJing to graf­fiti and the his­tory of New York and its influ­ence all the way to Aus­tralia, I really enjoyed myself among real hip hop heads.
A big con­grat­u­la­tions to both NON and SNC for your crew anniversar­ies and to Savio 'Puzzles' Suen and Jen­nifer Nguy­en on your wed­ding!
The fol­low­ing two tabs change con­tent below.

Faizah Cyanide
Faizah works in clin­ic­al research by pro­fes­sion and has been an avid Hip Hop lov­er since the early 90's, hav­ing cre­ated her own Hip Hop event, 'Breakin' Bound­ar­ies' in the early 2000's which was pre­dom­in­antly based around the concept of bboy battles, she has worked with sev­er­al inter­na­tion­al events pro­moters and dan­cers to inspire oth­ers through this art­form.

Latest posts by Faizah Cyanide (see all)