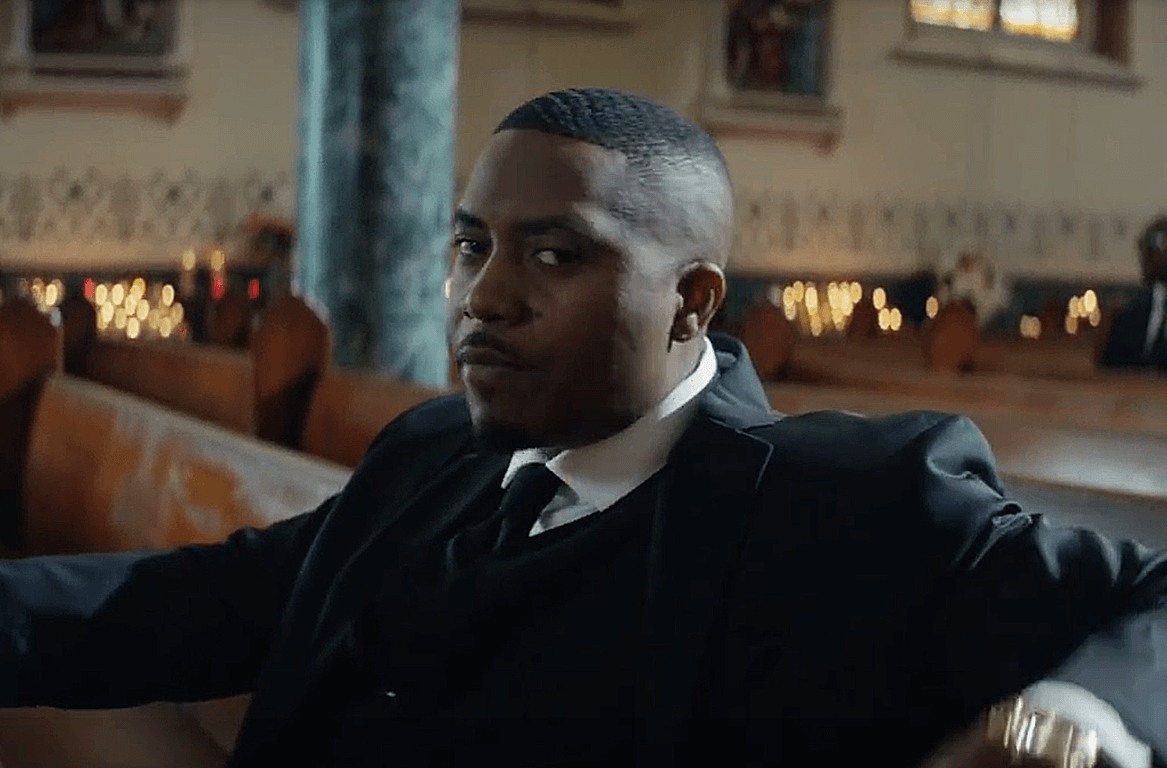 A few days ago Nas began to tease fans with snip­pets of a video which many believed to be the video to 'Adam and Eve', one of the sev­en tracks of his latest album – 'Nas­ir'. Hint­ing a video release was com­ing out on 15th Novem­ber. Fans were in fact delighted when Nas released a 16 minutes and 05 seconds long video entitled, 'The Film' which con­tained vocals from vari­ous tracks from his album, 'Nas­ir'.
The video opens with Nas by the vast ocean which echoes his calm nature, but also some­thing that is very strong and influ­en­cing, then sud­denly we see images reflect­ing social issues, flashes of foot­age from the civil rights move­ments as we hear the line 'I think they scared of us' as 'Not for the Radio' plays mean­ing eth­nic minor­it­ies have the power to make a change and have great influ­ence.
We see Nas raise his black (people) power fist then switches to Nas in army fatigue against the New York sky­line, ready to lead the revolu­tion as he rhymes about the effects of the gov­ern­ment on black and minor­ity lives, with the notion free­dom only came because it was taken by the people and not gran­ted by the gov­ern­ment. It's almost a call to edu­ca­tion­al arms.
We see a Pyr­am­id in the Pro­jects as we hear the line, 'Black Kemet Gods, Black Egyp­tian Gods' then we see a mum­mi­fied pharaoh rising from a xylo­phag­ous and tak­ing his band­ages off, reveal­ing a young black king of Queens­bridge, it's power­ful. We see a flash to a deceased young black male, as if to say he can either be woke or end up dead, know­ledge is power, both edu­ca­tion­ally but also know­ledge of self.
Next we hear 'Cops shot the kid' which samples 'Children's story' by Slick Rick. Nas is known to con­sist­ently pay homage to his music­al influ­ences so it comes as no sur­prise to see Slick Rick make an appear­ance in this video, it's only right.
There are images of police bru­tal­ity and racism, a flux of viol­ent image depict­ing viol­ence, arson, vicious dogs and Body bags, in con­trast to the calm ocean we saw at the start, because life is chaos and a struggle, and we see some beau­ti­ful shots of Queens­bridge.
I espe­cially liked a snip­pet from one of Nas' old inter­view where he is asked, 'How do you feel to be a liv­ing prodigy'? He replies 'I mean it's a bless­ing, I'm a product of the old­skool and the new­est of the new' flash­backs of old foot­age super­im­posed with Nas dressed fresh in 80's attire which his recently pur­chased cus­tom Ill­mat­ic car, show­ing the fruits of his labor via his longev­ity and impress­ive career.
Next we see Nas in church, as if he is in con­ver­sa­tion with God, we are aware he is a spir­itu­al man and images in this film rein­force that he believes in powers high­er than him­self.
Then onto 'Adam and Eve' as we see a black couple hold­ing hands and then a couple with a ser­pent and apple reen­act­ing the bib­lic­al scene. As well as a con­ver­sa­tion with God it's also as though Nas is con­fess­ing his sins as he 'enjoys the fruit, but we also see him in pray­er, per­haps for the future gen­er­a­tions as we see chil­dren in QB mak­ing up the same photo he has on the 'Nas­ir' Album cov­er, hold­ing guns, 'don't fall to far from the apple tree' these are the chil­dren of the future.
He uses a fam­ily scene to get across the mes­sage of love in the com­munity. A fam­ily, rein­for­cing fam­ily val­ues and a grand­moth­er to be respec­ted and listened too, we see a photo of Mar­tin Luth­er King on the wall which is a nice touch.
We see Nas sport­ing Dashiki Top and Kufi hat, tra­di­tion­al Afric­an cloth­ing as he stands by the back­drop of the city sky­line, he is proud of who he is, 'Remem­ber where you come from, it will keep you safe' Remind­ing us to remem­ber our roots and not to be 'shackled by West­ern cul­ture'
The video ends with the same shot of the sea the video began with as if it's an end­less cycle, 'I love the past but you see where I'm going I get to fly' as we see a bird in flight, sym­bol­iz­ing Nas has still to excel in his ven­tures. There is an acapella so there is no beat to dis­tract from the mes­sage.
You really need to take your time to enjoy this poignant yet inspir­a­tion­al video from Nas, it nar­rates the main socioeco­nom­ic themes on the album and fans will really appre­ci­ate it as it has the raw feel to it we most love from Nas.
The fol­low­ing two tabs change con­tent below.

Faizah Cyanide
Faizah works in clin­ic­al research by pro­fes­sion and has been an avid Hip Hop lov­er since the early 90's, hav­ing cre­ated her own Hip Hop event, 'Breakin' Bound­ar­ies' in the early 2000's which was pre­dom­in­antly based around the concept of bboy battles, she has worked with sev­er­al inter­na­tion­al events pro­moters and dan­cers to inspire oth­ers through this art­form.

Latest posts by Faizah Cyanide (see all)