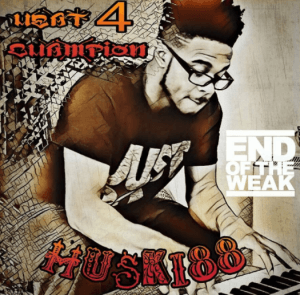 Heat 4 of the 2017 EOW Lon­don Emcee chal­lenge was the oppos­ite of heat 3. I labelled that the vet­er­ans round 'cause I'd known most of the emcees for years. Even though this set of emcees were far from new, for some reas­on I hadn't seen any of them per­form before, except on the open mic at pre­vi­ous heats. When it comes to Hip Hop, music in gen­er­al, I love being sur­prised and find­ing new, dope shit, and that's what went down in this heat…
The emcees:
1 – The Aur­acle
The multi-tal­en­ted Aur­acle is a sing­er and writer as well as a lyr­i­cist. You can tell when he per­forms and it's con­firmed when he speaks about music, that his abil­ity as a sing­er has influ­enced his listen­ing and his skills. Inspired by legends the like of Q‑Tip, Queen Lati­fah and Guru, this intel­lec­tu­al rhymer enjoys com­plex word­play and edu­cat­ing his listen­ers with the con­tent locked inside. He is also strongly influ­enced by his musi­cian fath­er and is grate­ful to have fol­lowed those foot­steps.
2 – Dal­con
North Lon­don­er Dalcon's biggest inspir­a­tion to start and keep rap­ping is the per­son­al struggle he's been through. Writ­ing and spit­ting bars have been his out­let from the start and you could see on the night that he pours his all into his rhymes, spit­ting with pas­sion and drive. He's influ­enced by the greats, Tupac, Big­gie, Wu and Eminem; mix these with his life exper­i­ence and you get a self-pro­claimed 'crazy mother­fuck­er'!
3 – Mr Lomax
Com­ing from Wigan, Lomax has been grind­ing for years to spread the cul­ture and build a scene in his ends, encour­aged by the heat he's seen in Manchester and Lon­don. A drum­mer as well as a spit­ter, he puts a lot of value on rhythm and flow and describes his lyr­ics as intro­spect­ive. Before we spoke he was mad humble, shy even, until we put the cam­era on him! Then the con­fid­ence of a man who knows his own abil­it­ies came out and he said he was gonna smash every round! Think what happened when we put a mic in his hand…
4 – Huski88
This broth­er was a late edi­tion to the line up, sign­ing up the day before. I'd met him at the last heat when he'd been play­ing keys in the house band, play­ing with no stand so he could hold his key­board like a gui­tar when he felt to. We free­styled for a bit before, so I knew he had skills, and I was look­ing for­ward to see­ing him take the chal­lenge. When I asked him about his influ­ences, he said his con­nec­tion with music was a 17 years rela­tion­ship that he'd spent with a close friend who he gets to know bet­ter every year. I thought that was dope.
So like I said, this was the first time I'd seen any of these man per­form and from the first round it looked like I'd been sleep­ing on some ser­i­ous tal­ent. Mr Lomax kicked it off with some dope shit, ridicu­lous flows and allit­er­ated word­play before say­ing – in the writ­ten round – "I'll free­style my chor­us 'cause I can" before doing it! It was a dope concept that set the levels and got the crowd hype. Dal­con did his thing here too, get­ting some nice crowd par­ti­cip­a­tion on his hook as spat about bat­tling the con­straints of a tech­no­lo­gized world. The Aur­acle also went in, speak­ing 3 lan­guages in the first 2 bars of his verse, then laid down clev­er, snappy lines one after anoth­er. But the round was taken by Huski88. First, in a trib­ute to Prodigy (Rest In Power), he'd selec­ted Mobb Deep's Hell on Earth as his beat – and it got a pull up. On the second time he put down a verse centred around old­skool com­puter games, start­ing with "my mumsy's a SNES and my father's a mega­d­rive", then when he got to "I'm in a castle, your wife's blow­ing my cart­ridge", man­dem went nuts and he got the second reload. Mas let it be known that this was the first time that'd happened at any EOW con­test around the world that he'd seen – it was a mad­ness.
The bar had been set HIGH and them levels car­ried on into the a cap­pella round. This round was close, with The Aur­acle and Huskie88 both drop­ping bars rammed with intel­li­gent, witty punch lines inside dope flows that had the audi­ence bus­sing up. Dal­con came with a dif­fer­ent angle, speak­ing on his pain and the obstacles he's faced in his per­son­al mis­sion. Mr Lomax came out on top though, tak­ing his flow, con­tent and allit­er­a­tion to a whole next stage. His word­play was off the hook while cri­tiquing the state of polit­ics we live in and the nihil­ism it breeds. He went in and it showed again that this had the poten­tial to be the best of 2017 so far.
For these emcees who had smashed the two rounds for writers, the real test was approach­ing. Black Santa Kissy K drew for his sack and the grab bag round got under­way. Genu­ine free­style is 100% required for this and the emcees showed their skills. All of them held it down and used the items to enter­tain. Dal­con and The Aur­acle did well, but this round saw Mr Lomax and Huskie88 start to move ahead of the com­pet­i­tion. Both man's flows were com­pletely con­sist­ent with no breaks or pauses and a lot of con­fid­ence. Huskie's best item was a screw­driver – he nev­er used the word but instead lis­ted uses for it – screw­ing the cas­kets shut if someone banged his girl or dissed his mum were among them. Lomax killed it when he pulled out a phone and put it straight in his pock­et, nar­rat­ing all the time and then doing the same with a grinder, say­ing him and Mas would be…exchanging notes…on some herb after the show.
The ser­i­ous tests kept com­ing, with Jazz T – the mas­ter of fuck­ing up emcees – behind the wheels ready for the DJ vs Emcee round. All the emcees did well, but Jazz lived up to his rep, trip­ping up all the emcees at some point. Husky88 kicked it off – a bit over­con­fid­ently – offer­ing Jazz out (!!), say­ing he that he deals with dif­fer­ent time sig­na­tures all day as a musi­cian, and he did put down some ill 3⁄4 time flows. Mr Lomax came out hard, with a rap­id-fire flow on the first beat, but hav­ing to stop and say "fuck­ing hell" between cuts. The Aur­acle was the same, start­ing and fin­ish­ing the round with ser­i­ous lyr­ics but some big gaps in between and Dal­con fin­ished the round up, hold­ing it up with a mix of frees and writ­tens, but again, with a few pauses to catch the beats.
DJ vs MC had been pretty even and the cypher round was the same. As usu­al with this stand­ard of emcee, every­one handled the four bar and pass (just about). The band was bring­ing some jazzy vibes and the man­dem put down some dope free­styles. The cypher nearly turned into a battle but the time ran out for bet­ter or worse! The heat was done and again we'd had a very close con­test with 2 real standout emcees. The judges had some work to do.
While they did that work the stage was blessed by a group of broth­ers who are build­ing some real heat on the scene at the moment. Made up of three potent emcees and seasoned Hip Hop heads, Skandouz, Art­cha and Dray Styles have all been in the game (E..A..SPORTS) as indi­vidu­als for a minute but in recent years they have been oper­at­ing togeth­er as FRSHRZ and are mak­ing waves. We got to see why as they put down a dope mix of sharp lyr­ics, raw flows, deep con­tent, strong and clear mes­sages over a vari­ety of rid­dims, all with a soul­ful centre. You could see the years of exper­i­ence as they worked the stage, get­ting the crowd mov­ing with their tracks, inter­act­ing com­fort­ably with each oth­er and the people and drop­ping heavy a cap­pel­las between tracks. Show­ing their com­mit­ment to the com­munity essence of Hip Hop cul­ture, as well as pay­ing homage to the legends on their track 'Lon­don Posse', they brought through a young emcee called Daak Mar­tin to per­form with them and to do a solo joint, as well as intro­du­cing dope soul sing­er Kee­sha Simpson; both of them smashed it. The man­dem came through with a merch table too, selling FRSHRZ T's, snap­backs and their latest self-titled EP. Go listen and cop that now, it's ill.
After FRSHRZ bun it down the judges came back with their ver­dict. As I said above, yet again the con­test was extremely close, but with Mr Lomax com­ing in second it was Huski88 that advanced to the final on Septem­ber 15th at Hootanany Brix­ton. He'll be join­ing Men­ace Men­d­oza, Dr Koul and Emerge MC along­side who­ever wins the last heat on August 31st back upstairs at The Ritzy. This month we'll be joined by my man Yet­izm, a don on the MPC who'll be lend­ing his skills to the DJ vs Emcee round to put the emcees through their paces. Get down to Brix­ton this Thursday for anoth­er night of heavy lyr­i­cism and blessed vibes.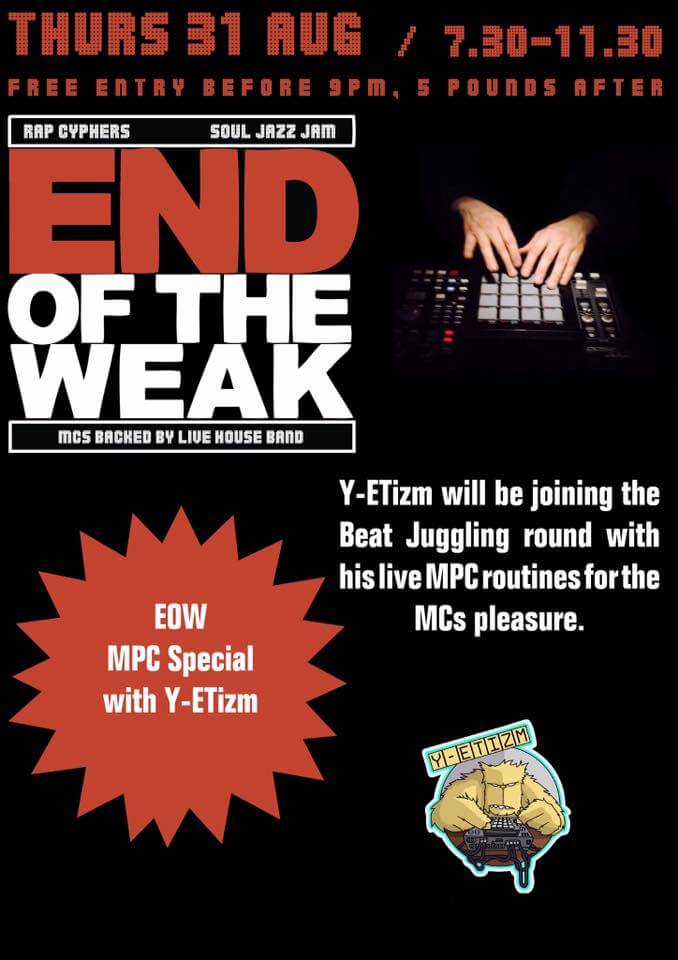 The fol­low­ing two tabs change con­tent below.

Apex Zero
An emcee, beat­maker, film­maker and writer from Lon­don with Gren­adian roots, Apex Zero has spent his life learn­ing and liv­ing Hip Hop cul­ture, using it to inspire and affect change. Based in Beijing for a few years and reg­u­larly tour­ing the globe, Apex is well trav­elled, and uses the les­sons this provides to inform his art and out­look. He is a mem­ber of the Glob­al­Fac­tion digit­al pro­duc­tion house and the inter­na­tion­al Hip Hop col­lect­ive End of the Weak.

Latest posts by Apex Zero (see all)