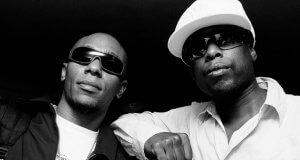 'Mos Def and Talib Kweli are Black Star' is con­sidered by many to be one of the greatest albums in the his­tory of Hip Hop music. At the time of release, it brought togeth­er 2 of the hot­test under­ground lyr­i­cists and encap­su­lated the resur­gence in Afro­centric, polit­ic­ally aware Hip Hop and Neo Soul of the late '90s that both emcees were at the centre of along­side the likes of Com­mon, Erykah Badu, The Roots and Dead Prez. It feels strange to talk about either Mos Def (now Yasi­in Bey) or Talib Kweli as ever being under­ground, see­ing the astro­nom­ic­al suc­cess both have had since, but a lot of that is due to the incred­ible found­a­tion they set for them­selves with the only Black Star album they've ever recor­ded, and like any clas­sic, it sounds as fresh today as it did back when I first heard it.
The impact and reach of the album was clear when I walked through the door of the Troxy on Octo­ber 20th and firstly saw how full it was, then walked around and saw a crazy amount of import­ant fig­ures of the UK Hip Hop scene. The place was so crowded that when look­ing on social media the next day there was actu­ally as many people I didn't see as the ones I did, all post­ing pic­tures and clips of the show.
Due to oth­er com­mit­ments I got there a bit late and didn't man­age to catch the dope sup­port­ing acts Awate and Home­boy Sand­man, but my broth­ers that I met there assured me that both had put it down, Awate rep­pin' for Lon­don as always and Home­boy Sand­man sig­ni­fy­ing an example of the gen­er­a­tion of US emcee inspired by Black Star.
Luck­ily enough I got in just before the main event. The show was so full that the front lay­er of the crowd had been sealed off. I man­aged to get to the front of that bar­ri­er and got a good spot to see the show. Yasi­in Bey and Talib Kweli came out to a deaf­en­ing reac­tion from the crowd. The stage was lit in a dope way and graph­ic setup on the screen behind them really fit the atmo­sphere. The stage was set for an incred­ible show.
Unfor­tu­nately, some­thing had gone wrong with the sound. At times the tunes were barely recog­niz­able, a few times the artists had to dir­ect the sound-man to fix cer­tain things and at one point they were shar­ing a mic. But still, the tech­nic­al dif­fi­culties weren't enough to kill the vibe. Both Yasi­in Bey and Talib Kweli are seasoned per­formers and they brought enough cha­risma and stage pres­ence to keep the crowed on it through the whole per­form­ance – by the end, Yasi­in Bey was hand­ing out roses to the ladies at the front; pure show­man­ship. They reeled through a ridicu­lous set of clas­sics from two incred­ible solo careers, col­lab­or­a­tions between the two on each other's pro­jects and, of course, mas­ter­pieces from the Black Star album like 'Thieves in the Night', 'Astro­nomy (8th Light)', 'Brown Skin Lady', 'Defin­i­tion' and 'Re: Defin­i­tion'. When they dropped my favour­ite track 'Res­pir­a­tion' I was going wild along with most people inside.
I thought hear­ing that track would be the high­light of the night, but just as the show was com­ing to an end, a spe­cial guest was announced. Now this is some­thing that hap­pens a lot, and when they said it, I thought it might be a UK legend, as there were a lot of them in the audi­ence. I nev­er thought it would be who it was…Wu-Tang founder the RZA. Every­one in the Troxy went nuts. RZA made the point him­self that he had nev­er col­lab­or­ated with either Kweli or Yasi­in Bey, and them shar­ing a stage was long over­due. The trio put bars down over Wu joints and gave the people who'd come out some­thing to prop­erly talk about and remem­ber. It was a wild end­ing to a dope event.
The fol­low­ing two tabs change con­tent below.

Apex Zero
An emcee, beat­maker, film­maker and writer from Lon­don with Gren­adian roots, Apex Zero has spent his life learn­ing and liv­ing Hip Hop cul­ture, using it to inspire and affect change. Based in Beijing for a few years and reg­u­larly tour­ing the globe, Apex is well trav­elled, and uses the les­sons this provides to inform his art and out­look. He is a mem­ber of the Glob­al­Fac­tion digit­al pro­duc­tion house and the inter­na­tion­al Hip Hop col­lect­ive End of the Weak.

Latest posts by Apex Zero (see all)