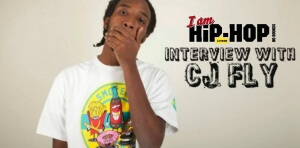 I Am Hip-Hop magazine's edit­or Rishma Dhali­wal had a catch up with Brook­lyn rap­per CJ Fly the co-founder of the hip-hop col­lect­ive Pro Era along with Joey Bada$$, Cap­ital STEEZ, and DJ Power Pleas­ant.
Through­out 2012 and 2013, he has been fea­tured on many pro­jects and at the end of the year he released his crit­ic­ally acclaimed mix­tape Thee Way Eye See It.
Q. Tell us a bit about CJ Fly and how you came togeth­er with the Pro Era crew?
I think I'm a uni­ver­sal artist who expresses him­self best as he can. I think the music says a lot about who I am and my story. I met the oth­er found­ing fath­ers of Pro Era in high school thru rap­ping togeth­er and after real­iz­ing we had a lot in com­mon we star­ted the crew togeth­er in 2011.
Q. The com­mer­cial Hip Hop we hear today has gone far from the roots of the cul­ture. There is some­thing about your sound that holds the golden era vibe. Is this some­thing that you are try­ing to revive through your music?
I was born then so I think that has a lot to do with it. I just express myself as best as pos­sible on what beats that I like. I'm not try­ing to revive any­thing, I just love to cre­ate. I always keep the cul­ture in mind while cre­at­ing so it's an organ­ic thing rather than for­cing a reviv­al.
Q. You were recently a part of the first annu­al Steez Day (in remem­brance of Cap­ital Steez), a great way to keep the memory of him alive. How has his passing impacted Pro Era? What was the over­all vibe of the event?
Yeah that was dope. He was a big part of Pro Era from being a lead­er to a huge inspir­a­tion. He made us step our bars up and tap into the poten­tial we didn't think we had. And the fest­ival, was an amaz­ing turn out and I'm glad it went well. Sold out Cent­ral Park with the rest of the Beast Coast fam­ily and then be able to give the pro­ceeds to his fam­ily is a beau­ti­ful thing.
[youtube]https://youtu.be/zhr41uBbymk[/youtube]
Q. Earli­er this month you released a track titled 'Ver­boten' to cel­eb­rate your 22ndBirthday. Tell us a bit about this track?
I felt like put­ting out some­thing short and sweet for the fans. They've been patient while I prep my next effort so I had to give em a gift.
Q. What are your thoughts on the many deaths of young black males at the hands of the police in USA? What can we do as a com­munity to take a stand on this?
It's been going on for years and needs to come to an end. I have nev­er seen police save any­one in my 22 years of life. We as a com­munity could sus­tain har­mony without being policed. They shouldn't be able to do what they want and get away with it. I think they're unne­ces­sary and they do more harm then help. We could come to an agree­ment as a com­munity to pre­serve peace.
Q. Many cri­ti­cise the cur­rent dir­ec­tion of Hip Hop and what we hear in the main­stream side of it, How import­ant is it for to cel­eb­rate the 5th ele­ment of Know­ledge in your music?

I just express myself I don't really focus on tryna be a con­scious emcee. The know­ledge is some­thing that's always gonna be in it, gotta have a deep­er mes­sage. I learn new things every­day and it ends up in what I write . What's in occur­rence in the com­munity has a huge affect on what I say in my music so I just try to keep it real to help people pro­gress not digress to fail­ure.
Q. What would CJ Fly be doing if he wasn't a rap­per?
I've always wanted to be a musi­cian so I don't know. A sing­er or a chef.
Q. Your last mix­tape was titled 'thee way we see it', when can we expect a new one and has your sound evolved?
Yeah that was actu­ally my first mix­tape too. I'm aim­ing for Fall, my sound has really evolved and matured. I think a lot of people around the world are going to appre­ci­ate it.
Q. Your com­ing to head­line this week­end in Lon­don, what are your thoughts on the UK Hip Hop scene?
Yeah I'm excited, I think the UK hip hop scene is bub­bling right now and there's a lot of dope artist.
Q. What are you cur­rently work­ing on and whats in store for the near future?
I'm wrap­ping up my next pro­ject then maybe I'll put out an EP before the debut album. Some dope videos and films. Hop­ing for an amaz­ing tour and exper­i­ences world­wide. Just want the music to spread like wild­fire. His­tory in the mak­ing.
For more inform­a­tion and book­ings please vis­it MN2S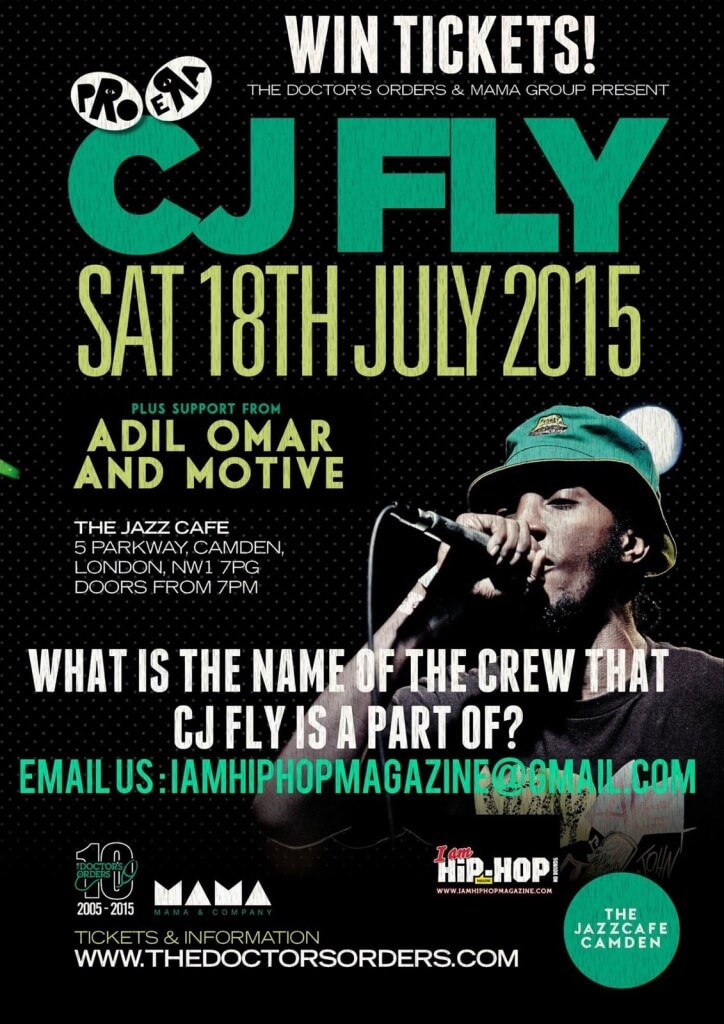 The fol­low­ing two tabs change con­tent below.

Rishma Dhali­w­al has extens­ive exper­i­ence study­ing and work­ing in the music and media industry. Hav­ing writ­ten a thes­is on how Hip Hop acts as a social move­ment, she has spent years research­ing and con­nect­ing with artists who use the art form as a tool for bring­ing a voice to the voice­less. Cur­rently work­ing in TV, Rishma brings her PR and media know­ledge to I am Hip Hop and oth­er pro­jects by No Bounds.

Latest posts by Rishma Dhaliwal (see all)
NEW MUSIC | YUNG FILLY DROPS NEW SINGLE & VIDEO 'LONG TIME'

— May 20, 2022

OUT­LOOK FEST­IV­AL COM­PLETES THEIR LINE-UP FOR THE FIRST UK OUT­ING : MIGHTY MOE, CONGO NATTY, KODE9, YUNG SINGH, NAINA, SCRATCH­CLART, KAHN, ENADA, ELIZA ROSE, EQUIKNOXX, INTER­PLAN­ET­ARY CRIM­IN­AL, ALXZNDR AND 100 MORE ARTISTS

— May 17, 2022

NEW DRAMA SERIES | 'YOUR DECISION'

— May 16, 2022