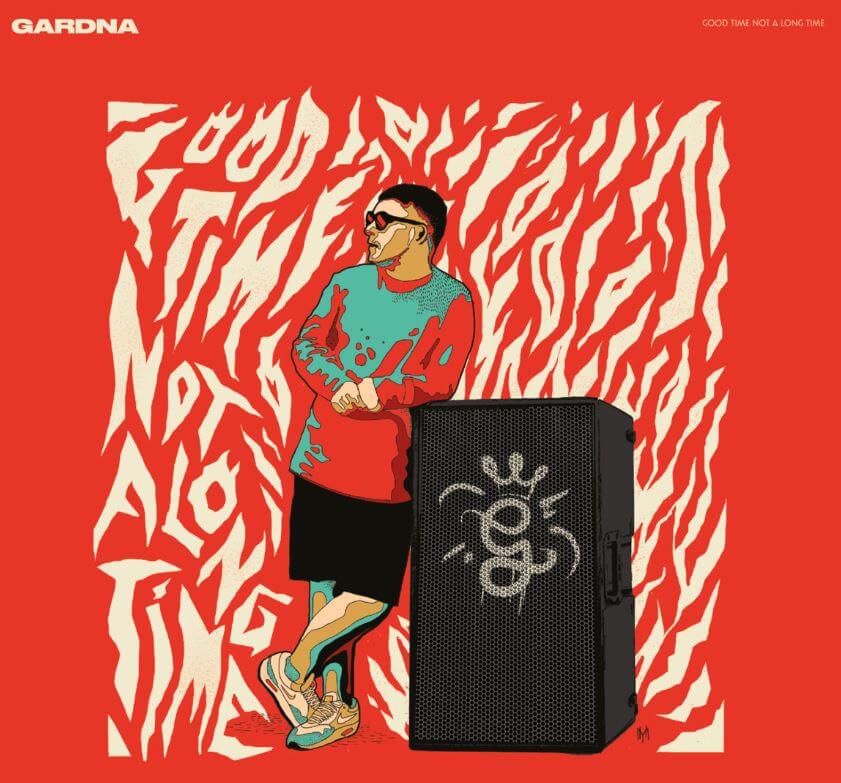 Bris­tol MC Gardna released his debut album on 19th Octo­ber fea­tur­ing a who's who of UK music span­ning UK Hip Hop and Reg­gae. This is a sum­mer album provid­ing an uplift­ing wave sun­shine in Autumn. The Nextmen's Brad Baloo provides the pro­duc­tion duties and his work with Mungo's Hi-Fi really shines through on this album.
Album open­er 'Wel­come to the Garden' fea­tures Catch­ing Cairo, here Gardna lays down the law over a jazzy upbeat, wel­com­ing us to the good times almost like the start of a new rela­tion­ship.
Track 2 is 'Good Time not A Long Time' the title track, fea­tures UK soul legend Omar with an equally soul­ful gui­tar sample, I can detect trip hop under­neath the upbeat. This is an album to get lost in, no ana­lys­is, just a good­time.
The reg­gae influ­ence con­tin­ues with track 3 'A Game' fea­tur­ing Fox, we see the birth of UK gar­age all over again. Reg­gae instru­ment­al samples and vocals from Fox backed by bass­line brings the party home, encour­aging the listen­ers to "Do their own thing", over lus­cious horns.
Track 4 'Lion­ess' fea­tures the icon­ic Hol­lie Cook on vocals and soul­ful back­ing har­mon­ies, this is power­ful hip hop by num­bers, a rumin­a­tion on a love that might not even work out. Reg­gae instru­ments flour­ish the break beat and takes the track in a refresh­ing dir­ec­tion. Lyr­ics on empower­ment come to the fore­front mak­ing this a sure fire smash hit.
Track 5 'Do your thing' brings forth the dub and trip hop influ­ence and ref­er­ences to UK Rave cul­ture pep­per the track. Track 6 'In my zone' fea­tures Charli Brix, and is a very chilled affair.
'Bur­eau De Change' fea­tures Eva Laz­arus, and brings out the grime influ­ence on the album, open­ing with a clas­sic reg­gae call and response, Gardna's deliv­ery is on point! Over a bub­blers style instru­ment­al.
Kiko Bun who is mak­ing waves right now in the UK Reg­gae scene, fea­tures on Track 8, 'Slave 2 The Rhythm'. It's a del­ic­ate con­struc­tion, which again shows the dub reg­gae influ­ence and is anoth­er hark back to the Bris­tol reg­gae scene. It is at this point that the album takes a more ser­i­ous turn, the good times will also fea­ture bad times and it's about how we get through them.
'In & Out' fea­tur­ing Dread MC is a polit­ic­al track with lyr­ics ask­ing "Why are they clos­ing down our raves?" a sen­ti­ment that has been part of UK dance music since the early 90s but is more per­tin­ent and wide reach­ing now in this time of tory aus­ter­ity, "We just tryna live!".
Track 10, Pres­sure fea­tur­ing Taiwan MC is the albums hard­est moment and wouldn't be out of place in a Roots dance­hall. It is a med­it­a­tion on one's place in the music industry and the artist's struggle to sur­vive but more import­antly it's about believ­ing in one­self and nev­er giv­ing up hope. The title Pres­sure is a nice call back to the clas­sic of black Brit­ish cinema by Hor­ace Ove and its sub­ject mat­ter and reg­gae influ­ence would not be out of place in that film.
'Shine' fea­tur­ing Rider Shafique is a med­it­a­tion on mod­ern life and how to sur­vive in the chaos. "Life is pre­cious so don't waste your time!", again the album returns to themes of empower­ment and beat­ing the sys­tem.
The album closer 'Outro' fea­tures a return of Catch­ing Cairo and the jazzy chords of the first track, it is a mel­an­chol­ic farewell, but one that makes you want to play the album over again and stay in the garden.
All in all this is a great debut album from Gardna the pro­duc­tion, lyr­ics and guest artists are on point. It encap­su­lates his music­al diversity, and artist­ic cre­ativ­ity and is fun. I look for­ward to hear­ing more from him.
Inter­view with Gardna
Where does your jour­ney as a music fan begin?
It begins with me as a youth in HMV buy­ing £1.99 singles and play­ing them through my Sony Walk­man. Even­tu­ally mov­ing on to vinyl as I got decks for my 11th birth­day. I was into all sorts though. Prob­ably some dodgy CD's knock­ing about at my rents yard still.
"Was Bris­tol trip-hop / hip-hop an influ­ence on your work?"
Those guys inspired a gen­er­a­tion of musi­cians in the city. Def­in­itely. I met Daddy G at a show I did with the man Don Letts recently, he's a sound geeza.
Tell me about your early pro­duc­tions?
Got to be hon­est I don't talk much about the early stuff. I don't think many rap­pers do because look­ing back on old videos is a bit cringe some­times init. I grew up mak­ing music videos, selling mix­tapes at school, rap battles out­side in my loc­al com­munity centre – all of that kind of stuff. Nat­ur­ally there's vids of me online where I am a prop­er young. Early stuff was all UK hip-hop inspired but I really found my thing when I prop­erly moved the city – Bris­tol.
Your album fea­tures many guest artists, how do you choose the artists that you work with?
I love all the musi­cians on the pro­ject. They're all friends of mine now but first and fore­most I was a fan. I listen to all their music and watch them all play live
reg­u­larly, it's an hon­our to have some abso­lute legends on the fea­ture list along­side some of my favour­ite new artists.
What are your thoughts on the cur­rent state of UK Hip Hop?
It's thriv­ing to be hon­est; MCR is where it's at for me. Chil­dren of Zeus, DRS, Levelz are my go too. It's good to see the vets involved KING­DEM doing bits again. I know Daddy Skitz and Joe Burn have a fire album com­ing, Beg­gars doing a final album too. Just wish there was more UKHH com­ing out of Bris­tol.
What are your plans for the future?
I've got a remix EP of Good Time not a Long Time in the works, A new Gardna x Kreed EP under­way. Rumours of Next­men vs Gen­tle­mans Dub Club vol 2. Ooof.
What is the greatest hip hop album of all time?
Tough one. I'd prob­ably have to go with Lauryn Hill — The Mise­du­ca­tion of Lauryn Hill. In recent times Chil­dren of Zeus – Travel Light.
The fol­low­ing two tabs change con­tent below.

DJ ISURU
DJ Isuru is a music journ­al­ist and broad­caster on SOAS Radio. He also runs the Mishti Dance event series fea­tur­ing the best in Asi­an Under­ground. www.mishtidance.com