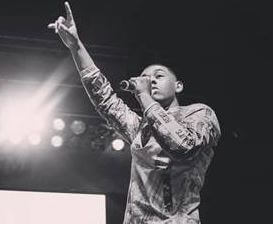 At just eight­een, Drew the Kiiid's latest track feels like an instant sum­mer hit. With his title ¿Como Estas? com­pli­ment­ing Lat­in inspired tones, the upbeat rap track makes for a fun ride. The young tal­ent brings a rich sense of nos­tal­gia to our ears, telling stor­ies of love and uncer­tainty in the sum­mer heat.
Com­ing from a fam­ily of musi­cians in Illinois, Drew the Kiiid's sound is already so full of fla­vour, with a style that stays authen­t­ic to his play­ful per­son­al­ity. His nick­name 'The Kiiid' was giv­en to him dur­ing a stu­dio lock-in by his friend Angel Flores, as a trib­ute to the fact that most of his go-to col­lab­or­at­ors are five to ten years his seni­or.
With so much music­al tal­ent cul­tiv­ated around him, it is no won­der then that Drew the Kiiid's sound has quickly matured bey­ond most artists his age.
Pro­duced in col­lab­or­a­tion with Niko Keen­an, his latest track ¿Como Estas? emu­lates the feel­ing of fall­ing out of touch with some­body who you want to speak to again, but you're a sense of pride ulti­mately hold­ing you back. Drew doesn't shy away from admit­ting this is the dir­ect inspir­a­tion for the song.
Start­ing with easy elec­tric gui­tar sounds to guide us in, the song begins to pick up some pace as Drew's voice sings a melody which is repeated through­out. It's on the nose com­ment­ary of young love makes for a feel-good intro­duc­tion, keep­ing our atten­tion for the more faced-paced rap lyr­ics which lay­er the song itself.
Bouncy and buoy­ant, it's dif­fi­cult not to move along to Drew the Kiiidd's new single, whose poet­ic inflex­ions stay with us long after a first listen of the song. We catch up with him to find out more.
Hi Drew, thank you for speak­ing to us today! Your new single, '¿Como Estas?' was released last month, can you tell people a little bit about the back­ground of the track?
Hey, thanks for hav­ing me. '¿Como Estas?' is a fun, excit­ing sum­mer track that I wrote while sit­ting in the laun­dro­mat! My friend/producer, nïko, texted me the beat after send­ing me like 3 oth­ers and was like "but… DID I SHOW YOU THIS YET?" The beauty of the melody really caught me off guard and I fell in love with it instantly. He always sends heat and good vibes, but this one really spoke to me and after I wrote the topline the verses just filled them­selves in.
Although '¿Como Estas?' is your first offi­cially released single, you've got a whole host of tracks on your Sound­cloud page going back over the past couple of years. How has your style and approach to music changed over this time?
When I star­ted pur­su­ing a career in music, I tried so hard to imit­ate the style of my favor­ite artist and that showed in a lot of my early works. I star­ted off want­ing to be a tough, lyr­ic­al rap­per but slowly star­ted embra­cing my singing abil­ity more and more. As time passed, I stopped try­ing to imit­ate my favor­ite artists and star­ted using them as inspir­a­tion to cre­ate a style I can truly call my own.
You come from a music­al fam­ily, your grand­moth­er being none oth­er than Chica­go house song­writer Josephine Brown. What is the best piece of advice you've received from her with regards to music, the industry, and life?
The best piece of advice I've got­ten from her was "learn the busi­ness!" I've car­ried a busi­ness men­tal­ity through­out my career and that has def­in­itely saved me from a lot of situ­ations that could've haunted me for a long time, but also it's giv­en me more respect when work­ing with older col­lab­or­at­ors and new oppor­tun­it­ies.
The visu­al design for the single is quite inter­est­ing, and gives more of a Miami or LA vibe than Chica­go. What can you tell us about the design and the concept behind it?
Yeah it is fully inspired by Miami! My muse for '¿Como Estas?' lives in Miami and I met her while liv­ing there through­out high school. They have such a rich, His­pan­ic cul­ture there and I had to pay homage to that with the title '¿Como Estas?', since I've cre­ated some of my best memor­ies there.
Who is your biggest inspir­a­tion lyr­ic­ally and why? Who is your biggest inspir­a­tion music­ally and why?
My biggest inspir­a­tions lyr­ic­ally are J. Cole and Kendrick Lamar. I love their storytelling abil­it­ies and the way they flow so seam­lessly and unortho­dox, respect­ively. Son­ic­ally my biggest inspir­a­tions are Jhene Aiko and Smino. Jhene's voice is so angel­ic and serene, so I def­in­itely took notes from that and Smino's use of his voice as an instru­ment is unmatched.
What is one thing about Drew The Kiiid that people wouldn't expect?
Most people are shocked when I tell them that I'm only 18 years old because people have told me that my mic pres­ence is so mature and because I've done work for Sony, Scooby-Doo, Empire, and Google.
Chica­go has been killing it recently in terms of Hip Hop, but what up-and-com­ing artists from The Windy City would you recom­mend to our read­ers?
Def­in­itely check out Saba, Noname, Gwapo FG, Muex, Tapi­wa Musimbe, Ezkiel, Jason Ivy, Jay2, Monte Book­er, Carly and Mar­tina, Ravyn Lenae, Jean Deaux, and Kari Faux.
What advice would you give to your­self 2 years ago?
I would def­in­itely tell myself to stop try­ing to be like oth­er artists. Make the music that YOU want to make, not the shit that you think oth­er people would like. You've got so much to look for­ward to so don't get dis­cour­aged and stay on your grind.
What's next for Drew The Kiiid?
Life has been full of happy sur­prises, so only time will tell, but the guar­an­tees are that my cool ass neph­ew will be born in Decem­ber and my upcom­ing pro­ject, Gradi­ence, will be drop­ping very, very, soon!

The fol­low­ing two tabs change con­tent below.

Rishma Dhali­w­al has extens­ive exper­i­ence study­ing and work­ing in the music and media industry. Hav­ing writ­ten a thes­is on how Hip Hop acts as a social move­ment, she has spent years research­ing and con­nect­ing with artists who use the art form as a tool for bring­ing a voice to the voice­less. Cur­rently work­ing in TV, Rishma brings her PR and media know­ledge to I am Hip Hop and oth­er pro­jects by No Bounds.

Latest posts by Rishma Dhaliwal (see all)