The event kicked off with Miss C Brown VJ–ing a number of different hip hop videos from a range of artists, from the likes of RU1 Fam to Giggs. This showcased the different artists that are out there, that not many have heard of. This was followed by the panel, consisting of 5 judges, taking their seats.
The judges were given a number of questions to discuss throughout the night, followed by contributions from the audience. Although some answers became heated, the discussions tackled the problems arising within the hip-hop community, providing solutions and alternative perspectives on problems and theories. The first question, which dominated a large amount of time was, 'What is Hip Hop?' After many thoughts and contributions, no set answer was given, however different answers were offered to provide an idea to the concept as a whole. This was much more developed than just the original '4 Pillars of Hip-Hop' thought that had dominated the theory in its earlier days. The talk introduced a fifth element of Knowledge, amongst others.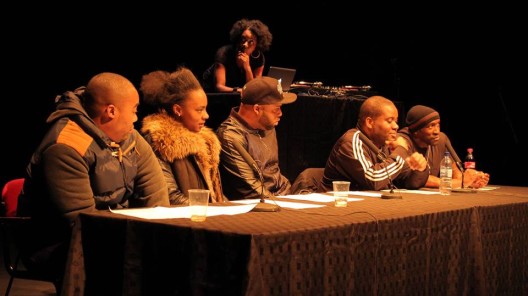 The discussions that followed included seeing hip hop as being broken up, with each of the 4 pillars associated with things other than hip hop, for example, graffiti associated with skateboarders. This gave the view that each pillar was a business in it's own right, with separate industries for each of the pillars, rather than one collective unit under the term 'Hip Hop'. Examples were also given of people who would take aspects of Hip Hop but not know it originated from Hip Hop itself. This included people who may 'Bboy', but would not know it originated, or was a part of, Hip-Hop, and would just dance because they liked it individually.
Within the break there was a spoken word poet, who produced a very thought-provoking piece of poetry. This seemed to entertain much of the crowd, and created a different vibe to what was created through discussion, as it was a good break from the issues.
After the break there was another discussion, with topics such as, 'Is Grime Hip Hop?' This was answered well; Hip Hop was created in America, and has spread its ideas worldwide. In England, we have taken the American idea of Hip Hop and spread it further. However, Grime was created in the UK; it is UK music where Hip Hop was American. Although it can fall under the category of Hip Hop, but rather an English version, it can also be seen as a separate entity itself.
There were a number of different people attending the event, from artists and producers themselves to radio hosts and promoters. This allowed a number of different thoughts to have their say in the discussions, all from different viewpoints. Not everyone was local either; some had travelled from various locations across England to get to the event.
Altogether the event created a good network of people with similar, yet original ideas that could definitely help the UK Hip Hop industry grow. I am sure that there will be many who are looking forward to the next event, with more ideas to bring forth.
Keep up to date with the event and movement on the Facebook Page.  
By Rohun Batra
The following two tabs change content below.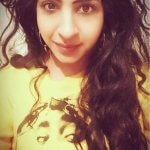 Rishma Dhaliwal has extensive experience studying and working in the music and media industry. Having written a thesis on how Hip Hop acts as a social movement, she has spent years researching and connecting with artists who use the art form as a tool for bringing a voice to the voiceless. Currently working in TV, Rishma brings her PR and media knowledge to I am Hip Hop and other projects by No Bounds.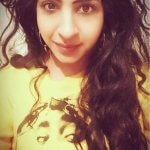 Latest posts by Rishma Dhaliwal (see all)