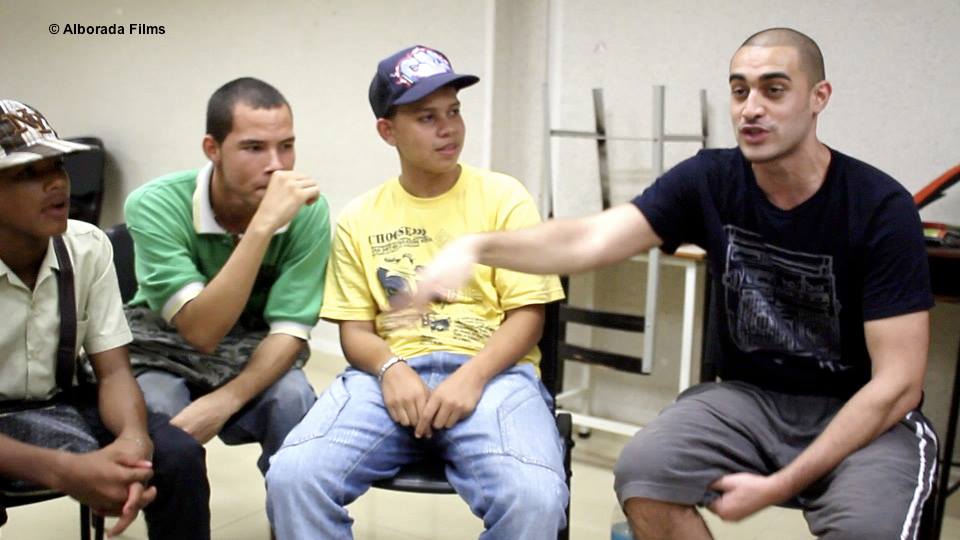 British activist Jody McIntyre travels to Venezuela with UK-Iraqi rapper Lowkey to spend time with 'Hip Hop Revolución', a dynamic collective of musical revolutionaries.
They witness their inspiring grassroots work and share music and ideas, exploring the cultural and political changes taking place in the country.
At its heart, this film is about the power of music, community and the spirit of rebellion. We meet director Pablo Navarrete to see how it all came together.
What was the inspiration behind Hip Hop Revolucion?
I'd wanted to make a film about the Hip Hop Revolucion collective for a while. I first met some of their members when I was living in Venezuela (between 2005 and 2007). I interviewed the rapper Master from the collective for my first documentary 'Inside the Revolution', which was filmed in late 2008 on the eve of the 10th anniversary of Hugo Chávez assuming the presidency and the start of what people call the "Bolivarian revolution" or "Bolivarian process". This first film focused on trying to understand the "Bolivarian" process, as that: a process, and one that is rooted in Venezuelan and Latin American history. I was fascinated with the interview Master gave for the film and his views on the power of culture as a bridge to discussing political events. Because of what I wanted to achieve with the first film, I couldn't really go deeper into the issues he'd brought up. So when the opportunity arose to go to Venezuela with Jody McIntyre and Lowkey, it made perfect sense for them link with Hip Hop Revolucion and explore what they were up to.
Who are a part of the production team?
So the production team was the mighty GlobalFaction on photography, I did sound, direction and production and the excellent Beatrix Grimbly did the editing. My good friend Agent of Change produced a special song for the film, which features Jamil Herezi, a key member of the Hip Hop Revolucion collective who was born in Chicago. One of the highlights during the shoot was feeling genuinely inspired by Hip Hop Revolucion's work and how idealistic they were about wanting to fight for a better world and their belief in the power of hip hop to transform communities. I hope the film manages to convey this sense of profound idealism that I feel lies behind the work the collective does.
Do you consider yourself an activist?
First and foremost I would say that I am journalist and documentary filmmaker. However, by covering stories that the mainstream media ignores or covers in a distorted way, I guess some people would call that activism. For me there is a clear link between the interests of the mainstream media and the interests of the most powerful governments in the world today. The mainstream media are activists for the powerful. Venezuela provides an important example of how the mainstream English media has systematically demonised a government (Chávez and now Maduro) that goes against the interests of the powerful. Specifically the US government and corporate friends have tried to squash Venezuela for daring to stand up to it.
I also think the idea of "objective" journalism is a myth. Everyone brings their own prejudices and biases to stories and the large media corporations have in my opinion very clear agendas when it comes to covering events in countries such as Venezuela. Some people in the BBC might think they're "unbiased" but the evidence tells another story.
From your perspective, can the UK reach socialism?
The UK government is a cruel, criminal government that abuses the weakest in society. I'm really glad the inspirational Ken Loach made this point clearly when he picked up his BAFTA for his brilliant film 'I, Daniel Blake'. I would call myself a socialist but for me the label isn't important. We need to urgently look for political solutions that replace our corrupt leaders with people who are prepared to promote a system of government that values peace, compassion and the creation of a sustainable, way of living where everyone fairly contributes to and shares in the wealth generated in society. The world is in a bad place and we need desperately need alternatives.
Are there any artists our readers must check out?
I'm not hip hop expert but when in terms of Latin American hip hop I rate MuchoCumo and Ibi Kino from Hip Hop Revolucion, Chilean rappers Portavoz, and Ana Tijoux. And there's Cuba's Obsesion and Danay Suarez, and Puerto Rican rapper Luis Diaz from Intifada. Luis Diaz perfomed at Hip Hop Revolucion's 8th anniversary concert Lowkey headlines that features in the film.
Do you have any anecdotes to share with us?
Let me see… Well, Kareem (Lowkey) isn't too bad at salsa dancing!
Hip Hop Revolucion screens in Sheffield on Thursday 16 February with a post-screening Q&A with Pablo Navarrete. The event is supported by I Am Hip-Hop Magazine
https://www.facebook.com/events/1873308349547273/
Follow Hip Hop Revolucion on Facebook:
https://www.facebook.com/hhr.thefilm
Follow Pablo Navarrete on Twitter:
For more information on upcoming screenings of Hip Hop Revolucion, visit:
http://www.alborada.net/node/11
The following two tabs change content below.
Rishma Dhaliwal has extensive experience studying and working in the music and media industry. Having written a thesis on how Hip Hop acts as a social movement, she has spent years researching and connecting with artists who use the art form as a tool for bringing a voice to the voiceless. Currently working in TV, Rishma brings her PR and media knowledge to I am Hip Hop and other projects by No Bounds.
Latest posts by Rishma Dhaliwal (see all)