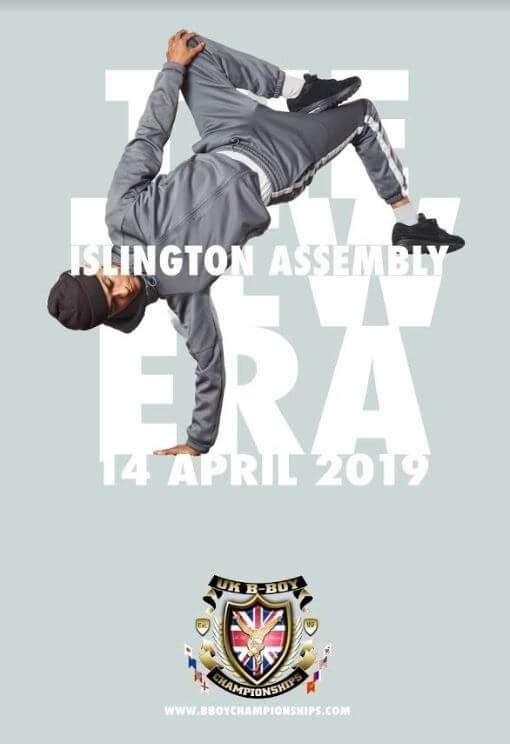 UK B‑BOY CHAM­PI­ON­SHIPS WORLD FINALS 2019
14th APRIL , ISLING­TON ASSEMBLY HALL
'The New Era'
"Wit­ness The World's Greatest Dan­cers Battle On The Ulti­mate Stage!"
Hos­ted by hip-hop icon Crazy Legs of the legendary Rock Steady Crew, the B‑Boy Cham­pi­on­ships World Finals will see top break­ers (break­dan­cers), pop­pers and hip-hop dan­cers & Free­stylers bring their best moves, routines and unique style to the stage! The audi­ence are set to wit­ness the most incred­ible action as the dan­cers go head-to-head, bat­tling it out for the coveted World Titles. The UK B‑Boy Cham­pi­on­ships World Final arrives in Lon­don this April. The Isling­ton Assembly Hall will provide the ulti­mate stage for the World's best Break­ing Crews and Solo dan­cers to battle 'all out' at the 22nd edi­tion of B‑Boy Cham­pi­on­ships — World Finals on April 14th.
Defend­ing Cham­pi­on, B‑Boy Sunni from Lon­don is hot favour­ite to win his 3rd World Solo Title and with home crews Soul Mav­er­icks (Lon­don) and Smac 19 (Manchester) lead­ing the charge for crew Title, the UK has nev­er looked stronger going into the World Finals. This year also sees the first B‑Girl Solo battle, which is expec­ted to see a top inter­na­tion­al and nation­al field com­pete.
Our nation­al hero's will chal­lenge the greatest crews & solo dan­cers from around the globe includ­ing Japan, Korea, USA, France, Hol­land, Middle East, China and South Amer­ica.
All of the dan­cers will dis­play their raw tal­ent, fla­vour and mind-blow­ing moves to impress a world-class judging pan­el made up of lead­ing inter­na­tion­al pion­eers and World Cham­pi­ons includ­ing Roxrite (USA), Mouse (UK), Menno (Hol) & Neguin (Brazil).
Face­book | www.facebook.com/bboychamps
Ins­tagram | www.instagram.com@bboychamps
Web­site | www.bboychampionships.com
Twit­ter | www.twtter.com@bboychamps
Tick­ets | www.ticketweb.co.uk
The fol­low­ing two tabs change con­tent below.

Faizah Cyanide
Faizah works in clin­ic­al research by pro­fes­sion and has been an avid Hip Hop lov­er since the early 90's, hav­ing cre­ated her own Hip Hop event, 'Breakin' Bound­ar­ies' in the early 2000's which was pre­dom­in­antly based around the concept of bboy battles, she has worked with sev­er­al inter­na­tion­al events pro­moters and dan­cers to inspire oth­ers through this art­form.

Latest posts by Faizah Cyanide (see all)