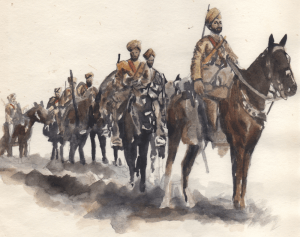 I've called the same place my home for the same 27 years that I've been called by my name
Just as my dad called it his home since back in 66 when he came
Even though I've been call­ing this place home and treat it with love
For three dec­ades many nev­er called me their neigh­bour because they think they're above
We were the only Asi­ans in this small vil­lage in Sur­rey since 1990
Around the same time that the Power Rangers were mighty
I remem­ber the teach­er was talk­ing about the Taj Mahal and I was the only brown
When she singled me out and poin­ted at me for the whole school to turn around
Then in 96 Steph­en and his mates invited me over to play Mario Kart and Don­key Kong Coun­try
3 years later they told me I'm not one of them and to go back to my own coun­try
Went to Cam­ber Sands with my fam­ily in 2001, I know it sounds tacky
But it's all we could afford at the time even though some guy called my dad a Paki
I tried to calm my dad down as I thought the guy was just part of an ignor­ant minor­ity
But now I'm older I real­ise the that this out­cast­ing mind­set is actu­ally the major­ity
There are more people of col­our around me now that I've moved towards the city
The dec­ade has changed but it's still the same men­tal­ity
I actu­ally miss the days where the racist ste­reo­types were about own­ing corner shops or eat­ing curry
Now their wear­i­ness has turned into hatred as they fear that we are ter­ror­ists and have to worry
I genu­inely felt that love would con­quer fear and the cure for hatred is to teach and show grace
But yes­ter­day a girl I've known for 3 years and joked about my beard and said I'll "blow up this place"
She had a few drinks so she finally felt brave enough to say what was always on her mind
So even though she gave me love and knows that my ancest­ors fought against extrem­ism for man­kind
At the end of the day she doesn't care as all she sees is one incor­rect ste­reo­type and assumes
Now this is an example of her say­ing what a whole sec­tion of soci­ety says in their liv­ing rooms
They make out that they have respect and under­stand­ing but really they see an ali­en from anoth­er galaxy
It got me think­ing about the same com­ments I've always received about going back to my own coun­try
Little do they real­ise that my coun­try doesn't exist thanks to their grand­par­ents' decisions all along
Des­pite serving for the Brit­ish Empire in two world wars and help­ing them take over Hong Kong
We were rewar­ded with mas­sacres, fam­ine and my moth­er­land of Pun­jab sliced in two
My grand­par­ents' home­land lit­er­ally doesn't exist any­more because of you
They moved out before what is now called Pakistan or India even exists as a nation
My mum's dad nev­er actu­ally set foot in what is now in India's dom­in­a­tion
He was born in Lahore, which is now part of an Islam­ic repub­lic thanks to what the Brit­ish then insisted
At one time it was the cap­it­al of the Sikh king­dom where Muslims, Hindus and Sikhs finally coex­is­ted
But the Brit­ish Raj invaded, divided and raped the land to force us to build a new com­munity
Des­pite this, I don't believe racism is exclus­ively giv­en from one eth­ni­city
My dad was born in Kenya as his par­ents were recruited by the empire to work on the rail­way in East Africa
But once the empire col­lapsed the new régime was only giv­ing jobs to nat­ives and not the Pun­j­abi dia­spora
My dad sud­denly was no longer a cit­izen of the coun­try he was born in as he held a Brit­ish empire pass­port
He couldn't get a job in India either as he had no paper­work for this new state on the oth­er side of the port
So the only coun­try he could leg­ally work with no fur­ther paper­work was the UK des­pite nev­er set­ting foot there
So how are you telling me to go back to my own coun­try when it's this coun­try that gave me every right to be here?
I recently told someone how I feel con­flic­ted that my ancest­ors died fight­ing in wars for Bri­tain
I said that they were just pawns to be the front­line for the élite's destruct­ive mis­sion
That guy replied that I if I dis­agree with the empire then I have no right to call myself Brit­ish and should leave Bri­tain
My first response was that's like say­ing if a Ger­man dis­agrees with the Third Reich then they have no right to be Ger­man
Both were force­ful European empires that killed mil­lions with a super­i­or object­ive
The dif­fer­ence is that one was defeated before the expan­sion got pro­ject­ive
But that guy proved my point that he doesn't view my race as his neigh­bour
Just like his ancest­ors who watched my ancest­ors fight for the bene­fit of oth­ers
I also saw a top com­ment on BBC's Face­book that aggrav­ated me
Someone com­men­ted about the first turbaned politi­cian Tan Dhesi
They said he shouldn't be an MP in UK but should be an MP in India instead
That's like say­ing that Don­ald Trump should be PM of Ger­many because of his thread
So where shall I go if I don't belong in this land that I was born in and taught me what I know
Tell that to Jagtar Singh Johal who did what you wished and went back to India occu­pied Pun­jab just a few weeks ago
The Scots­man was arres­ted on the street and chucked into a van for rais­ing aware­ness about justice for Sikhs on his Face­book while in UK
Now he's been tor­tured and tor­men­ted by Indi­an offi­cials every single day
Just like me, 'Jaggi' feels he doesn't have a home­land – the place where you tell him to go doesn't want this Singh
I just find it highly iron­ic that the man you tell to go back home is arres­ted for doing that very thing
The home he wanted to go to doesn't exist any­more and he has nowhere to go
Because the gov­ern­ment of the coun­try that he was born in took that land away 70 years ago.
So where's home?
Head­er image is a paint­ing depict­ing Sikh sol­diers in World War One by Jag­mo­han Singh (The Roy­al Jesters)
The fol­low­ing two tabs change con­tent below.