Pele Negra Más­caras Bran­cas, liv­ro escrito em 1952 por Frantz Fan­on, foi o primeiro liv­ro a debruçar-se sobre a psico­lo­gia do colo­ni­al­is­mo, tor­nan­do-se uma refer­ên­cia para os movi­mentos anti-colo­ni­alistas e para a luta Pan-afric­anista em ger­al. Aqui é exam­in­ada a forma como o colo­ni­al­is­mo está inter­i­or­iz­ado, através de um com­plexo de super­i­or­id­ade do col­on­iz­ador e de um com­plexo de inferi­or­id­ade impreg­nado no col­on­iz­ado e como através de mecan­is­mos racistas, os pov­os negros acabam a mimet­iz­ar os seus próprios opressores. Ashis Nandy explica que se "sabemos algo acer­ca os padrões interpess­oais que con­stituem a situ­ação colo­ni­al, par­tic­u­lar­men­te em África", isso deve-se a Fan­on.
Fan­on ini­ciou um pro­cesso de descon­strução psi­coanalít­ica, que foi desen­volvido mais tarde por Nandy no liv­ro The Intim­ate Enemy: Loss and Recov­ery of Self Under Colo­ni­al­ism (1983) e tam­bém por Ngu­gi wa Thiong em Decol­on­ising the Mind: The Polit­ics of Lan­guage in Afric­an Lit­er­at­ure (1986), sen­do que muitos out­ros teóricos dos assun­tos colo­ni­ais seguiram os seus pas­sos.
Fan­on escre­ve através da per­spectiva do col­on­iz­ado, enquan­to homem negro com a exper­iên­cia dir­ecta do colo­ni­al­is­mo, do imper­i­al­is­mo e do racis­mo. Ele apresenta-nos uma inter­pretação psic­analít­ica do prob­lema negro, diz-nos, mas de uma coisa podemos estar cer­tos, não se trata de uma ses­são de ter­apia. Fan­on não é um filóso­fo de pol­trona ou um teórico académi­co. Ele tem na sua men­te uma questão mais urgen­te: a liber­tação.
No doc­u­mentário abaixo, Isaac Juli­en, real­iz­ador de filmes como Look­ing for Lang­ston e Young Soul Rebels, traça um retrato de Frantz Fan­on e da sua vida.
Aqui, o rap­per por­tuguês Chul­lage, numa hom­enagem a Frantz Fan­on e a out­ros rostos negros dos movi­mentos de liber­tação.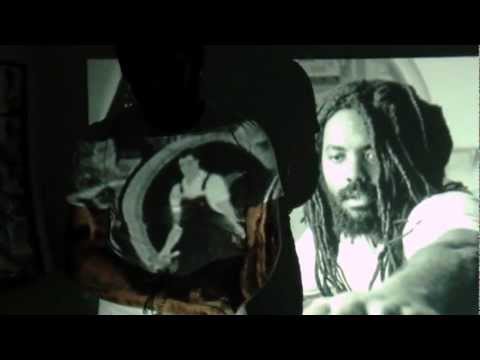 The fol­low­ing two tabs change con­tent below.
Latest posts by Riotgurrrl (see all)