Posted 2 months ago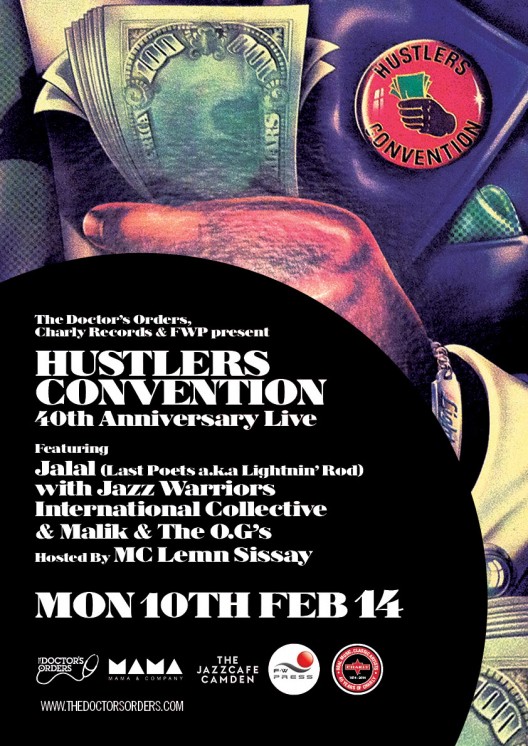 The Doctor's Orders, Charly Records & FWP present
HUST­LERS CON­VEN­TION
40th Anniversary Live
Fea­tur­ing
Jalal (Last Poets a.k.a Light­nin' Rod)
with Jazz War­ri­ors Inter­na­tional Col­lect­ive
& Malik & The O.G's
+ DJ Perry Louis
Hos­ted By Lemn Sissay
7pm – 11pm Monday 10th Feb 2014
@ Jazz Café, Park­way, Cam­den, Lon­don NW1
£10 Advance Tick­ets 
http://thedoctorsorders.com/v2/hustlers-convention-40th–anniversary-live/
In 1973 a fast-talking, hust­ler by the name of Sport played a huge part in the birth of Hip-Hop. Brought to life by Light­nin' Rod a.k.a Jalal of the Last Poets and backed by music provided by Kool & The Gang among oth­ers. His street tales of card games, throw­ing dice and chas­ing women influ­enced Wu Tang, Ice T, Pub­lic Enemy, Jungle Broth­ers, Black Moon and many more.
To mark the Hust­lers Con­ven­tion 40th anniversary, god­father of Rap Jalal, of The Last Poets, takes to the stage along­side the Jazz War­ri­ors Inter­na­tional Col­lect­ive to bring this incred­ible story to life. It will be the first time ever the album has been per­formed since its release.
With sup­port from the UK's finest spoken word artist  — a stu­dent of Jalal & the late Gil Scott Heron — Malik & The O.G's, and hos­ted by Lemn Sis­say, this is a not-to-be missed event for all fans of Hip-Hop, spoken word and Jazz alike.
The per­form­ance comes as a new fea­ture doc­u­ment­ary, due for release next year, is in pro­duc­tion on the pion­eer­ing role Jalal, and Hust­lers Con­ven­tion, have played in the his­tory of rap.
"We are pleased to announce that Chuck D (Pub­lic Enemy) has com­mis­sioned the film Hust­lers Con­ven­tion. 
The Hust­lers Con­ven­tion Live @ the Jazz Café  pro­duced by Fore-Word Press, will form a major part of this his­toric film.  Chuck D, who is Exec­ut­ive Pro­du­cer on the new film, stated that: 'Hust­lers Con­ven­tion was pro­foundly influ­en­tial. It was a sort of verbal bible to under­stand the streets. Jalal's story needs to be told. It's a miss­ing piece of culture.'"  
(Please note this per­form­ance is to be filmed)
For more inform­a­tion, pho­tos, inter­views, etc please do not hes­it­ate to con­tact…
Rod Gilmore: info@thedoctorsorders.com / 0207–833-9544
Incom­ing search terms:
hust­lers con­ven­tion jazz café (3)
malik & the o g\s (3)
jalal last poets (3)
jazz café jalal (3)
poetry 9th feb jazz café (2)
hust­lers con­ven­tion jalal (2)
Jalal Jazz café (2)
jazz war­ri­ors international/Hustlers Con­ven­tion (1)
jazz café last poets (1)
jalal nur­id­din jazz café 10 feb 2014 (1)
Related Posts